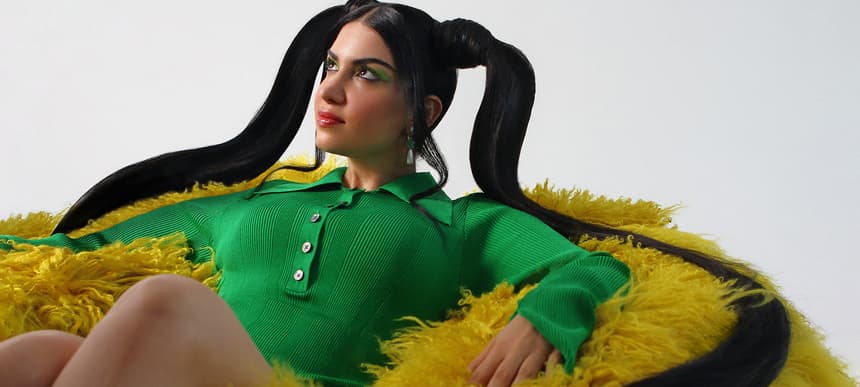 09.09.2022, Words by Billy Ward
The 10 Best Tracks For Sunrise, according to Paramida
"That moment of ecstasy at 8:AM as the sun comes up..."
There's something about a sunrise set at Berlin's legendary clubbing institution Panorama Bar that just feels right. In fact, it's become one of dance music's most magical and mythologised experiences over the years. One up-and-coming selector who knows all about these notorious dusk-til-dawn moments where the morning rays filter through the club's shutters is Paramida.
A Panorama Bar resident since 2020, the talented DJ and artist has made a name for herself in a city who's musical rules are often begging to be broken, never straying too far from the obscure while delivering her brand of nu-disco, trance and progressive house to some of the world's most renowned nightclubs. Riding high from the recent release of her 'Moonrise VII' EP – a euphoric project sticking up a middle-finger to the all-too-often egocentric approach to dance music – Paramida dug through the crates with Dummy to reveal her favourite tracks for those early-morning sunrise sets.
1. Alex Kassian – 'Oolong Trance' (Paradise Mix)
"This is one of my favourite tracks to be released on my own label Love On The Rocks. Alex Kassian is a great friend and an incredibly talented producer. It took us 3 years to make his debut EP 'Oolong Trance'. Listening to this it was absolutely worth it. Inspired by early 90's Italian and progressive house, I think this is a beautiful track to play at a party when the sun goes up."
2. S.O.N.S. – 'A New Life' (Planet Earth Mix)
"The reason I picked this track lies (partly) in the title. With the sun coming up a new day starts, and every day is a new beginning to a new life. I've started my sets with this track a couple of times and it always creates a magical moment. I love the bittersweet melody and driving acid line. One of my all-time favourites."
3. Telephones – 'Lotusland' (Sunrise Mix)
"Another Love On The Rocks classic. This was the third release on my label by one of my favourite contemporary producers Telephones. The track is quite obscure but also beautiful and happened to be the first 'hit' on my label, selling over 1000 copies back in 2014."
4. Soft House Company – 'What You Need' (Enzo Elia Balearic Gabba Edit)
"Classic Italian house from the 90's, edited by a classic Italian producer Enzo Elia. I love the original, but the edit even more – especially the last part that never really happens to kick off again and just leaves you wanting more. And that's not just wishful thinking. I've played it multiple times in beautiful settings with that exact reaction."
5. Redeye – 'Acid Etch'
"Such a beautiful classic by Redeye, a German trance and ambient artist, that got reissued last year. Pure ecstasy and goosebumps for the sun rising up. The whole EP is great, so you should check it out."
6. Love Decade – 'When The Morning Comes' (89 Mix)
"If my life had a soundtrack, this would be part of it. Love Decade were an English electronic music group that was formed in 1991 by producer Peter Gill, who did the production and writing on the singles that were released during its brief career. They stopped after 1994."
7. Aural – 'Desire' (Fabrice 4am Mix)
"This used to be one of my secret weapons for a long time until Rebirth came and reissued it. Can everybody stop reissuing everything? It's getting annoying."
8. Paramida – 'Sailor Moon House'
"'Sailor Moon House' draws from early 90's beach raves in Goa. I was inspired to embody this spirit and somehow bring it back. I'd spent years telling artists that want to release on my Love On The Rocks label to try and do the same: to soundtrack that moment of ecstasy at 8:AM as the sun comes up. Then I realised I should just do it myself. That's essentially why I started making music – to capture unique moments and explore what they mean to me."
9. Daso – 'Daybreak'
"Daso's 'Daybreak' is a German classic from 2005. Unfortunately he passed away a few years ago, but this will always remain a beautiful sunrise track."
10. Jose Padilla – 'Day One'
"One of my favourite tracks in the world. I will never get tired of this. Jose Padilla, the inventor of the Balearic Sound, died 2 years ago which made me really sad. He really had an impact on me and on so many more contemporary artists. The Balearic sound was also a huge influence to big techno DJs in the 90s like Paul Oakenfold, Sven Väth or Danny Rampling. Jose Padilla moved to Ibiza in 1975 and was DJing in the 80s at legendary clubs like Pacha, Space and Cu. In 1991 he became a resident at Cafe Del Mar and gained international recognition as a mentor for DJs and his Cafe Del Mar compilation series. In 2014 he was still active and aware of new music and producers and invited 3 artists to come and produce his album 'So Many Colors' on International Feel. One of them was Telephones, who released on LOTR with Lotusland and co-wrote this beautiful tune."
Stream Paramida's new EP 'Moonrise VII' below:
Read next: The 10 Best Panorama Bar Track IDs, according to Dance System