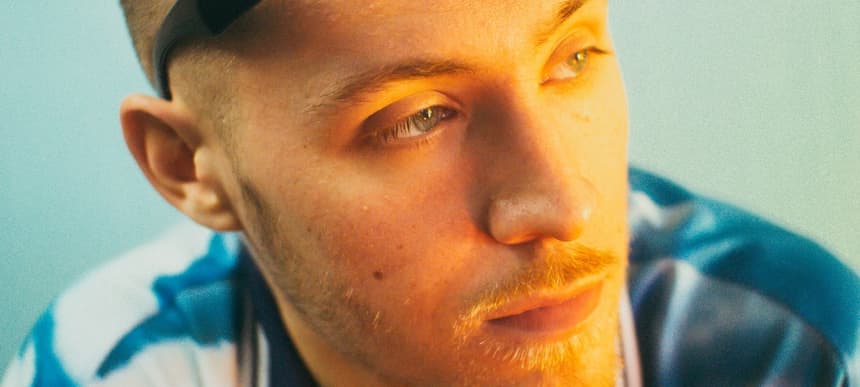 26.01.2023, Words by Billy Ward
The 10 Best Tracks For Sunset, according to Nix Northwest
"This tune gives me some severe nostalgia..."
London rapper, producer and multi-instrumentalist Nix Northwest is quickly becoming one of the most talked about rising figures in the UK hip hop scene. Cutting his teeth as a jazz pianist at Leeds Music College, where he went on to meet later collaborators such as Lausse The Cat and B-ahwe, Nix taught himself music production and laid the foundations for his debut EP 'Life's A Bitch, I Just Need An Early Night' which gained him industry wide attention. 
Now working towards his debut album 'Xin's Disappearance', out in March, Nix's new single 'Sun In My Eyes' splices his dreamy vocals with a self-produced 00's hip-hop instrumental reminiscent of early Justin Timberlake and Timberland. To celebrate the release of the track, we sat down with the rising talent to run through some of his favourite tunes for those golden sunset hours.
1. Marvin Gaye - 'What's Going On'
"One of my favourite songs ever. I think the bit that gets me in this tune is that crazy bridge that comes with the strings. Proper bit of me that!"
2. Hiatus Kaiyote - 'Nakamarra (feat. Q-Tip)
"This tune gives me some severe nostalgia. I have a really clear memory of sitting on a hill in either Venice or Florence at about 17/18 with my friends watching the sunset when I first got shown this tune - loved it from the first listen. Also been a huge Tribe fan for a while so having Q-Tip drop a verse was a bonus."
3. Kendrick Lamar - 'Bitch, Don't Kill My Vibe'
"This song got me hooked on Kendrick's music when I was a teenager. Instrumental is so smooth and I love all the different vocal hooks in the song. This whole album paints such a vivid picture of summer in LA as I see it in my head."

4. Brien & ffolliott - 'IDKWHY'
"I recently came across this on Spotify while I was driving around in the sunset. The light was looking very peng in a park and it just hit good!"

5. Smino - 'Lee & Lovie' with Reggie
"Been a Smino fan for a minute and this is probably my favourite tune from his new album. Some heart-wrenching vocal melodies in there which I'm really into."

6. Mac Demarco - 'Still Beating'
"Been banging out this tune a lot recently. Never gotten hugely deep into his catalog but always been a fan from a distance I would say. I really like the simplicity of the track."

7. Carrtoons - 'Be There For You'
"Have been enjoying this old-school soul revival sound that has been popping up here and there. I think it's all the people who grew up on that kinda 'soul-sampled' hip-hop and love that sound. This whole album is really nice. Would definitely recommend it!"
8. Amy Winehouse - 'Half Time'
"Amy is one of the few people I'd call myself a dedicated FAN of. Her music has been in my life for as long as I can remember. I'm a big jazz head and I think that's why I resonate with her quite a bit. This tune was released after her death and I've been banging it since finding it quite recently. Apparently with Questlove on drums too which is a lovely addition."

9. The Cavemen. - 'Osondu'
"One of my favourite tunes that I discovered last year. Really love the vocals in this tune as well as the slightly weird form. There are bars of different lengths which kinda threw me off for a bit but now I'm used to it I love the irregularities. Apparently, they're crazy to see live as well so definitely on the list of people to see."

10. Rosie Lowe - 'Paris, Texas'
"Don't know much about Rosie Lowe and haven't checked out a huge amount of her tunes but I've had this one in a couple of my playlists over the last year or so. Forgot about it for a minute then got that nice surprise when I rediscovered it. Definitely a good song to drive to on an empty countryside lane on a summer's evening."
Watch the music video for Nix Northwest's new single 'Sun In My Eyes' below: