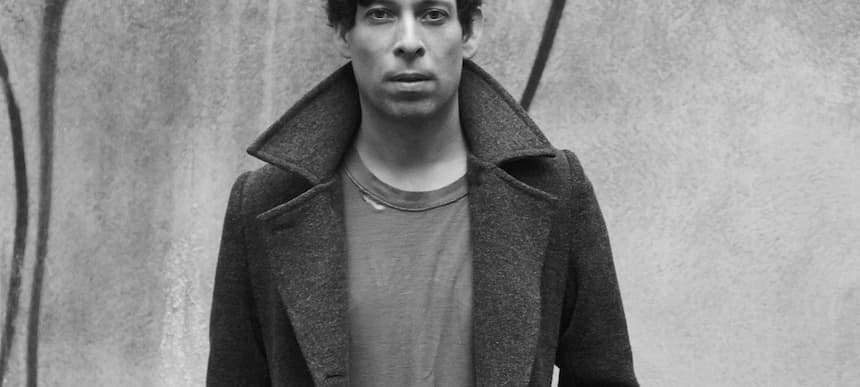 23.03.2015, Words by dummymag
The 10 best Turkish psych rock songs, according to The Soft Moon
On his third album as The Soft Moon, Luis Vasquez wrestles with thoughts of suicide, vulnerability, dread, and mortality, placing a beating human heart amongst a sound palette of brash electronics, industrial noise, anxious vocals, and pummelling, forward-driving rhythms.
Of course, Vasquez's tastes extend beyond the post-punk, industrial music, and gothic pop that he explores on his records. He's talked fondly of krautrock, jazz, Prince, and Slayer in the past, and nowadays his listening habits see him taking in psychedelic music from around the world, more than anything else.
"Back when I was living in Oakland, I went down the record collecting rabbit hole," Vasquez explains, "My approach to record collecting was to always discover the rarest, weirdest, most exotic, and most psychedelic music imaginable. A small portion of my friends shared the same addiction, so we would get together often to listen to records we had all just purchased the week or two before. It was at one of these gatherings a friend of mine played me Turkish psych rock for the first time, and I got hooked."
Turkish psychedelic rock, also known as Anatolian rock, gained popularity during the late 1960s and early '70s, mixing traditional Turkish folk with the sound of the Western rock groups of the time. The style has found a new audience in recent years thanks in part to reissues and compilations by labels like Finders Keepers and Bouzouki Joe, and from DJs like Bariș K, who has released a series of Turkish psych and disco re-edits, allowing a new audience to hear the sounds of artists otherwise omitted from the Westernised music canon, like Erkin Koray, Selda, and Moğollar.
Selda Bağcan Yaylalar
The Soft Moon: "If I remember correctly, this might have been my first introduction to Turkish music in general. I've been obsessed with the synth sound used in Yaylarlar. Still to this day I'm unsure if it's a synth being used or a traditional Turkish wind instrument known as a zurna effected with some distortion through a guitar amplifier. I purchased a zurna during my last trip to Istanbul because I just had to have one!"
Erkin Koray Silinmeyen Hatiralar
The Soft Moon: "Erkin Koray is a guitar legend in Turkey and possibly somewhat of a hero in his country. This track has the perfect amount of everything I like about Turkish psych all balled up into one song."
Nese Karaböcek Yali Yali

The Soft Moon: "This track goes into a surprising direction about 45 seconds in. I bring this 7" every time I get asked to do DJ sets. It has a similar vibe to Love Buzz by Shocking Blue."
Arif Sağ Bu Ayrilik Neden Oldu
The Soft Moon: "The pain in the voice absolutely destroys me. So much desperation, yet so much beauty. I get chills every time I listen to this track. I love when songs capture and express brutal emotion."
Ersen Garip Gönlüm
The Soft Moon: "The vocal melody is so effective in Garip Gönlüm because of how if follows the same melodic pattern and rhythmic structure with all the instruments. Not to mention the infectious repeated vocal hook, which sticks in my head forever."
Edip Akbayram Anam Ağlar Basucumda Oturur
The Soft Moon: "This track brings out the snake spirit animal in me."
Bariș Manço Dönence
The Soft Moon: "Soundtrack, prog rock, psychedelia, funk, disco, soul, and pop. This track explores all of these dimensions. Take a ride."
Bunalim Yollar
The Soft Moon: "Straightforward, no bullshit Turkish psychedelic rock. Bunalim were known for their insane live shows, and I believe shared a house with Erkin Koray at one point."
Sakir Öner Günhan Hop Taraleyim Havasi
The Soft Moon: "This track has the right attitude to help me get through my paranoidal days. A staple of my Turkish psych vinyl collection."
Beybonlar Nenni
The Soft Moon: "After the crying baby intro, which makes me feel strange inside… The drummer is incredible and practically performs a drum solo throughout the entire song, but not in a 'look at me' asshole kind of way. He pulls it off with good taste."
Like what you hear? Listen to more playlists like this on our Spotify.