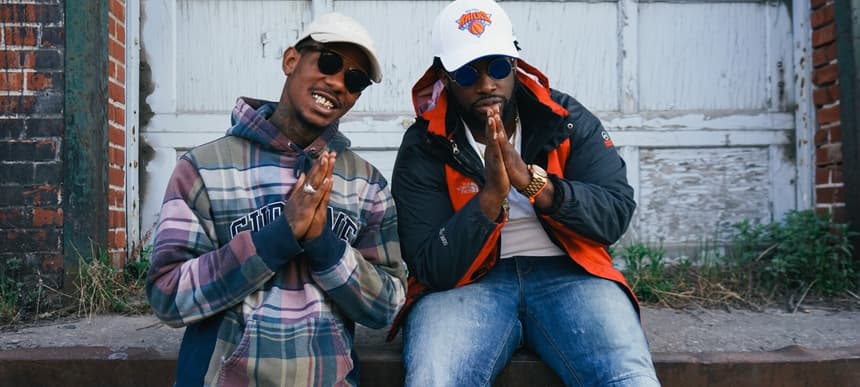 22.08.2016, Words by dummymag
The 10 best turn up anthems, according to Lex Luger & KinoBeats
Lexus Arnel Lewis is known to most as Lex Luger – the American hip hop producer from Suffolk, Virginia. Now based in the genre's mecca Atlanta where he was championed by Waka Flocka Flame, he's spent the last six or more years working on productions for rap and hip hop's heavyweights, and is responsible for hits such as Kanye and Busta's H•A•M, one of Rick Ross' signature tracks B.M.F. (Blowin' Money Fast), Ace Hood's anthemic Hustle Hard, and Kanye's 'Cruel Winter' features bonanza Round and Round (Champions) which saw Yeezy call up Travis Scott, Quavo, Yo Gotti, 2 Chainz, Big Sean, Gucci Mane, and Desiigner (and, breathe) to feature on Luger's beat.
Named after a hybrid combo of his own name, plus that of a professional wrestler and the Luger pistol, the producer definitely doesn't do anything in halves, with his "utilitarian" trap sound leading to him being cited as one of the "Founding Fathers of Trap" by Vice, and also picking up the Producer Of The Year gong at BET's 2011 awards. Now signed to 1017 Brick Squad Records/Brick Squad Monopoly, he has also co-founded American hip hop production team808 Mafia with Southside, as well as being half of Low Pros with A-Trak. Busy may well be an understatement.
Ahead of a very special appearance at Outlook Festival next month, Lex has enlisted fellow producer and close ally KinoBeats to bolster up their collaborative 10 best list. Also responsible for laying down tracks for the likes of A$AP Rocky, Pharrell, Jeezy, Juelz Santana, Wiz Khalifa, and OG Maco – we reckon KinoBeats also knows a thing or two about those imperative ingredients for the ultimate turn up track.
Read through Lex Luger and KinoBeats' selections below, and listen seamlessly via our Spotify and YouTube playlists.
DJ Khaled feat. Jay-Z & Future I Got The Keys
Lex Luger: "Because my brother Southside produced it and I've always wanted to hear Jay and Future together on a track."
OT Genasis feat. Young Dolph Cut It
Lex Luger: "I love how these hooks are so simple and straight to the point. It's like chants, and the same as the song We Will Rock You. Our culture understands it and we can chant together from all parts of the world and relate to each other."
Future Wicked
Lex Luger: "The same vibe as Keys and Cut It. All over the world, from China to Dubai, the clubs are screaming "Wicked, Wicked, Wicked, Wicked." It's awesome."
Kanye West feat. Travis Scott, Quavo, Yo Gotti, 2 Chainz, Big Sean, Gucci Mane, and Desiigner Champions
Lex Luger: "Mainly because I co-produced this but overall it's a sick record. Half the rappers in the game are on the song and the energy is crazy! Travis' words on the hook are very empowering."
Wiz Khalifa feat. Travis Scott Bake Sale
Lex Luger: "Mainly because I co-produced on this too [laughs] but again Travis is a good artist. The hook is so dope for this new generation and our culture. And Wiz just adds everything thats needed. It's full of smooth, cool, and young lyrics that you can just vibe out to, because Wiz is rapping about a lifestyle the youth live. It is fucking awesomeness and we are the leaders of the new school."
T.I. & Quavo Baller Alert
KinoBeats: "This record is just too crazy. Quavo has always been my favourite from the Migos and TIP is the king so I love to see OGs working with the younger artists. That's just one point – not to mention the record is used for Champs Sports and Under Armour commercial. Last but not least, it's produced by my bro Lex. BALLER ALERT!"
Chance The Rapper feat. 2 Chainz & Lil Wayne No Problem
KinoBeats: "This really grew on me. I'm not a super big Chance fan, but the more I heard this song it began to grow on me. I also like the diversity he brings by presenting this single and having various sounds and topics across the album."
OG Maco Talkin That Shit
KinoBeats: "This is like Knuck If You Buck on steroids. It's really just a turn up fight anthem and I produced it."
Dae Dae What U Mean
KinoBeats: "Dae Dae appeared to come out of nowhere with this monster song. I love the simplicity of it but the realness of the chorus. "Got a family to feed and they are depending on me.""
Uncle Murda feat. Future Right Now
KinoBeats: "You cant do a turn up anthems list without FUTURE. I listen to this song every night before going out to DJ. The energy and the feeling it gives you by definition is turnt up."
Lex Luger plays Outlook Festival, which takes place September 1st to September 4th in Croatia (info).