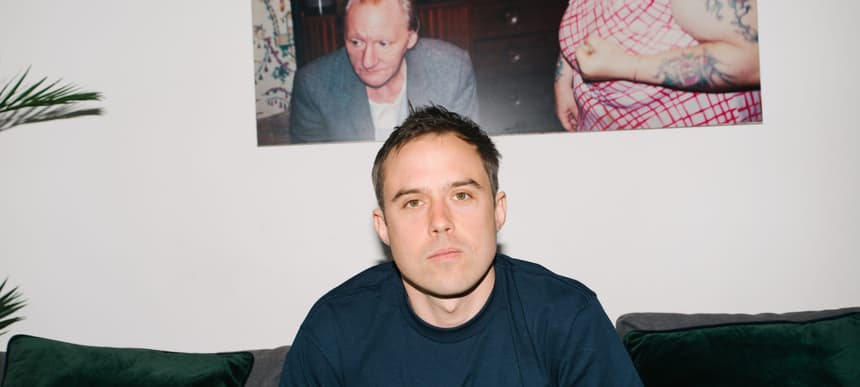 06.07.2021, Words by Maisie Goulsbra
The 10 Best Underground UK Dance Labels, according to Lixo
"I wanted to focus on what felt euphoric and positive, the only helpful response to the current climate..."
If there's anyone we can count on to talk us through the best underground labels, it's Alex Hislop, better known as Lixo, the DJ-producer, visual artist, and owner of record label and club night, 'GETME!'. Hislop began hosting parties from a small pub in West London and the likes of King Krule, Dean Blunt and SBTRKT are among some of those who have played at his events.
His label, 'GETME!' has been pushing undiscovered artists for coming up to one-and-a-half decades – it boasts a mix series that is nearing 150 episodes long, and its latest release is a four-track EP called 'Reuptake' by the label boss himself, Lixo – "I wanted to focus on what felt euphoric and positive, the only helpful response to the current climate and a good juxtaposition to previous, perhaps darker work. I think the tone is a lot more bright, I leant heavily on melody and arpeggio structures whilst trying to be a bit more free with my approach."
Lixo's spacious and restrained sound in the 'Reuptake' EP prompts contemplation – the first track 'Vacation' feels hopeful, it'll have you lifting your head from the crowd and pausing for a moment. There was a lot to think about in lockdown, which was when Lixo made the EP – 'Neuro' is a track with a warm, glowing surface layered over a sub bass that embodies some of those mixed feelings. Neither the title nor the sound of the last track 'Poise' has a concrete sense of an ending – the aquatic deep-synths and progressive percussion give the kind of momentum that will take you straight to the club.
Lixo's sound has evolved from some of his previous work. His understanding of UK underground dance music is covered from all angles – here he shares some of his favourite labels, from both past and present.
1. Hessle Audio
"Pretty much defined a decade of more left field UK dance music. Definitely at the forefront of electronic music, defining the direction it took. Lots of great records more recently too, from the likes of Anz and Laksa."
2. Hemlock
"Crazy amount of influential releases from James Blake, Untold, Ramadanman and many more. Love the aesthetic and house sleeve designs too."
3. Trilogy Tapes
"Amazing design and direction from Will Bankhead. Each release feels really bespoke whilst fitting into the broader look and feel of what they do. Sick t-shirts too!"
4. DEEK
"Bullion is an amazing artist in his own right and his label is an extension of that. They have built up a tight knit community of artists and are always collaborating. Love The Blludd Relations release!"
5. Lucky Me
"Hudson Mohawke, Jacques Greene, Lunice, Nathan Micay and a load of other greats acts all started off at Lucky Me. Super slick visuals and a really forward thinking tone to what they do."
6. Goon Club Allstars
"Loads of great releases and a really versatile take on genres. Love the first Mssingno release as well as great bits from Moleskin, DJ Lag and Rudeboyz."
7. Orphan Records
"Run by Klein Zage and Joey G, the label has a really unique sound, subverting genres and putting a lot of love into each release. They live in NY now but it all started in South London. We did some great parties with them via GETME!"
8. YOUTH
"Relatively new Manchester based label. Loads of interesting bits on their Sports compilations, building up a diverse roster and pushing their local scene in an impactful way."
9. Jolly Discs
"Guy Gormley's Jolly Discs are pushing a really unique sound with releases from RAP, Enchante and Paul B Davies. I have known Guy for a while and it's great to see how this has evolved from his Top Nice days."
10. Deep Medi
"Another defining label of the early 00's. Mala's label was at the forefront of dubstep and bass music. Amazing records from Skream, Mark Pritchard, Digital Mystikz, Pinch and many more."
Listen to 'Reuptake' via your preferred service.
Read The 10 Best Electronic Tracks from the African Diaspora, according to KG.