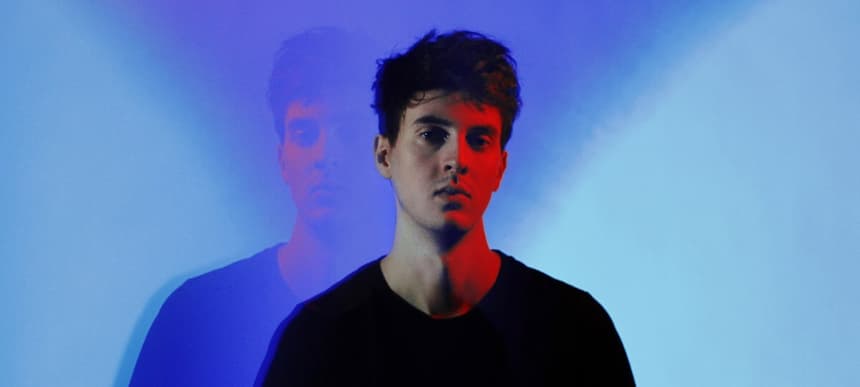 23.08.2016, Words by dummymag
The 10 things that inspired Roosevelt's debut album 'Roosevelt'
Cutting his teeth with a DJ residency at Kompakt's Total Confusion party alongside label-head Michael Mayer, Roosevelt aka Marius Lauber soon made his foray into production, with an early remix for electronic duo COMA released on the Cologne based techno imprint.
He soon honed in on his hazy signature sound, releasing his insanely colourful and sunshine vocal doused EP 'Elliot' in 2013 before stepping back for just under three years to work on his debut album, and landing last week on Greco-Roman and City Slang, his self-titled masterpiece 'Roosevelt' is exactly what we were waiting for. Keeping a strong bond with his dance music beginnings, Roosevelt also incorporates perfect pop songwriting with feel good melodies that make for around the clock listening.
Spanning and gauging the crowd during his early DJ sets definitely played a part in Roosevelt's development of the album – as did his love for French electro pop, Balearic, yacht rock, German music figureheads such as Manuel Göttsching and Neu! Not forgetting a mention of the '80s pop from the likes of Chic, Talk Talk and New Order, which is apparent in carefully constructed tracks such as Night Moves and stand-out single Colours.
Complete with its enigmatic cover, Roosevelt's debut is the perfect draw for a hazy end-of-summer soundtrack, and with such a diverse range of inspirations, we dug a little deeper and got the lowdown from the producer himself.
Read through Roosevelt's inspirations below and listen via our YouTube playlist.
The snare sound on Ned Doheney's A Love Of Your Own
Roosevelt: "I love everything about this album, especially the dead dry snare sound, I've always been into that kind of sound.. I'm recording drums in a room that literally only just fit my drum set and some microphones, so there's no room sound at all."
The cinematic synth sounds of Brian Eno's The Big Ship
Roosevelt: "I listened a lot to the whole album when I was riding my bike back home from the studio while making the album. I really hate this word – but it's probably the most 'epic' sound that I know. Still, Eno never goes over the top, and leaves this as an understated, innocent piece of music. It's definitely one of my favourite albums of all time."
Synthesizer demo videos: Korg Poly 800
Roosevelt: "These videos of people presenting the sounds they created on synthesizers can be such a good inspiration. Often I begin to watch them when I consider buying a new synth, but I end up trying to re-build the sounds a lot on the ones that I own, and eventually new songs evolve out of that."
The guitar arrangement of Nile Rodgers on Diana Ross' I'm Coming Out
Roosevelt: "This is probably the best sounding disco record that I know. This and the work they did for Sister Sledge is just incredible. The guitar style of Nile Rodgers really inspired my record, as it showed me to see the guitar as almost like a hybrid of a melodic and percussive instrument."
Drum solo videos by Teddy Campbell
Roosevelt: "It happens quite often that I realise I've procrastinated on YouTube and watched drum videos for the last 2 hours. I could watch these forever!"
The vocal style of John Martyn's Small Hours
Roosevelt: "I love everything about John Martyn… Especially when his vocal style goes in an Arthur Russel direction, like on this track. I chose this video as he's goofing around at the beginning before he gets lost in his music, which I thought was quite interesting. The vocal always feels so naive and raw to me – it feels like he just improvises and makes up the words when he starts singing."
David Byrne and Talking Heads
Roosevelt: "David Byrne still defines what I find most interesting about pop music – creating a character that feels extraterrestrial and hard to comprehend. Something that is bigger than human, bigger than life."
'70s disco bass lines, especially on Captain Sky's Moon Child
Roosevelt: "This is one of my favourite bass lines ever.. I started a lot of songs with the bass for this album, it's such an important and melodic element in all of my tracks."
The Whitest Boy Alive and Daniel Nentwig
Roosevelt: "This band helped me a lot to learn how to use synthesizers in a band environment. I really fell in love with them when I was still in a more guitar-based band, so at some point it felt like they introduced me to playing electronic music in a band setting."
Robyn Dancing On My Own
Roosevelt: "I felt like including something more recent in here would make sense, as Robyn is the perfect example for me how good modern pop music can sound. I love the production on the whole album ('Body Talk') and it was a big influence for my album."
Roosevelt's debut self-titled album 'Roosevelt' is out now on Greco-Roman (buy).