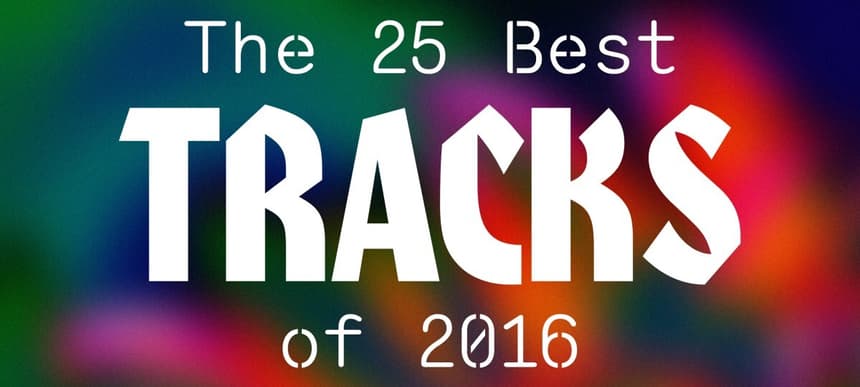 14.12.2016, Words by dummymag
The 25 best tracks of 2016
Has there ever been a more musically demanding year than 2016? At times, it felt like there was a non-stop stream of track premieres coming out of the pores of music publications, and as a site that covers a breadth of genres from house and techno to hip hop and experimental pop, it's hard to define exactly what is the 'best' of the year when you've only got 25 slots to play with.
Although a fair share of house and techno tracks dominated dance floors in 2016, it was definitely the year for hip hop, whether our attention was channelled into Rae Sremmund turning Paul McCartney into a living meme, or Drake soundtracking Uber rides across the world…again, and again, and again. Still, we tried to sift through the insane amount of singles this year and pull together a little something for all occasions. So, from insanely touching efforts by serpentwithfeet and Sampha, enchanting peak-time rave cuts courtesy of Lone and Lorenzo Senni, plus late-night hip hop and R&B delights from emerging artists Abra and Lil Yachty – this list is bound to include something you sang along to at some point in 2016.
There are a few shout outs due for those tracks that hovered short of the finish line including Bubble by Equiknoxx, Bicep's releases from Brassica and emerging New Zealand duo Sandboards, Machinedrum's return, the incredible underground house music that Bristol label Don't Be Afraid have released, and every track on Jessy Lanza's knockout album 'Oh No'.
Read through our favourite tracks of 2016 and listen seamlessly on our Spotify playlist.
25. Abra Crybaby
When Crybaby first popped up on SoundCloud, I rinsed my "unlimited" data listening to it for almost 24 hours straight. It boasts a simple yet effective Italo production, accompanied by Abra's saccharin sweet vocals and now almost trademark counter melodies. Alex Morris
24. Tom Misch feat. Loyle Carner Crazy Dream
As two artists making waves across the London scene, Tom Misch and Loyle Carner make the perfect tag team on Crazy Dream. Whilst Misch provides tender vocals and guitar riffs, Carner calmly weaves words together in nimble fashion without raising his voice, and the video brings the song to life even more. Yemi Abiade
23. PARTYNEXTDOOR Not Nice
Go on mate! OVO Sound crooner PARTYNEXTDOOR comes through with an anthem for all the men who might feel a bit rejected. Bounding over golden sands in his dune buggy, he calls out the girls who have done him wrong with one hard blow. You're not nice, you're ruuuuude. Alex Morris
22. Jessy Lanza I Talk BB
As the bubbling intro arpeggios collapse into half-time drums and give way to Lanza's breathy vocals, it quickly becomes clear that I Talk BB is rather special. One of the great ballads of the year, its romantic retro-futurism is as good an entry point as any into Jessy's glorious 'Oh No' album. Martyn Pepperell
21. Lorenzo Senni Win In The Flat World
Signing to Warp to release his 'Persona' EP only two months ago, Italian producer Lorenzo Senni soared to new heights in 2016, with Win In The Flat World being the track to prove it. Packed full of metallic synths, glittering FX and gleaming stabs – it's nothing short of big-room mastery that literally screams out for a strobe-lit dance floor. Natalie Davies
20. Twenty88 Deja Vu
There's no question that Big Sean and Jhene Aiko are easy on the eye, but their collaborative project Twenty88 is pretty easy on the ear too. Turning their self-titled album into a visual oddity that darts between the past few decades (and beyond), Deja Vu sees the duo as an awkward couple wholly indulging their wandering eyes along to a sublime R&B soundtrack that utilises both of their talents. Alex Morris
19. Lone Backtail Was Heavy
The lead track from the equally excellent 'Levitate' LP, Backtail Was Heavy is pure, distilled hardcore nostalgia from Lone with breaks, keys, ravey stabs and even a textbook euphoric breakdown-build midsection. But when it's carried off this well it stops sounding like pastiche…and you're too busy enjoying it to care. Another deep notch in the R&S Records bedpost. Will Pritchard
18. Gaika Glad We Found It
There's been a plentiful crop of Gaika material to choose from this year, with mixtapes dropping on both Mixpak and Warp, but it was 'SPAGHETTO' track Glad We Found It that reigned supreme. A tad moodier than other contenders, such as dancehall spiked 'SECURITY' cut Buta, Gaika leaves a lot to the imagination, as a hollow and haunting beat snakes alongside blurred vocals to create an air of absolute mystery and intrigue. Natalie Davies
17. serpentwithfeet blisters
I don't think anyone's music made me feel more in 2016 than Brooklyn-based Tri-Angle Records artist, serpentwithfeet. The title track on his blistering EP of the same name, blisters is a remarkable re-imagining of gospel R&B as operatic ambient. There are worlds upon worlds contained within this intensely potent music. Martyn Pepperell
16. Sampha Blood On Me
Sampha made his much-welcomed return to music this year, producing a mini-masterpiece with Blood On Me. A powerful song from beginning to end, his vocals are so filled with pain that you have no choice but to get sucked in. It's the perfect formula for a triumphant comeback. Yemi Abiade
15. Jeremih feat. Krept & Konan & Stefflon Don London
A clear standout from the pretty collection of continent-tripping tracks that was Jeremih's 'Late Nights: Europe' mixtape, and if this had dropped a bit earlier in the year it could have been soundtracking dances all summer long. With Krept, Konan and Stefflon Don all putting in star turns, just try and listen to it without having any number of those silky syncopated hooks bouncing around inside your head for the rest of the day. Will Pritchard
14. KAYTRANADA feat. Anderson Paak Glowed Up
What's the risk of failing when Anderson .Paak and the hottest name in Montreal's scene, Mr Celestin, coordinate a track? None. The two-part suite from triumphant album '99.9%' plays on the duo's strengths – showcasing some of .Paak's best lyricism and KAYTRA's aptitude for blending future beats with a classic sound. Paced to reflect the pair's slow yet steady road to fame, the hard-hitting diptych sets a tone that is equally uplifting and contemplative. Undine Markus
13. Dave & AJ Tracey Thiago Silva
These two guys right here, what can I say? They have been my favourite UK rappers all year. Both are dope lyricists in their own right, but on Thiago Silva, they come together to bar the beat into submission. This is how a grime song should be – no hooks, just lyrics. Don't even ask me who I thought performed better, as I've been having sleepless nights over that since May. Yemi Abiade
12. Jorja Smith Blue Lights
There aren't many people who can count their first release as a breakthrough single, but Jorja Smith is one of them. With a direct nod to Dizzee Rascal's Sirens, the track takes on the sadly ever-relevant topic of police brutality – and does so in a gorgeous, soulful fashion, with its simple boom-bap and keys combination leaving plenty of room for Smith's wealth of velvety tones. Will Pritchard
11. Lil Yachty One Night
Lil Yachty has figured out a way to capitalise on the lack of coherence and continuity across the sonic and visual trends of 2016, landing his audiovisual package for One Night as one of the most timely pieces of the year. The video looks like a random Internet surfing session, whilst the track is a smooth fusion of soft trap and summery vocals, further seasoned by Yachty's partner in crime, Burberry Perry. Undine Markus
10. NAO Girlfriend
With Girlfriend, London-based singer/songwriter NAO and her production team took the sultry lovesick sounds of late '90s/early '00s R&B and neo soul to rebuild them inside a space-age maximalist beat. With a chorus line that echoes Prince's If I Was Your Girlfriend, and a vocal delivery straight out of the Soulquarian and Organized Noize schools of songwriting, and touches of blues guitar, Girlfriend ripples with that classic feeling. Set against shuffling drum machine funk and immersive synthesiser swirls, its warmhearted futurism serves as a reminder that as technology rapidly progresses, deep feelings and longing will still always cut through. Martyn Pepperell
09. Rae Sreummurd feat. Gucci Mane Black Beatles
It may not ooze in underground cool but Black Beatles, without a doubt, was the wildcard track that left a huge social media hole in the tail end of 2016. Featuring a return to civilisation from Gucci Mane, you can just smell the Coconut Ciroq on Rae's breath as "that girl is a real crowd pleaser" resonates across R&B clubs nationwide and the crowd point their iPhone Notes at the booth, asking the DJ to play One Dance next. Let's not get started on the Mannequin Challenge, but if you didn't enjoy Paul McCartney getting turned into a living meme, then you may not be ready for 2017. Natalie Davies
08. Fat Joe & Remy Ma feat. French Montana All The Way Up
Got bottes, got weed, got molly. I can't say Fat Joe has reeled me in so much since he pranced around in double denim with Ashanti for What's Luv, but it was Remy Ma screaming about her colour money and helicopter Uber rides that truly sealed the top 10 deal. And of course, there's an all guns blazing, rousing speech from DJ Khaled bang right in the middle. Wise words from a man who got lost at sea on his speedboat and streamed his wife giving birth on Snapchat. Yes, 2k16 was the year that all of our wildest nightmares came true. Natalie Davies
07. Mura Masa feat. A$AP Rocky Lovesick
Mura Masa only went and made one of the most infectious songs of the year, and on top of that, he got a stellar collaboration from A$AP Rocky to boot. That's a win-win if you ask me. Coming across as an urban love story, Lovesick oozes musicality, with exotic steel pan patterns and Rocky's smoother than silk vocals. It's not something the Harlem rapper would normally hop on but he sounds right at home. Mura Masa is only 20 years old, but he has crafted a crisp sound that draws influences in from literally everywhere. Here's hoping for more bangers like this in 2017. Yemi Abiade
06. Young Thug & Travis Scott feat. Quavo Pick Up The Phone
If we're talking about rap albums that truly bucked the trend in 2016, then it may have to be 'JEFFERY'. Discussing the concept that there is "no such thing as gender" during a Calvin Klein show he modelled in alongside Frank Ocean in July, the rapper further fuelled his point of view in August by wearing a dress on the cover for 'JEFFERY'. Not treading lightly, the album features a bevvy of tracks named after his idols, including RiRi, Wyclef Jean, Kanye West, Swizz Beatz…and Harambe. However, for us, the standout has to be Travis Scott and Quavo featured joint, Pick Up The Phone. Pulling references from across the board, including Home Alone, Sonny Liston and Klondikes – Thugga keeps the phone ringing off the hook. Natalie Davies
05. Frank Ocean Nikes
Frank Ocean finally returned in 2016 and treated us to some gems this year, from the visual album 'Endless' to his studio album 'Blonde'. Nikes, which kicks off 'Blonde', is just beautiful and perfect. It doesn't do much, building sparse drums on top of a mellow synth, but it's Frank's voice, and how he distorts it, that really tells the story. We probably won't hear from Ocean now for at least another 10 years, but Nikes has made the potential wait worthwhile. Yemi Abiade
04. Solange Cranes In The Sky
Who can't relate to turning to the wrong tools trying to escape from a situation or circumstance? Through positioning it as the lead single from 'A Seat At The Table,' Solange Piaget Knowles explicitly and crucially located Cranes In The Sky within the heartbreaking realities of the African American experience. Over four and a half minutes and a silky rhythm bed crafted by the impeccable Raphael Saadiq, Solange sings her way through a studied meditation on trying to drink, smoke, dance, shop and travel her pain away, before healing herself with sleep, sex and reading. Beautifully written and stylishly produced by Solange and Raphael, Cranes In The Sky's elegant and reflective blend of vocals, drums, bass, and strings, made for one of the most ornate, polished and meaningful singles of the year. Martyn Pepperell
03. Kanye West Father Stretch My Hands Pt. 1
2016 was the year everyone opened up about mental health. It's safe to say, Kanye's behaviour has been challenging for some time, but it's never been so apparent on a record before. How many times did 'The Life Of Pablo' get delayed before it was finally released in February? How many aliases and alter-egos did it amass? That aside, the much-delayed album was definitely worth the wait, with Father Stretch My Hands Pt. 1 being the highlight, mainly due to that iconic Pastor TL Barrett sample paired with Kid Cudi's chorus, that had the world singing along whilst feeling genuinely concerned about Kanye's wellbeing.
Over in meme world, the cherry on the cake had to be the little girl stood on stage at a Russian Orthodox church, who, in a true Kanye-esque biblical fashion, composed a choir of headscarf-wearing elders with Father Stretch My Hands Pt. 1 dubbed over the top. Alex Morris
02. Skepta Man
Grime had a year to remember, and much of its success lies with Meridian don Skepta. There wasn't a club across the country that wasn't playing his tracks this year, especially the monstrous Man. This song, sampling Queens Of The Stone Age's Regular John, defined the grime scene in 2016, and Skepta was able to create another underground masterpiece whilst still pulling in mainstream fans.
Kicking off the track with what sounds like sirens, the warning signs of the imminent madness are laid out immediately, with Skeppy laying down his now infamous hook over a rampant drum sequence. It is, in a word, chaotic, but it merges so many different elements together to make a bouillabaisse of charisma, non-convention, and Britishness. Skepta won big this year, both musically and for his community, but Man might just stand strong as his 2016 magnum opus. Yemi Abiade
01. Drake One Dance
With One Dance, Drake and his OVO writing and production team took a sample from Crazy Cousinz's 2008 remix of Do You Mind? by Paleface & Kyla, and transformed it into the backbone of a world conquering, border-crossing hit. In the process, they tied together the sounds of classic-era UK funky, modern Nigerian afrobeats (courtesy of a feature from Wizkid), and Drake's decadent Toronto-rooted late-night R&B, gifting us with a global bridge that illustrates the international-but-integrated future of pop music. Aside from becoming Drake's first number one single in 10 countries, it became the most played song on Spotify, making its universal appeal abundantly clear.
The power of nostalgia in popular music is an often discussed topic, and while Rihanna and Drake adapting the 1998 dancehall riddim Sail Away into Work fit more neatly with the standard narrative around it, One Dance showed that sometimes the past worth drawing on is closer than we think, and in its own way, can still very successfully point towards worthwhile pop futures.
If you spent any time in 2016 driving with the radio on, dancing in the club, or chilling to Spotify playlists, chances are you caught yourself singing along to One Dance. Martyn Pepperell
Listen to the best tracks of 2016 on our Spotify playlist.