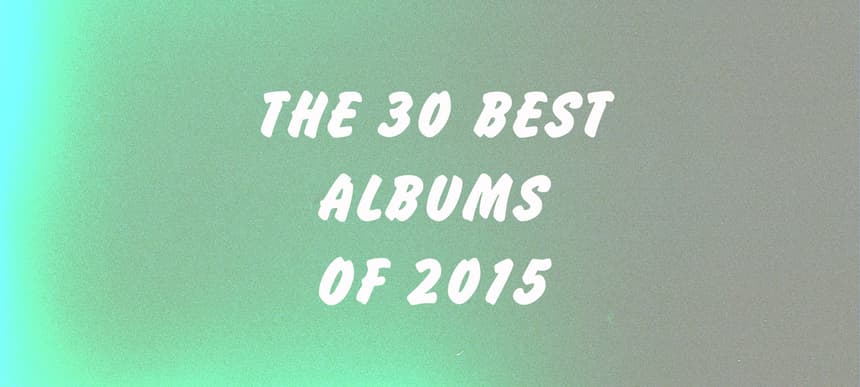 09.12.2015, Words by dummymag
The 30 best albums of 2015
We touched on it in the introduction to last year's album list, but the perception of 'the album' really does keep shifting. Short players reign supreme in the house and techno scene, hip hop shimmys between albums and mixtapes and some artists seem to simply churn out single, after single, after single.
The full-length masterpiece still holds a place in Dummy's heart and 2015 was indeed a year for some colossal releases that haven't gone unnoticed. Gwilym Gold scored a soothing, sweet paradise whilst Hudson Mohawke did quite the opposite. Grimes defined post-internet pop whilst Darkstar defined IRL issues in the North. FKA twigs questioned everything with a release that hovers in the territory between EP and album but we loved it – and really, that's all that matters.
30. Samoyed 'Saturday' (Flask)
After a two year silence, Flask has been resurrected for the same reason that it was initially founded: to release a Samoyed album with so much of an out-of-nowhere vibe that no other label seemed appropriate to house it. 'Saturday' sounds like the score from a montage of your favourite '80s cinema classic that hasn't been made, creating memories in your mind that haven't even happened yet. The entire album sounds as if Kenny Loggins is sparring with John Carpenter. Needless to say, it's an emotional one. Joe King
29. Garth BE 'Hipnotony' LP (Sweet Sticky)
The Mancunian beatsmith returned in 2015 with another amazing LP on his own imprint. Last year he set the record world alight with his 'Seven Movements' LP which hit the top of almost every reputable DJs end of year charts. We expect the follow up album to be no different. Joe King
28. Hudson Mohawke 'Lantern' (Warp)
Hudson Mohawke could have taken a number of paths. He could have stayed on the grind with TNGHT and he'd be posted up with some fairly untaxing Vegas residency by now, he could have said yes to every email that came his way asking for production efforts and the glossy HudMo sound would be infiltrating the charts as well as the clubs. Thankfully, he decided to set the status to "busy" for a number of months and cook up 'Lantern'. Drawing from influences as far-reaching as happy hardcore, cinematic orchestral works, hip hop and space age R&B – 'Lantern' was 2015's most dazzlingly self-assured LP. From the electrifying horns than underpin Scud Books to ANONHI's eyes-wide-shut vocal performance on Indian Steps, Hudson Mohawke is still an artist that flourishes best on his own terms – a connoisseur of both big-room melodies and measured refinement. Duncan Harrison
27. Rustie 'EVENIFUDONTBELIEVE' (Warp)
Last year, Rustie released 'Pink Language', an album torn between arty instrumentals and vocal party jams that never quite settled on either. It was a rare stumbling block, feeling forced where Rustie had always felt effortless, but he easily makes amends with surprise-released third album 'EVENIFUDONTBELIEVE'. Entirely instrumental, the album sounds untethered: virtuosic, euphoric, and spiritually uplifting, but most of all a complete delight to listen to. Selim Bulut
26. Tom Misch 'Beat Tape 2' (Beyond The Groove)
Aggression isn't really relevant to 'Beat Tape 2', and as we mentioned in our Next feature with Tom Misch, gritty gunshots and sirens aren't either. Stepping back into the production shadows, Misch plays backseat driver on 'Beat Tape 2' and like his chief influence, the late J Dilla – he provides foolproof beats for collaborators that include Loyle Carner, Jordan Rakei and Zak Abel. This is feelgood music. This is the 2k15 candlelit bathers Sail Away (but it's more L'Ocittane than Radox). It's Sunday afternoon music. It's music your parents wouldn't object to which as you get older, isn't a bad thing. Natalie Davies
25. Sound Pellegrino 'Sound Pellegrino Presents SND.P Vol. 4: Melodic Mechanisms' (Sound Pellegrino)
The fourth instalment of Teki Latex and Orgasmic's increasingly influential French label's round up series took a turn for the melodic. As you'd expect from a compilation featuring the likes of Sudanim, Matthias Zimmermann, Chilly Gonzales and Crystal, it's a forward thinking affair full of unexpected twists and turns. Highlights include Joe Howe's zonked out Zone Reminder and Moleskin's wonderfully warped Imagine (Handsome Boys Lifestyle). All in all it's as refreshing as super icy glass of, well, San Pellegrino. Josh Baines
24. Project Pablo 'I Want To Believe' (1080p)
1080p have been extremely label prolific of 2015, releasing significantly more albums than any other outpost this year. Project Pablo released his debut full-length via the Vancouver imprint and absolutely knocked it out of the park. Albums in the house/electronic realm can often be strange, but Project Pablo is somebody you want to tune in and drop out to for 45 minutes. That in mind, it took only nine tracks to turn the little known Canadian into a (underground) household name. Joe King
23. LA PRIEST 'Inji' (Domino)
After five years of silence, former Late of the Pier frontman Sam Eastgate returned as earthly pop wizard LA PRIEST and released the most unique debut album we've heard in ages. Eastgate turns his hand to a nuttily diverse array of styles – gorgeous pop songwriting (Lady's In Trouble With The Law), body-moving house tracks (Learning To Love), and intricate instrumentals (Lorry Park) – and excels at each of them. If only all albums were as inventive as this. Selim Bulut
22. Bjork 'Vulnicura' (One Little Indian)
These abstract complex feelings / I just don't know how to handle them, for Bjork, this is a strikingly straightforward lyric. This pinpointed focus on the relationship breakdowns and emotional fallibility is what made 'Vulnicura' (roughly meaning "cure for wounds") such a totally arresting record. The appointment of Arca and The Haxan Cloak gave the whole LP a certain otherness the elevated the personal themes into a realm of almost superhuman expression. Throbbing, quivering beats battling against the theatrical instrumentation with Bjork's delicate vocal never quite fully submerged in the mix. This daringly honest chapter in Bjork's catalogue is one of her finest – an outsider looking in and telling a story stranger than fiction. Duncan Harrison
21. LV 'Ancient Mechanisms' (Brownswood)
Two and a half years in the making and well worth the wait, globetrotting production duo LV's eagerly awaiting album 'Ancient Mechanisms' dropped in October on Brownswood. The album traces a train of thought sparked by a live session with jazz pianist Tigran Hamasyan in 2012. Inspired by the inner workings of instruments (it's in the name) and a MIDI keyboard that sounded like "a bar in a wild west movie", the recording process went beyond the pokey box of a studio and out into the wild. LV embarked on a trip to Belgium with Hamasyan, where they recorded him playing antique grand pianos in a museum for soothing jazz-licked track Ruiselede, aptly named after the town that housed the collection. Carrying on LV's penchant for collaboration, the pianist makes several appearances throughout the album to showcase a broad range of styles, including energetic and circling keys that perfectly compliment the stabby bass of Jump And Reach to the toned down, drifting wash of Infinite Spring. Natalie Davies
20. Grimes – 'Art Angels' (4AD)
Diss tracks, K-pop, scrapped songs, and medieval music; each hint and comment that Grimes offered in the build up to 'Art Angels' seemed vague and unrelated, but when it eventually arrived Claire Boucher's range was broad and all-consuming. Less experimental than 'Visions', it's protracted arrival confirmed what many had predicted: an artist with a fearless drive to define what pop is in the "post-internet" age. Sean Stanley
19. Silicon 'Personal Computer' (Domino)
Silicon is Kody Nielson, the brother of Unknown Mortal Orchestra honcho Ruban Nielson. Besides co-writing and co-producing parts of UMO's stellar third album 'Multi-Love', Kody also released an ace solo record in 2015 in the form of 'Personal Computer', an understated but eminently listenable album pairs eccentric pop songwriting with dry disco rhythms. Selim Bulut
18. Faze Miyake 'Faze Miyake' (Rinse)
Faze Miyake's debut album was a long time coming, but the final result showcased a producer keen to explore a landscape beyond the explosive, trap-heavy grime that defined much of his early production work. Between the sparkling Ice Cold alongside Inga Copeland and the whirring, contorted pressure of The Nest featuring Little Simz, vocalists are also a focal point. In or away from the club, it's an album that proves Faze Miyake can cut it as an artist. Tomas Fraser
17. Clarence Clarity 'No Now' (Bella Union)
Londoner Clarence Clarity's 'No Now' album presents itself as more concerned with feeling than technique. This is impressive, because from a production perspective, sculpting out the volatile cyborg RnB jams that make up its running time can't have been that simple. 'No Now' is an explosive study in digital funk and ghost-in-the-shell soul music, one more than worth returning to for years to come. Martyn Pepperell
16. Darkstar 'Foam Island' (Warp Records)
With 'Foam Island', English vocal electronica duo Darkstar (James Young and Aiden Whalley) achieve a compromise between the holographic post-dubstep of their debut album 'North' and the pastoral psychedelia of their second album 'News From Nowhere'. As part of 'Foam Island,' they headed to Huddersfield in the English North and interviewed young locals about life during the last British General Election, eventually interweaving audio recordings of those discussions throughout the album. 'Foam Island' also saw Darkstar bid goodbye to vocalist James Buttery, letting James Young step to the microphone. 'Foam Island' can make for a weighty listen, but within the wider conversation it takes in, lurk songs like Pin Secure and Stoke The Fire, some of the most substantial and affecting compositions they've released. Close to a decade into their career, Darkstar continue to captivate, illuminate, and most importantly, delight. Martyn Pepperell
15. Letta 'Testimony' (Coyote Records)
Living in the States, Letta's physical detachment from the UK hasn't stopped its music scene playing a strong part in the formation of his debut album 'Testimony', released earlier this year on Coyote Records. Designed for edge-to-edge listening there are touches of sino in Cascades, eski meets rhythm and grime on North Face and the moody gunshots against harsh punches of Where I Left You add the grittiness of a screwface on the back of the nightbus. It's hard to measure the releases depth, but regardless of whatever influences we attribute to his sound, Letta is devoid of pigeonholing. "This [record] is just me channelling stuff – it's not beat making, it's not grime or hip hop or whatever. It's just me." Natalie Davies
14. Unknown Mortal Orchestra 'Multi-Love' (Jagjaguwar)
'Multi-Love', Portland-based Hawaiian-New Zealand singer, guitarist, songwriter and producer Ruban Nielson's third album as Unknown Mortal Orchestra, is an embarrassment of riches. Across it's 42 minutes and 15 second running time, Nielson effortlessly expands upon the crunchy lo-fi psych-R&B immediacy of 'I', and the existentially exhausted, acid-washed soul of 'II' with the inclusion of choppy disco-funk guitars, swirling synths, strutting boogie grooves, and a 70s style super hi-fi mix. In the process, he creates a staggering amount of timeless musical moments. From the low-slung New Orleans style RnB-Funk of The World Is Crowded and Necessary Evil, to the emotional club-tempo euphoria of Can't Keep Checking My Phone, Multi-Love and beyond, 'Multi-Love' is the most accomplished and memorable album Nielson has crafted for us yet. It's a high watermark moment in his career, and an indicator of even greater musical heights on the horizon. Martyn Pepperell
13. FKA Twigs 'M3LL155X' (Young Turks)
Subtlety has never been Twigs' manner. When she announced in August that she was "feeling like a loaded gun" there was a suggestion that Tahliah Barnett wanted to set her world to rights. Never limiting herself to just a sonic realm, was unleashed as an audio-visual project inspired by her study of voguing, porn, and pregnancy, exacting control on those who seek to define her by their terms while continuing to spurn compromise. Sean Stanley
12. Amateur Best 'The Gleaners' (Brille Records)
Like Prefab Sprout or more recently Metronomy, Joe Flory aka Amateur Best belongs to a tradition of English pop groups who pair truly astounding songwriting with contemporary production without ever being too showy about it. There's no hook or narrative surrounding Flory's second album 'The Gleaners' to focus on: it's simply a wonderful pop record, filled with inventive little songs that worm their way subtly into your ears. Selim Bulut
11. Kode9 'Nøthing' (Hyperdub)
Steve Goodman aka Kode9 returned with his first official long player following two groundbreaking collaborations with the sadly deceased Spaceape. The Paul Mason-influenced 'Nøthing' saw the Hyperdub founder turn in some of his most accessible, soul-drenched and polished work to date, expending thirteen conceptual bass movements across 45 minutes with footwork, classic dubstep mutations, posthumous lyricism and enveloping silence all delivered via the A/V concept of a fully automated post-human hotel. Steely yet sincere, weighted with tragedy yet surprisingly light of touch, 'Nøthing' further cemented Goodman's reputation as a curator of true audio dynamism. Louis Cook
10. Earl Sweatshirt 'I Don't Like Shit, I Don't Go Outside' (Tan Cressida)
Along with Drake and Kendrick Lamar, Earl Sweatshirt was another rap artist challenging the stigma around mental illness and male depression. As evidenced by the title, his third album is a design of isolation and singularity and resonates as a dark and dense body of work that few could have predicted during his formative years. Sean Stanley
09. Floating Points 'Elaenia' (Pluto)
Six years in the making Sam Shepherd's debut album shunned his noted dancefloor eclecticisms for a measured approach in post-modal impressionism. A spacious and immersive suite, 'Elaenia' is a soaring 43-minute epic made for exploration, meditation and delineation from one of music's brightest minds. Sean Stanley
08. Jamie xx – 'In Colour' (Young Turks)
Another long-awaited album, Jamie xx's debut is a widescreen, technicolour trip beyond the intimacy of his work with The xx and the floor-fillers he's been behind in the past six years. Littered with inspired collaborations, 'In Colour' covered many bases in 2015, but none better than making the vast sum of its parts wistful and human. Sean Stanley
07. Holly Herndon 'Platform' (4AD)
Herndon's album 'Movement' focused on rigidity, experimentation and the boundaries to which your senses and body could be tested purely by a piece of music. Her 4AD debut, 'Platform', explores those same themes but adds more pop sensibilities into the mix – the haunting spaces that lay in between beats now cemented over with fully formed vocals and pulsing waves. Aurora Mitchell
06. Future 'DS2' (Freebandz)
With MetroBoomin on executive production duties and a new sense of creative direction from three explosive mixtapes dropped in the space of six months, 'DS2' was the culmination of Future's second coming. It is the crystallisation of his ambient, sedated club music where he constantly teeters on the edge of chaos but never quite loses grip. The record would have been a one-track product of big-money hedonism but there are enough whiffs of the paranoia and psychosis that come with never-ending indulgence to make it a rounded and effective snapshot of a troubled lifestyle. Future's garbled flow, while appearing a melee of drank tones and dank murmurs, is in fact sculpted and refined. 'DS2' plays out like a distressed nosedive into a swell of pleasure-seeking. Future summarises this shift on I Serve The Base where he snarls, tried to make me a pop star and they made a monster. Duncan Harrison.
05. Jlin 'Dark Energy' (Planet Mu)
Jlin's debut album Dark Energy delivered a shake up to footwork in 2015, especially with her no-sample approach in a genre that's generally packed with them. Working with rusty, robotical musical movements and Street Fighter-esque bellowing vocals, it felt like each track stepped into an imagined futuristic video game battle, with the ultimate goal of each track inching one mechanical step at a time closer to the final boss level. It's Infrared (Bagua) that demonstrates this most, opening with the sound of swift flips, like a swipe at an opponent, before formally announcing "Round 1…" and launching into fight mode. It's a game-changing record that portrayed a vision of footwork's potential future. Aurora Mitchell
04. Gwilym Gold 'A Paradise' (Brille Records)
Over the course of 2015, London singer-songwriter and keyboardist Gwilym Gold found a way to continue the innovation-based impulses of his past work while sliding his aesthetic into a relaxed and accessible space. In 2012, he unveiled 'Tender Metal', a synth-pop album released on on the digital Bronze format, which shuffles each song's elements so that no two plays are the same. This time with 'A Paradise', Gold, his producer Lexx, and their collaborators Nicho Muhly, James Young (Darkstar), Bullion and Hyetal crafted a cycle of piano and string-led art-pop. Letting the songwriting dictate, they left the songs sparse and minimal if required (I Know, I Know, Uninvited), or built them up into hulking rhythmic structures (Triumph). Gold has a beautifully melodic singing voice. When he deploys it in a textural style over the album's inviting future-forward production, listening to it is like floating through thick clouds on a hover-board. Martyn Pepperell
03. Drake 'If You're Reading This It's Too Late' (Cash Money Records)
Drake's omnipresence this year succeeded in many forms: feuds, mixtapes, dodgy dancing, co-signs, and collaborations. Many expected Drizzy to release 'Views From The 6,' but instead 'If You're Reading This It's Too Late' dropped and took aim with new crosshairs for Drake's scope. One can't help think that this is a new Aubrey Graham we're seeing. Sean Stanley
02. Kendrick Lamar 'To Pimp A Butterfly' (TDE)
The idea of survivor's guilt is an interesting in the landscape of hip hop. Kendrick's 'good kid, m.A.A.d city' catapulted him straight to the stratospheric heights of rap's top table. Fans patiently awaited a follow-up and what came was beyond all expectations. Rather than flossing about his newfound fame and success, Kendrick looked inward. He analysed the complications and obstacles that come with being black and successful. The implications it has on his relationship with home and the restraints it can put on relationships and spirituality. Through cosmic G-funk instrumentals, unravelling poetic interludes and and perhaps the most authentic and engaging conceptual hook of any hip hop album since 'My Beautiful Dark Twisted Fantasy', Kendrick gave us a reawakened opus. An unflinching stare from a voice worn-out by inequalities far beyond his control. Duncan Harrison
01. Oneohtrix Point Never 'Garden of Delete' (Warp)
On his astoundingly original 'Garden of Delete', Oneohtrix Point Never looks to his own past to build the future. The album folds in the haunted eccojams of 'Chuck Person', the nihilistic synthscapes of 'Returnal', the sound collages of 'Replica', and the micro-edited aesthetics of 'R Plus Seven', but he explores new and previously uncharted territories too. Everything from '90s alt-rock to cybermetal to contemporary Top 40 pop gets reconstituted on 'Garden of Delete', while OPN adds his own guitar lines and computerised vocal melodies into the mix. The result is, strangely, his most accessible album to date. Selim Bulut