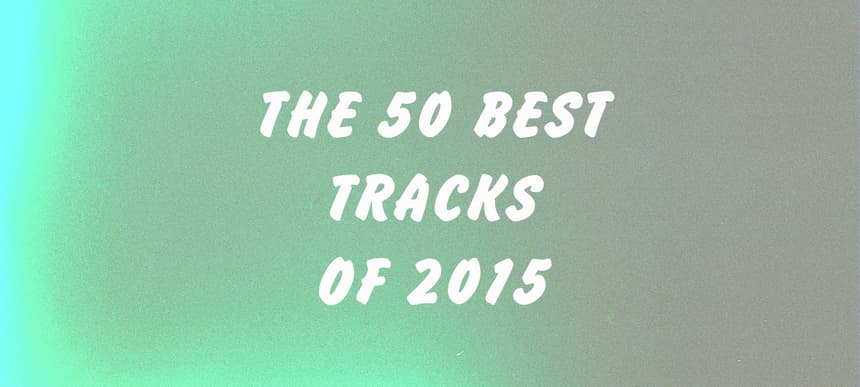 07.12.2015, Words by dummymag
The 50 best tracks of 2015
Maybe it's the videos that maketh the tune, or maybe it's the catchphrases it spurns, or maybe it's the godamn memes. Whichever way you see it, our 2015 list is made up of tunes Dummy really enjoyed. It's quite simple really. They are the ones we remembered at the end of the year – maybe because we heard them played countless times at festivals, during late night DJ sets, or the day after it all over a greasy pizza from Domino's. Maybe we enjoyed them through a Funktion One system, tinny car speakers or on the tube in ear-buds that only play from one side. They are the ones that hung around for a while, but not like a bad boyfriend. The ones that sparked relentless catchphrases. The ones we sang louder or danced harder to than the rest. Whether you agree with the selections, the numerical order we put them in or even what year it is…this list has something for everyone.
Now complete, our 50-strong list houses blue-eyed soul from New Zealand, louche keyboard freestyles, pop and R&B mastery, lyrics about Friday nights spent playing FIFA, turbo-charged tracks with sharp political edges, and anthemic freestyles.
Do the damn thing and enjoy it.
50. Kamixlo Paleta
The young Brixton-bred producer is a key member of London's Bala Club/Endless crew, whose debut 'Demonico' EP came out on the Codes sublabel from Visionist and PAN as relaunched this year. His blaring, warped reggaeton hybrids featuring catchy vocal hooks and heavily percussive sounds made for a massive club banger via lead track Paleta. Flora Yin-Wong
49. Nozinja Wo Va Jaha
While Nozinja's Shangaan Electro genre might be widely defined by it's arrhythmia-inducing pace, his debut LP for Warp was capped off by a movingly plaintive incarnation of the unique sound. Wo Va Jaha is a softly pulsing, spiritually-inspired number about fatherhood and community. The calm at the end of Nozinja Lodge's polychrome maelstrom. Duncan Harrison
48. Elysia Crampton Axacan
Formerly known as E+E, transgender artist Elysia Crampton returned with her concept album, 'American Drift' this year on FaltyDL's Blueberry Records, arriving as one of 2015's most unique tracks. Moving through futurist experimental sounds, Axacan journeys through Latin rhythms overlaced with the garish, chopped-up vocals of Atlanta rappers and crude gunshots before morphing into a glorious melody with epic breakdowns. Flora Yin-Wong
47. The Maghreban Wonder Woman
Aymon Rustom aka Dr. Zygote aka The Maghreban has been an extremely prolific producer of 2015, releasing a handful on 12s under his latest moniker on his own imprint Zoot Records and further afield. Wonder Woman is perhaps the hardest and most wayward disco track you'll have heard this year, complete with an infectious bassline that will keep you dancing way into 2016…and beyond. Joe King
46. Dreams Energy
A seemingly mysterious label outside its city limits, Dreams calls LA label Private Selection home. Providing the first release on the label, 'Twisted Karma', his track Energy is as sharp as the knife that adorns the artwork, with the sound of solid steel blades flicking creating the industrial hum of the track. It's a slow burner that both opens the EP that houses it and Private Selection's foray into releases. Natalie Davies
45. Bok Bok & Sweyn Jupiter Papaya Lipgloss (Sour Mix)
Night Slugs didn't release much club material in 2015, but what they did put out was top notch. Like Jam City's Dream '15 or Hysterics' Empty, Papaya Lipgloss moves away from the industrial sounds of their recent Club Constructions releases towards something slower, airier, funkier, and sexier, with Sweyn Jupiter laying down some louche keyboard freestyles over a sparse rhythm. Selim Bulut
44. Sepalcure Fight For Us
Comprising of members Travis Stewart (Machinedrum) and Praveen Sharma (Braille), production duo Sepalcure are an exciting union in the underground club music scene, recently returning to the airwaves with a single on Scuba's Hotflush imprint, 'Music 4 All / Fight For Us'. Cemented by Rochelle Jordan's longing lyrics, Fight For Us is a bubblebath soundtrack worthy swirl of a single, that touches on the foundations of pop and R&B mastery. Natalie Davies
43. Hudson Mohawke Ryderz
There's something aggressive about the kind of joy Hudson Mohawke deals in. He isn't trying to make you charmingly twinkle like Lionel Richie in the Hello video. He wants you to spontaneously collapse and bask in the sheer volume of elation he's putting out. Listen to the cataclysmic beat swooping over the sped-up sample of DJ Rogers' Watch Out for the Riders and try and tell me he failed. Duncan Harrison
42. Tom Misch feat Loyle Carner Nightgowns
Young South East London based producer Tom Misch drove us wild with 'Beat Tape 1' and Beat Tape 2' this year, with the latter being a surefire Dummy favourite. Loyle Carner featured track Nightgowns is all about teenage relationships, skipping over Tom's guitar tinged beats with lyrics like Friday night fiddling with Fifa / Slum Village seepin' through the speaker making it a track full of bubbling youthful contemplation. Natalie Davies
41. IGLOOGHOST ft. Cuushe Gold Coat (feat Cuushe)
In a millennial take on a rom-com plot line, teenage producer and visual artist IGLOOGHOST signed to Brainfeeder shortly after receiving a Twitter DM from Flying Lotus. The result was IGLOOGHOST's 'Chinese NÜ Year EP', a sonic limbo between a sugar high and a sugar crash. Championed by Anthony Fantano of The Needle Drop with an unexpected 8/10 review and ongoing co-signs from Kutmah and Mary-Anne Hobbs, the wunderkind has already begun working on a full length album for release on Brainfeeder in 2016. Gold Coat was the first IGLOOGHOST single to drop from 'Chinese NÜ Year' featuring vocals from Japanese artist Cuushe. Mia Besorio
40. Ducktails Surreal Exposure
As a person generally drawn to dark and aggressive music, what made me love Surreal Exposure so much? The fact that main man Matt Mondanile is accompanied by Mac DeMarco in this video? Matt Mondanile's surreal face? Mac DeMarco's surreal face? The fact they get in a boat together? The fact they get in the shower together? Or maybe the fact this track, despite my 20s rapidly running away from me, still makes me feel like I'll end up a student in some SoCal high school, going out with a salt-licked surfer called Brad who serenades me on the beach at twilight. We all have dreams you know. Natalie Davies
39. Kali Uchis Loner
Colombian newcomer Kali Uchis is an enigma. Surrounded by neon lights, diners, floor length pink babydolls, milkshakes and pink drop-top whips she had the Internet wrapped around her finger – even without an official single release. On Loner, which is taken from her free album 'Por Vida', Kali effortlessly croons about her desire to be a loner, maybe because she's fully grown and useless boys ain't shit to her. Natalie Davies
38. Fit Siegel Carmine
​Those haunting, angelic pads that are the resting constant of the track make Fit Siegel's Carmine the best ambient house track of the year. It's a track made for the after-hours, with twinkling melodies and meditative drum chops providing an appropriate soother when a night starts to wind down. Aurora Mitchell
37. BRTSH Knights Outta Your Mind
BRTSH KNIGHTS are a young South London trio who make music formed by the sort of experiences that come with being young in the city as well as drawing inspiration from their love of pirate radio and soundsystem culture. In their own words they, "spend too much time in clubs and have a shared appreciation for R&B and the finer things in life". Premiered on Dummy earlier this year, 'Future Relics' EP track 'Outta Your Mind – which occupies the first half of the video above – is probably a bit less grimey than what you'd expect from their influences. It's like new jack swing in a balaclava, roaming around a South East London estate. Natalie Davies
36. Roy Wood$ Drama (feat Drake)
Toronto is officially taking over via October's Very Own's ever expanding ranks. First Drake primed PARTYNEXTDOOR but now the newest kid on the block from the 6 is 20-year-old Roy Wood$ who dropped his 'Exis' EP on OVO in August. A flurry of tracks about jealousy, drama, catching feelings and being there for the ladies – Drake featured Drama it sits nicely in a playlist for the more sensitive fans of rap. Be warned, it's catchy as hell. Natalie Davies
35. LA PRIEST Night Train
While not as immediately gratifying as some of the other dance songs on LA PRIEST's debut album 'Inji', Night Train definitely yields the most long-term rewards. Opening on an irregular bassline before settling into a steady four-to-the-floor groove, Night Train is defined by its gorgeous melodies and luscious backing vocals. Like the rest of 'Inji', it's ridiculously inventive and miles ahead of the competition. Selim Bulut
34. Darkstar Pin Secure
With three classic albums to their name in five years, English art-pop duo Darkstar are one of the most quietly consistent acts to emerge from the UK in the last decade. The centrepiece of their 'Foam Island' album, Pin Secure joyfully interlaces slanted rhythms, audio interview snippets, wormy synths and psychedelic auto-tuned vocals, along the way converting the thoughts and aspirations of Northern England youth into song. Listening to it is like hearing Electric Eden era 1970s English folk music recast through a future-forward techno pop frame. Martyn Pepperell
33. Pearson Sound Thaw Cycle
When Pearson Sound's debut album was released earlier this year, those closely following the Hessle producer wondered, where's Thaw Cycle? An unreleased track that had been played in various sets and mixes, it had already come to be a fan favourite. Having got the most requests Pearson Sound's ever received to release a track; the clanking techno banger finally arrived with an official release met by universal chorus of "finally!" Aurora Mitchell
32. Oneohtrix Point Never Ezra
Daniel Lopatin's latest record 'Garden of Delete' centres on the experience of puberty. It does a pretty good job of conveying one of the most confusing and turbulent periods in life, one in which I first found Lopatin's music. The track that portrays the mood swings of those years the most is Ezra. Named after an alien devised from the imagination of Lopatin, it stops and starts in jarring movements, playing with '90s industrial rock, baroque strings and teasing those dreamy pads that have come to typify his work. Aurora Mitchell
31. KK & MA Are In Rio
The original of this track was released in 1992 by a little known New York house producer and 2015 saw the Cold Tonic bosses give it some updated muscle for the contemporary club setting. The vocal stab intro sets up the club and grab the dancers attention, then when the drums come in it knocks them down like bowling bowls to a skittle. A strike for the dance floor! Joe King
30. Beta Librae Bangs Dub
Named after the brightest star in the Libra constellation, Bailey Hoffman's debut release as Beta Librae shone with the brilliance of its dark, heady techno experiments. The standout track of her 1080p-released tape is Bangs Dub, a steady 4/4 letting up every so often for the surprise of a rewind and lightly placed click patterns drifting over the smoothly textured track. Aurora Mitchell
29. PLO Man Rare Plastic
The second release on Germany based label Acting Press, PLO Man's Rare Plastic came this year as part of a larger wave in introspective breakbeat tracks. The muted breaks and wavering, atmospheric pads created a submerged aquatic feel to a genre that's been a lot more direct in its approach in the past. Aurora Mitchell
28. LEISURE All Over You
Since Auckland, New Zealand based band/collective LEISURE announced their arrival earlier this year with their debut single Got It Bad, they've racked up hundreds of thousands of spins on Soundcloud and played a series of very well received shows throughout the US, Canada and the UK. Near the end of October, we published their first full interview and hosted them at Dummy Presents in London. Perhaps Leisure's most memorable song yet, All Over You sees them drawing a direct line between the emotion and drive of '90s RnB and late '70s/early '80s blue-eyed soul. In the process, LEISURE steps outside the contemporary psychedelic rock frame they've often located within through online coverage. Martyn Pepperell
27. Unknown Mortal Orchestra Can't Keep Checking My Phone
2015 has been a huge year for Ruban Nielson's Unknown Mortal Orchestra. In the wake of the release of his remarkable 'Multi-Love' album, he's been a virtually omnipresent force within the commercial end of the underground. An embarrassment of riches, 'Multi-Love' is riddled with slow smouldering songs that only increase in weight as the months go on. One of the album's key moments is the club-tempo number Can't Keep Checking My Phone. Mixing his signature psychedelic RnB with a disco-funk strut, the way Ruban converts lovesickness into dance floor euphoria is golden. The feeling of missing someone so much that online connectivity doesn't even come close to standing in as a substitute is all too easily relatable. Martyn Pepperell
26. Pender Street Steppers The Glass City
Having listened to The Glass City well into the triple digits now, on teary night buses, on lonely trips, smiling on morning walks with the rising sun blaring in my eyes –it's cemented as a track that defies a specific time, setting or mood to bring out its best qualities. There's something about that leading sax line that's so sad it manages to bring even those melancholic thoughts hiding in a dark corner of your brain to the forefront. Aurora Mitchell
25. Earl Sweatshirt feat Na-kel DNA
Fifteen minutes after pro skateboarder/sometimes rapper Na-kel dropped some acid while recording with Earl Sweatshirt at the studio, he got a heart-stopping phone call. His first friend had just died in hospital from gunshot wounds. At the time, Earl was programming some trunk-thumping drums around a delicate piano loop. He encouraged Na-kel to pour his feelings out in verse. With Earl's production, chorus and first verse setting him up, Na-kel delivered one of the most emotional tributes to a friend passed on I've heard in years. DNA is a key window into Earl's 'I Don't Like Shit, I Don't Go Outside: An Album By Earl Sweatshirt', one of the most concise, introspective and emotionally resonant rap releases of the year. Martyn Pepperell
24. COMA Lora
On their second album 'This Side of Paradise', Cologne based duo and Kompakt mainstays Coma massaged in sublime pop sensibilities. The chief result was lead single Lora – a padding pop masterpiece that has just the right amount of heartache embedded within it. Like a good (or bad) relationship, you'll be left wanting more. Natalie Davies
23. Letta North Face
Letta's vocally layered track North Face was a standout on his debut album, 'Testimony'. Its heartfelt sonics and echoes of (yes we're calling it out again) rhythm and grime are justified; inspired by a girl in West Seattle that nomad Letta knew when he was 20. He told Dummy, "I don't know where she is now, and I'm sure I'll never see her again but I still think about her to this day. She rocked North Face jackets and taught me about Air Max. She was the first girl I truly loved." Natalie Davies
22. Bicep Just
Bicep continued to shave off the by-the-by 'good-time DJs' reputation in 2015. An eclectic and forward-facing outlook exercised in their mixes and social network presence, an expertly curated residency run at XOYO and this – six minutes of kaleidoscopic techno-house-tech-house with a moonlit bass-line rumbling beneath a spellbinding synth arpeggio. Duncan Harrison
21. Kornél Kovács Pantalón
Pantalon is the best summer jam since Summer Jam by Underdog Project which was the best summer jam since Music Sounds Better With You which was the best summer jam since Needin U which was the best summer jam since…you get the point. The Studio Barnhus boy rocked up Glasgow giants Numbers and smashed it out of the perfect with a perfectly sunsoaked poolside freestyle jam for the ages. Really fun to sing along to after a cocktail or two, too. Josh Baines
20. Tidelines How To Love Me
On its face How To Love Me is a typical love song on how to charm someone, but then the words begin to sink in: There's a fire on the roof / Burning so beautiful, sings Niomi. She knows her words are falling on deaf ears though her pleas continue. Without eroticising the situation, Tidelines can produce a song of restraint soft as a pillow and as sensual as silk. Sean Stanley
19. Rejjie Snow All Around The World
Compare Rejjie Snow's single with the villainous tones of his 'Rejovich' EP, and you instantly recognise a change in direction. Sonically it exists in the realm of Neptunes-influence production and catchy boom-bap pop but also tells a maturity and sophistication lyrically too. With big name collaborators behind his upcoming debut album, let's hope Rejjie keeps doing it for himself, if not his friends. Sean Stanley
18. bea1991 my name is written on it
Following up her two self­ released EPs 'good thinking' and 'songs of 2k11', Amsterdam based singer BEA1991 returned in October with a new track, my name is written on it. Produced by Dutch collaborator Benny Sings, the song originally premiered on Zane Lowe's Beats 1 show and is a shining example of her vocal prowess. Spending the duration of the video lying in an oyster shell she handcrafted and painted herself, BEA's personality oozes from the track with whispery layered vocals and a smattering of faded fireworks adding to the mystique. Natalie Davies
17. Clarence Clarity Will To Believe
This year English electronic singer-songwriter Clarence Clarity took his chemically-unstable cyborg RnB jams from the internet to the real world. One of the most memorable moments of this journey was the anthemic and explosive synth-funk of Will To Believe. Drawing from the same wellspring as Jai Paul and Mirage, it helped continue to assert his position as an oddball quasi-pop artist for the 2010s. Martyn Pepperell
16. Mac DeMarco Another One
In a lot of ways, the ultra-relaxed and creatively confident Mac DeMarco feels like a songwriter from an earlier era. He's got an economy to his writing, and an understanding of repetition that allows him to zone in on specific feelings or memories and flesh them in a fully realised manner. As with many of the more memorable songs of 2015, Another One takes unhappy sentiments and attempts to conceal them within a picturesque setting. Decorated in his signature Avant-M.O.R aesthetic, Another One's blend of delicate guitar, rhythmic piano, shuffling drums and breezy vocals is a compelling entry point into Mac DeMarco's mini-album of the same name. Mac DeMarco has been everywhere this year, and he isn't showing any signs of slowing down or running dry. Martyn Pepperell
15. Rick Ross feat The Dream Money Dance
Following on from Foreclosures, Rick Ross dropped the second track from his forthcoming album 'Black Dollar' in September. Money Dance features the silky smooth vocals of The Dream and conjures up a dreamlike scene of indulgent whips, yachts and dollar bills stacking up over melodic keys. Turn your phone off and fill a bath with Evian and rose petals. Rub my hands when my palms itch / 50 in the bank diamonds looking flawless. Natalie Davies
14. Amateur Best Marzipan
Wonky, vocal house pop from Joe Flory, aka Amateur Best. A stand-out on his 2015 album 'The Gleaner's, Marzipan is inspired by that sticky icky confectionery, marzipan. "​Marzipan is delicious and sickly and makes you feel like a bad person when you have too much of it in your life. Just like shitty people," says Amateur Best. Natalie Davies
13. Fetty Wap Again
If you've long admired the vocal gymnastics of Jamaican dancehall stars like Busy Signal and Mavado, and been disappointed they haven't achieved a greater level of commercial success outside of The Island, it's hard not to be extremely psyched about Fetty Wap's impact. A melodious dreadlocked rap singer from New Jersey, between the release of his singles 679, My Way and Again, and his self-titled debut album, Fetty has had 2015 in a headlock. Again is a sublime, sentimental and honest love song from one of the most idiosyncratic and genuine commercial rap/RnB stars of today. Supported by a spacious twitchy instrumental produced by Peoples and Shy Boogs, Again showcases his songwriting and vocal performance in top form. Martyn Pepperell
12. Skepta Shutdown
Arguably the biggest grime track of 2015 and one that has put Skepta on the map on a truly global scale. Whether it be the anthemic chorus, anti-authority message or simply the brazen, unapologetic way Skepta choses to endorse grime culture by spitting about wearing a black tracksuit to a fashion show, it's grime's most resonant and powerful record for a long time. Tomas Fraser
11. Gwilym Gold Greener World
London singer-songwriter and keyboardist Gwilym Gold's ballads are about texture, mood, and tone. Nowhere was this as apparent this year than on the minimal but memorable Greener World. With his lush, luxurious voice stretching out over thick string arrangements and resonant piano chords, it's a daydream of a song. Greener World is a concise reminder of what made his 'A Paradise' album so memorable. Martyn Pepperell
10. Kelela Rewind
Kelela's song of infatuation and missed signals is the strongest, most uptempo card from her brilliant 'Hallucinogen' EP. Rewind brings together the lyrical and vocal craft she's been honing while frequent collaborators Kingdom and Nugget channel a sophistication to match her growth. In summation, Rewind is the showpiece for R&B's next star. Sean Stanley
09. Busy Signal Text Message
I don't keep up with bashment as much I'd like but even the fringe fan knows that every few years there's a notoriously infectious riddim that breaks through to even the most unschooled. Whether it's ripe for the mainstream like Text Message or bizarre like Bar Mitzvah Riddim – who knows. But Text Message is a track about WhatsApp built from a fucking ringtone. The kind of thing you hear on the bus, way too loud, everyday. How's Text Message not gonna get into your head? It's got filthy lyrics. It's got offensive lyrics. It's got Busy Signal holding a selfie stick, singing in autotune. He'll yam it like food…if you know what I mean. Don't like Text Message? Sort yourself out. Natalie Davies
08. J Hus feat DoccyDocs Lean & Bop
Right, the most important thing about Lean & Bop is the fact that Lean & Bop is a song about wooly hats. Not beanie hats. Not bucket hats. Not the latest tinfoil covered Palace five panel you borrowed your mum's credit card for, but a good old fashioned, cheap and cheerful wooly hat. It's probably a tatty Thinsulate number you bought in Lidl a few years back and have worn every so often, relegating it to a spot under the bed for the majority of the time. You know it's there, though, and you're grateful for it. And, readers, if you're feeling the vibe, please, please, please let that wooly hat lean to the side. Josh Baines
07. Wiley & Zomby Step 2001
It has reached a point when every man and has dog has a Zomby fight story. Me included. The illusive producer returned to Big Dada at the tail-end of summer for a re-hash of Wiley's infamous Step 20 freestyle. Lifting it with a eski beat in homage to the godfather of grime, I first heard Step 2001 whilst sat next to a fidgety man on a flight to Marrekech who kept telling strangers he was going to a 'drum and bass festival'. I thanked the heavens I was going to a 'boutique house and techno festival', only to find him gurning by the swimming pool 12 hours later. As Wiley says, I live life / I'm quite happy. Natalie Davies
06. FKA twigs in time
I've been feeling the same / in the club in the rave sings FKA twigs on in time, a rowdy cut taken from her five-tracker 'M3LL155X'. There's a haunting sense of urgency in FKA twigs' delivery that cements in time as the stand-out track on 'M3LL155X'. By far the least creepiest part in her short film for the EP, this track makes me capable of body popping just like the double-denim decked, Timbs wearing twigs does in the video. I swear. 10/10. Natalie Davies
05. NAO Bad Blood
A year that saw the release of her second EP and a star spot on Disclosure's album, NAO left her imprint on the year with her nostalgic and euphoric single Bad Blood. A blue sound covers NAO's memories with a cloth of funk and soul, both of which are becoming symptomatic of her repertoire – don't be surprised if you find her on the BBC Sound of 2016 longlist. Sean Stanley
04. Drake & Future Diamonds Dancing
'What A Time To Be Alive' was a misunderstood mixtape in many ways. Some people took it too seriously and were disappointed that two pillars of rap's top table came through with such ostentatious braggery. Unlike Watch The Throne or other legendary collab LPs, 'WATTBA' was the byproduct of two massive releases for the respective artists. Don't take it too seriously. We're sipping on Dom Pérignon for no reason. What a time…Duncan Harrison
03. Kendrick Lamar Blacker The Berry
The tension coming from police brutality among African Americans across the USA manifested itself in a number of ways in 2015. If D'Angelo's Black Messiah was a stirringly effective run-through of the central questions then Blacker The Berry is a harsh, conflicted and raw attempt at a genuine answer. A rousingly unrefined protest song for an issue that isn't shifting – all climaxing in Assassin's formidable dancehall flow – I said they treat me like a slave, cah' me black / Woi, we feel a whole heap of pain, cah' we black. Duncan Harrison.
02. Drake Hotline Bling
In 2013 Drake embodied Nostradamus by predicting that 'Nothing Was The Same' and in 2015 he solidified the fact when he dropped the surprise mixtape 'If You're Reading This It's Too Late'. But it was his single Hotline Bling that really set the internet alight when it surfaced as a digital stream in July, simultaneously invigorating and punishing listeners provoking an epidemic of wearing less and going out more. When the Hotline Bling video surfaced in October, the internet inevitably charged up in a meme-fuelled frenzy and saw us all Drake-dancing back into our exes DMs. Mia Besorio
01. Stormzy Shut Up
It's been a big year for Stormzy. An astronomical rise from the underground to the mainstream psyche, he can't help but make anthems. Whether you prefer Shut Up, Know Me From or Standard, he takes the 2015 throne. As far as Shut Up is concerned, only Stormzy could take one of grime's most iconic, vividly emotive beats, DJ XTC's Functions On The Low, and freestyle over it in riposte to fellow artists questioning his worth. He barely has to perform it live, crowds screaming Shut Up back at him louder than he can say it into his mic, and it's already racked up over 13 million views in a little over six months – an incredible stat for a freestyle shot in a park. Tomas Fraser
That's all folks. You can listen to a majority of the 50 best tracks of 2015 via our YouTube playlist.