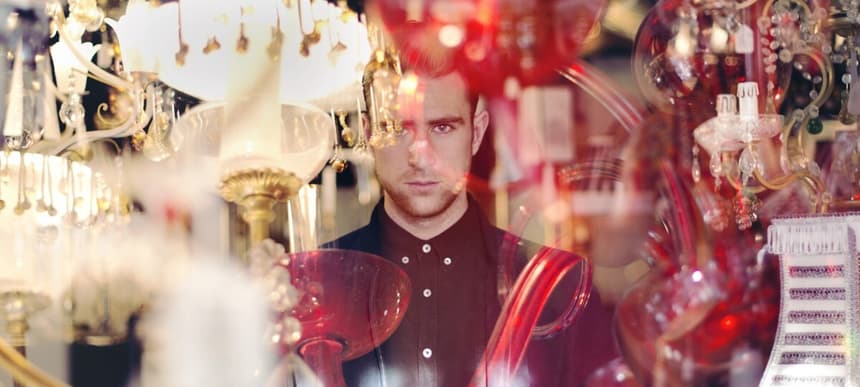 18.07.2014, Words by dummymag
The 10 best rhythm tracks, records, and producers, according to Jackmaster
Jackmaster's 13 week residency at London club XOYO is now underway. Holding the dancefloor every Saturday for 13 consecutive weeks throughout July, August, and September, the Numbers co-founder and Radio One resident DJ will bring a raft of guests into the club as well as playing a few sets all night long. Typical for Jackmaster's tastes, there's a mixture of old and new, and underground and mainstream all blurred together.
Tomorrow, Jackmaster is bringing a Life & Death showcase to the club, featuring DJ Tennis and Thugfucker. Before that, we asked him to put us together a top 10 playlist, and he's come back with something special. So today, we're happy to present Jackmaster's top rhythm tracks, records and producers.
Jackmaster: "I've never really understood the theory of 'DJ Tools', other than the obvious fact that a lot of DJs themselves are, in fact, tools. We all know this, so let's not pretend. Regular Dummy readers will know I am as sound as they come, but 8/10 of the rest of these fuckers are dickheads.
"Anyway, I don't really think a DJ should use 'tools' so much. Every track should be a highlight. Fair enough, you have to bring it down sometimes (a lesson I should take heed of more often, perhaps, but I'm still learning), but tools? Not for me. Instead, I remember buying old records that were just rhythms, mostly to work over other tunes to add that extra level of energy that DJs are employed to create – using two decks as instruments to create that third place that never existed beforehand. Robert Hood, Virgo, Mills, Saunderson, Ron Hardy, Plastikman and of course loads of the harder trackier Dance Mania stuff.
"It's impossible for me to choose my top of these, but sitting in this tiny wee bedroom in Croatia for Hideout festival with no air-con, no internet and a smashed laptop screen, I'm going to try and run through some of my favourites."
Dean & Deluca – Chapter One


Jackmaster: "It seems a shame to give this one away, as I was planning on using it as a bit of a secret weapon in my new mix. I've only ever heard one other DJ play it (Martin McKay), it has less than 2000 plays on YouTube, and is a mere two quid on Discogs. It's produced by Patrick Pulsinger from Cheap Records in Austria, and is his only record under this pseudonym – and what a record it is."


Reese – Rhythm Track 3

Jackmaster: "Kevin Saunderson is a producer from Detroit. He was the brains behind Inner City who had several worldwide Top 10, if not Number One hits in the late '80s/early '90s. Recently he's been re-releasing loads of his back catalogue from his label KMS (Kevin Reese Saunderson), although this one originally came on its sister label, Ingonito. I had never heard this one before it popped up on Beatport the other week. I think he's re-released three of them, and this one was my pick of the bunch."


Afroboogie & Martjn Ten Velden – Cowbell

Jackmaster: "Right, I switched my 3data roaming on to get the artist name right on this one, and it probably cost me about 2000 Kunas, so I hope you appreciate that Mr. Martjn Ten Velden. I found this on an old Defected compilation. You might wince at that, but you can find a lot of good music on those compilations, and to be honest, if you winced on that then you're a tool as well. There are a couple of popular phrases involving the title of this track. They are: 'MORE COWBELL' and 'THERE'S NO SUCH THING AS TOO MUCH COWBELL.' I agree with both."


Virgo – Go Wild Rhythm Tracks

Jackmaster: "I'm not sure if this is the correct title for this one, but I'm not turning my 3G on again. The taxman fucked me over royally last week with a backdated VAT bill and I'm skint. Virgo are the real deal, proper Chicago pioneers. They released some records on Trax that contained only drum machines: raw and ready, ruff and tuff. No melody. No vocals. No bullshit. If you see any of these records in stores then buy on sight, trust me. They actually sound like shit because Larry Sherman pressed them in the boot of his car using a pancake maker, but just push the EQs till it goes through the red and ignore the soundman moaning at you for five minutes and you'll be fine."


Jeff Mills on his 909

Jackmaster: "Jeff Mills is a beast. I could sit here and rap off 100 reasons why he's one of the best in the game but A) I canny be arsed, and B) You just need to Google 'Jeff Mills Live at Liquid Rooms' or buy the Exhibitionist DVD for proof. Regardless of whether or not you're a fan of his more recent, esoteric direction, his DJ sets are always amazing. But when he jumps on the 909 for 20 minutes it's always a highlight of the show in my opinion. Let's say better than The Bells but not quite as good as Step To Enchantment or Sonic Destroyer. To be honest, I would happily watch him work the box for two hours and not play any records at all. No-one does it better."


Batongo – Aguirre (Fango remix)

Jackmaster: "I steal a lot of tunes from Joy Orbison. He introduced me to this guy Fango who makes music on a label called Degustibus. His tracks combine the best UK Funky/African percussion elements, and his last couple of releases and remixes have started to incorporate sensibilities akin to the hallowed Berghain school of techno a la Marcel Dettman, Shed, Len Faki and co. Check his new one Tei as an example."


Jitterbug – Jus Drums

Jackmaster: "Out soon on Uzuri, this is part of a four track EP to mark their 20th release. It perfectly encapsulates what I mean by a rhythm track and captures the essence of late '80s Chicago so precisely that it's hard to fathom that it's not from that era. I can't be 100% sure because I didn't see it being made, but it sounds like one drum machine and the producer just riding it with maybe one effect unit. I've been playing it at almost every show and it's been kicking off, regardless of the fact it's lacking the melody and hook of moist of the music I usually fill my sets with. Had it been released 25 years ago, it would have been a Muzic Box staple. Guaranteed."


Anything by Mala

Jackmaster: "Or anything on DMZ, for that matter. These are certainly not tools. If I was English I'd maybe call them 'riddims' or 'riddems', but I'm Scottish so if I used those terms I'd sound like a dafty so I just call them 'belters' or 'the highlight of any DJ set, ever.' If I was pushed to choose a current favourite it would be Neverland – absolutely reeking of Mala genius from every percussive orifice. He is the master of spatial awareness when it comes to drums – everything just seems to sit exactly where it should be."


Robert Hood

Jackmaster: "There's minimal… and then there's minimal. Bobby Hood is the master of real minimal, in my opinion. He made tracks with the intention of utilizing only the essential elements required to make your body move: heavyweight kick drums and one or two synths at a stretch, with minimal attention paid to hooks or melodies that stretched over two/four bars. While his Floorplan alias, which he's gained a lot of notoriety with more recently, is based more on disco/gospel samples and hands in the air euphoria, the M-Plant material under his own name is a masterclass in 4×4 rhythm execution and evidence that more often than not, less is definitely more."


Matrixxman – Protocol

Jackmaster: "I stole this one as well. First of all I nicked it off Levon at Trouw, and then after forgetting about it, I got an ID from Boddika in Rotterdam. It's like Spastik for 2014, but with more rim shots and less crescendos. I probably should have put Spastik on this list but we've had enough classics, so let's go with this recent beast to close the list out."
Jackmaster's XOYO residency takes place every Saturday until September 27th 2014. Tomorrow (July 19th), he brings Life & Death Records to the club, with Thugfucker and DJ Tennis playing alongside Jackmaster (buy tickets).