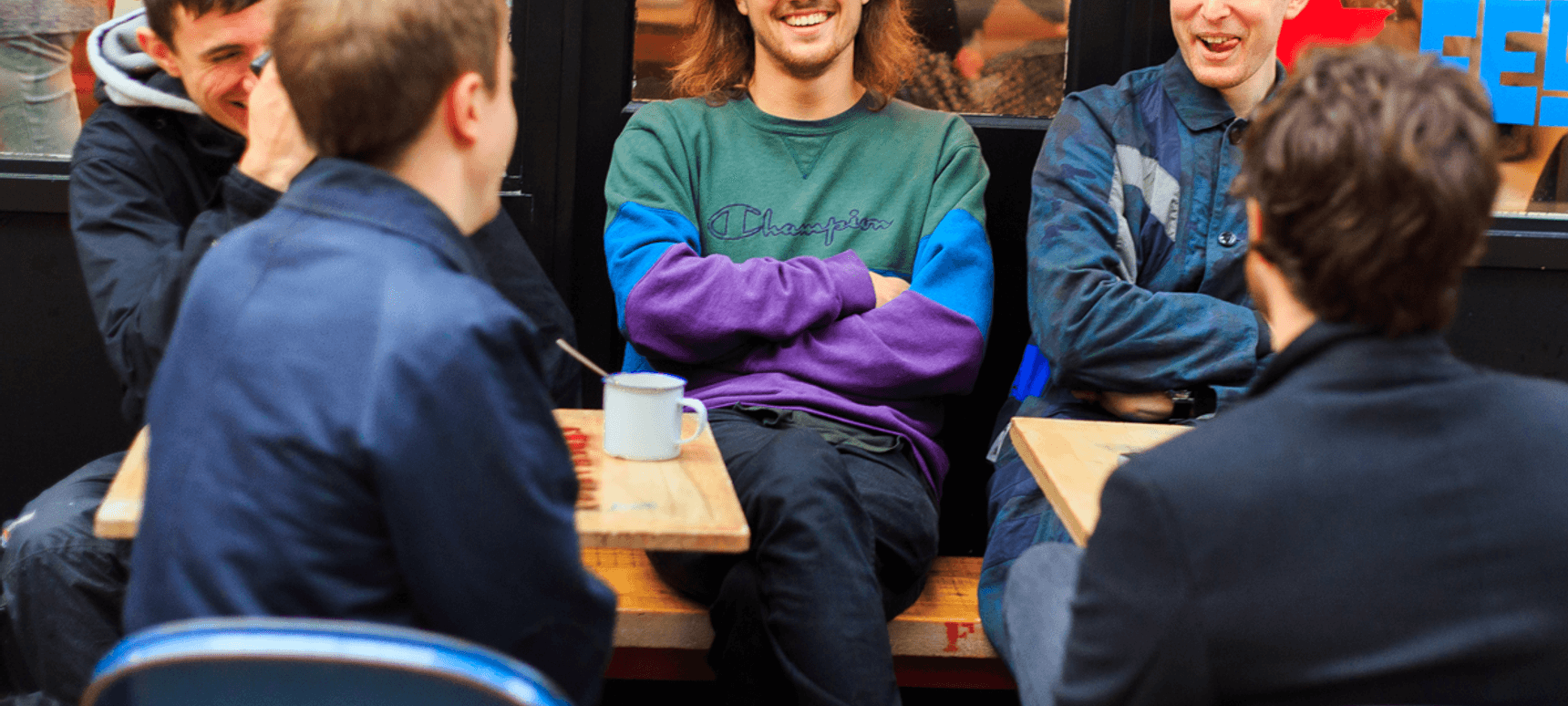 06.11.2014, Words by dummymag
1-800 Dinosaur: a bunch of mates and a bunch of grapes
A few weeks before I meet the 1-800 Dinosaur crew in Brixton for this interview, I'm at one of their nights in Peckham's Bussey Building in the early hours, walls sweating to the tune of Airhead's soulful house racket Believe, when a girl approaches me holding a silver platter. Unable to hear or really see her through a clamour of bodies and booze, I lean in to realise she's shouting, "Would you like some grapes?" Behind her is a dude with another platter of melon slices.
Turns out, this was all the 1-800 Dinosaur team's doing. "I used to be a resident at a night in Bristol for about four years," explains Dan Foat, James Blake's manager and ex-R&S head honcho, "It was called Fruity Antics. A friend of mine used to hand out fruit on the dancefloor at 2am – and I mean, people at 2am on the dancefloor in Bristol looked like they needed some frozen grapes, you know what I mean? It's just little things like that that kind of lighten things up a bit."
1-800 Dinosaur are Foat, Blake, Airhead (aka Blake's live guitarist, Rob McAndrews), Mr Assister (live drummer Ben Assiter) and Klaus (Nick Sigsworth, who often DJs in support of Blake's live shows on tour). They started throwing after-show parties together as a way of cutting loose while on the road back in 2010, with the first ever 1-800 night taking place at New York's Le Poisson Rouge. Back then, Assiter had scarcely DJed before, and Blake admits that he and McAndrews had some catching up to do with Foat and Sigsworth, who had been DJing for years. But while they talk about the early parties with tongue firmly in cheek ("There was lots of room to dance," says Blake), it's clear that something clicked, as by 2012 they'd nailed a residency at Plastic People and begun to build a brand based around their eclectic music choices, cosy venues, laid-back promotional policies, and a lot of fruit.
These days, you can catch monthly 1-800 nights at Plastic People, as well as various one-offs around London, New York, Tokyo, the Isle of Wight, and basically anywhere they happen to be at the time. On top of that, you can also hear the whole crew co-presenting Blake's monthly Radio 1 residency – he's brought them all into his fellowship "like Gandalf," he says – and since they expanded to become a label in 2013, you can buy their original productions as 12"s. This weekend, they're hosting one of their biggest nights to date at The Warehouse Project, where they've done the rare thing of inviting other artists – in the form of DMZ pioneer Mala and DJs Frank Tope and Bake – and adding a live set from Blake to flesh out the line-up to suit two huge rooms and 2000 people. How many grapes are they going to need this time? "I've still got the trays," offers Assiter. "Do you think Mala will help hand out fruit?", asks Blake.
The scale is growing, but the concept has deviated very little from the early parties. Generally, it's an antidote to the super-streamlined, watered-down experience of modern club culture. 1-800 Dinosaur nights advertise little, sell all their tickets on the door, and never release set times. At first, this sprang out of necessity. "At one of the first Plastic People gigs, even though we didn't announce the line-up, some girl was really pissed off that James wasn't singing and playing live in Plastic People," Foat explains, "There are people that want to see James live and don't really understand this thing that we do. We're trying to get the dancers in." Plus, there's the old-fashioned buzz that comes with queueing for a night with no idea whether or not you'll actually get in. "It creates some suspense," says Foat, "It means that people are there early, and they're dancing early. It's not like, 'Oh, I've got this earlybird ticket, and I'm going to see so-and-so's set because he's on at 2, and then I'll go somewhere else.'" Blake agrees, "That's not the crowd we want at all."
As well as avoiding the crowd being too packed out with those who want to hear tear-jerkers from 'Overgrown', the crew are trying generally to get away from the cult of "the DJ" – which is why you'll almost always find them on the same level as their audience, and hanging out at the bar. Foat has been DJing since he was a teenager in Exeter, and he's a bit miffed at the way the culture has become celebrity-driven. "I've noticed that you don't get DJ booths in the corner of the room any more, on ground level. They're always situated so people can stare at the person. That's not what it's about at all. Club nights are about the crowd." Blake says that they always request a space to perform without a stage, so they can be on a level with their audience. "I think the height difference is symbolic sometimes to people who are in the crowd. They look up, and they can't quite see you, and they want to, because they just want to connect with you, but they can't. And that, to me, is the wrong message."
"Without wanting to get too spiritual about it," chips in Sigsworth (to a chorus of "Get spiritual!" from the others), "It's some kind of connection with the past, with proper raving. Which is maybe something that we didn't actually get." Foat, who grew up in the countryside while the others are Londoners, danced to many a soundsystem in a forest in his day, and says that while you can't really get away with that sort of thing in 2014, that's the kind of "close-knit" vibe that they want to evoke. "I think some of our nights have come close to that freedom," says Blake.
The problem, says Assiter, is that "a lot of DJ things these days are just well serious, and it's not really about partying." Blake deadpans, "I sometimes think, some of those nights that are serious, I think the punters come along, and they genuinely try their best to party, and I think it's really admirable that they do. And I feel sorry for them, because the promoters are making it as hard as they can."
At a 1-800 Dinosaur night, you're as likely to hear Purple Rain or Love Is In The Air as you are Mr Assister's contorted reggae rhythms or Blake's whirlwind edits of Drake. As even the most cursory of listens to their monthly Radio 1 slot would tell you, there's an "anything goes" policy when it comes to genre, and the group generally feel like 1-800 is a free and open space for them to express themselves. Foat says that he's sitting on a bunch of J-pop tunes he just brought back from Tokyo, where Assiter let loose during a set by jumping on the mic to shout out "the N29 crew, Wood Green" and various other North London locations. "It's quite liberating when you've got a big language barrier," he says.
When Assiter's not baffling Japanese audiences, though, the group are usually fronted by their secret weapon, grime MC Trim. That connection came about a few years ago, when Keysound boss and Rinse DJ Blackdown turned Blake on to a pretty amazing Trim acapella, taken from his 'Soulfood Vol. 2' mixtape, which went on to become the James Blake edit Confidence Boost. After the edit was released as part of an EP on R&S, Trim and Blake met for the first time at the video shoot, where Blake says they instantly hit it off. "He's a very down to earth person and we just got on really well. He's got a really good sense of humour, so he just fit in straight away with everything that I think we try to be."
The crew invited him to join them at their Bestival slot this year, where Rob Da Bank had asked them to play for around 15,000 people, and they felt they needed someone to bridge the gap between them and the huge crowd. As Foat says, Trim is "not a hype man, that's not his thing" – but he joined them in the Isle of Wight, the show was off the hook, and he's been on almost all of their line-ups since. "It's nice when you've got a hype man who's kind of a bit like you guys," says Blake. "'Cause we always used to go to nights that had that, like Sgt. Pokes for DMZ, Crazy D at Plastic, and that kind of stuff. He's almost like a messenger at the front of everything."
As well as 1-800 Dinosaur nights creating a space for the whole crew to spin the weirdest and sickest tunes they've got under their belts, the group launched a label in summer 2013 so they'd also have a place to let their own colourful productions loose. For Blake, this meant releasing dancier cuts than make it onto his more song-driven LPs, such as last year's Voyeur (Dub), and the upcoming 200 Press. Mr Assister put out the polyrhythmic Bala earlier this year, and most recently, McAndrews did a u-turn away from the introspective ambience and downbeat productions of 'For Years', his 2013 album for R&S, with the larger-than-life 'Believe' EP for 1-800 Dinosaur. McAndrews says the 1-800 nights were a direct influence on his dancier sound, the title track having been made on the tour bus while it was parked "somewhere in Minneapolis." "I just wanted to be able to play my own music at the nights and see people's reactions first hand," he says. "And for my own tracks to not just be the kind of quiet, depressing moments in the set."
As well as Blake's 200 Press, which is dropping soon as a 12" with another "techno-y tune" and a poem Blake wrote called Words That We Both Know (which you can find buried in his Essential Mix), the group are preparing to release a new Trim EP, featuring production from all the 1-800 residents. "We'll leave it to people's imaginations who produced what track – it'll be credited as 1-800 Dinosaur," says Foat, who is low-key about his own production work, though the others are insistent that he'll release on the label one day. "Dan has been DJing way longer than all of us, and what Dan's music sounds like is someone who's absorbed all the good dance music of that time," says Blake, though he adds that he's mainly heard Foat's productions via 40-second clips sent on WhatsApp.
It's these fluid boundaries of identity and moments of encouragement between the group that hammer home what 1-800 are all about: less a pristine aesthetic or a genre-based movement, more a group of mates who have become so in tune with one another that their nights and releases have a kind of effortless energy that's difficult to come by in 2014's micro-managed club culture. Assiter says that he's always looked up to Hessle Audio for having the same kind of vibe, and Foat talks about how inspiring it was to meet Top Dawg Entertainment in Austin and see that, despite being behind one of the hottest labels in the US, they were essentially "a bunch of mates." Assiter adds, "These days with the internet a lot of labels, there's nothing to it. Well, there's maybe a musical theme, but there's no community. I like the idea of a record label being people who actually know each other."
Without wanting to get too spiritual (just kidding – I do), one of the most striking images that sums it all up comes when Foat is explaining how it came to be that the group often drop Dimitri From Paris's edit of Teddy Pendergrass during peak moments in their sets. He describes a particularly messy night in New York a couple of years back, when the crew were exhausted towards the end of a tour, and found themselves "all in different corners of the club, properly dancing, doing proper moves" to this tune. To them, that's what a 1-800 Dinosaur night is, in a nutshell: music so fun you lose yourself a little bit, but always, somehow, together.
1-800 Dinosaur with James Blake (live), Mala, and more takes place at The Warehouse Project, Manchester on Saturday November 8th 2014 (more information and tickets).