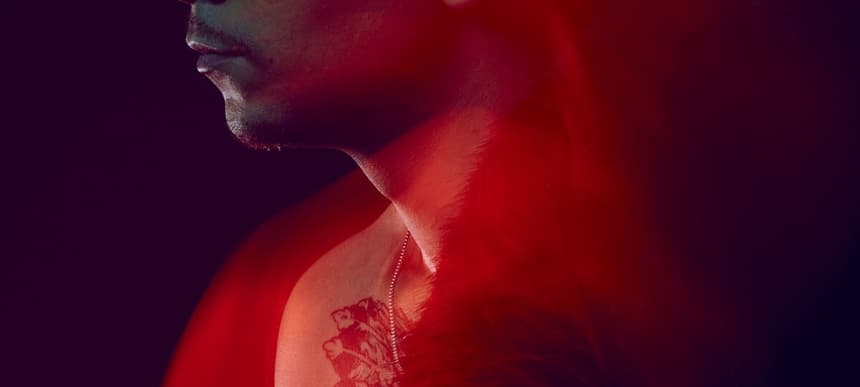 19.01.2016, Words by dummymag
10 things that inspired Elliott Power's debut album 'Once Smitten'
Click any of the images above to launch the gallery.
"So R.I.P. SoundCloud then? Yeah, that just isn't going to work. I think if you set up something for free that you then make people pay for, they won't pay for it. It doesn't work. What is going to get better? How can you justify that now it is worth money? It's hard to make your product worth buying when it was once free."
An hour before my conversation with Elliott Power, news broke that – after a long protracted affair – SoundCloud and Universal Music Group had reached a landmark deal that will see UMG gain revenue through the streaming service. Power is at home in Brentford, and our chat is set to the backdrop of an evening when we've both been at full-throttle all day. As darkness descends our energy and memory fail us; for the best part of 15 minutes, we're trying to remember the surname of a mutual friend (Tom) that introduced us to one another. "That's what I love: word of mouth," he says, and then laments the indifference of online culture by expounding his experiences of reaching out to like-minded people who ignore his messages. "People don't like things anymore, and that upsets me," he sighs. "Nobody is a fan of anything; or, they're afraid to say what they like. That's what I wanted Elliott Power to be."
But, we're still trying to remember Tom's surname. Eventually, I send him a picture of Tom, and he explains that his friend Dorian (Mïnk) studied music with Tom at college. "Dorian is the magic," he says. "I am merely the driving force, the art direction, and the world, and Dorian is the musicality. I kind of curate and orchestrate, but Dorian is the technicality behind Elliott Power; he did the string arrangements and instrumentation for the record, and when you see the vinyl, you'll see how much he is credited. There is no Elliott Power without Dorian."
After waxing lyrical about his best friend and putting to bed Tom's surname (it's Connolly), we begin to discuss the real Elliott Power.
Following what you just said, initially, people described you as elusive and mysterious and I guess I'm guilty in believing too!
Elliott Power: "I think there is a misconception about me; that I'm a recluse or an anti-social person, but it accidently happened that way. I didn't exist online and had no interest in existing on the internet. I wasn't expecting to be a musician; I was doing photography and had a demo that got into the hands of people at [BBC] Radio 1 and from there I was having meetings with people at labels. I always loved music but as a listener. I went from being a listener to someone messing around with music and then eventually it sort of become a job. I say sort of because how we monetise music now is a grey area. I'm almost like an apprentice recording artist [laughs]. There's only 1% that is getting money.
As soon as you find an artist, you can Google them and find out everything about them; where they went to school, their mum's maiden name, their national insurance number; everything! In the age of information, there is nothing more exciting than not giving anyone any information. At the same time, I appreciate that you have to feed before people eventually switch off."
Your label [Marathon Artists] has an ethos that is evident in their name – it's a marathon, not a sprint, so they're not going to make anyone an overnight star. What they're doing is a long-term project similar to how Stax Records fostered their musicians.
Elliott Power: "I'm romantic about music, but at the same time, you have to eat. It's tough, but there's got to be a way of making it easier for independents. Everyone is suffering. At the end of the day, you want to make music but there's always a balance between art and commerce. There have to be compromises along the way, and I don't mind making those.
I finished this record in 2014, so I've been sitting on it for two years. It's frustrating because publicly it looks as though I've put out sporadic singles and disappeared. I've finished half of my next record in Paris. I recorded it in Francis Bacon's old studio. My girlfriend's dad [Michael Peppiatt] is an art critic and when Bacon died, he left him the studio in Paris. Whenever we go to Paris, we stay there because her parents live in another part of Paris. So inevitably, I asked to record there and usually, I just jump on the Eurostar and hang there for a couple of days.
I don't get this whole idea of London being the epicentre anymore. It just seems like such a dated notion. There needs to be another Factory Records. There doesn't appear to be a community or scene; no-one has to physical meet up if you can just make it look like there is one on the internet."
I find it interesting that you discuss your identity separately. You've referred to Elliott Power in the third-person during this conversation and only say I when you talk about you as a person.
Elliott Power: "Yeah, because Elliott Power is a commodity. In my teen years, all I wanted to do wear was street-wear and I bought into that because it seemed attractive and suggested a sort of lifestyle. It's the world we live in now. People don't understand that just playing the guitar isn't a job that exists anymore."
I noticed on the album that you mention chess, samurais, swords, etc. in a similar way to how Wu-Tang Clan did in the past.
Elliott Power: "Dorian and I have been listening to a lot of East Coast rap – Mobb Deep, Wu-Tang – so we have been referencing that a lot in the production and heavy drums. But on record two, there're a lot of Oriental and Shaolin references. The first record hints at that and on the second, we've run with it as a theme. Even stylistically, I've started wearing hoodies when in the past I was a little clean-cut there's an urban edge to my attire. Subtlety, though – I don't think you'll see me in Fubu or a basketball jersey. It's the little nuances and signatures.
I made Sword Souls in 2011 and at that time, I was watching samurai movies and listening to Björk's 'Homogenic' a lot. Katy England's artwork and styling have Björk as an Oriental queen, and the sound is industrial with an eastern twist. As a kid, I was into manga like Akira so it's funny that these references have come back full-circle."
I bet you're bored of speaking about an album you started in 2011.
Elliott Power: "I'm so bored of rehearsing songs that are so old. When I delivered them, they were old. In their first form, some of them date back to 2010. In the last two years, I've tried not to listen to the songs too much, but I heard the test pressing the other day and it brought tears to my eyes. I was like, "Shit, me and Dorian made this together" -but I'm not a musician! I can create and curate a world, know who I want to work with, and dictate what I want, but I'm still amazed that you will pick the record up in Rough Trade or Phonica.
It's hard to keep my energy up while living in the past. As an artist or a musician, you constantly have to do that. What makes me happy about the situation is that the songs haven't aged badly; they're like a bottle of wine. I can appreciate them now I'm older. Sometimes I surprise myself by thinking that what I've done is beyond me. I'm not an intellectual person and I didn't strive at school – I got a degree, just about – but the cliche is true: if you put your mind to it, you can do anything.
I've never had a singing lesson in my life and I write melodies just by feeling. Anyone that I admired – bar Björk because she is a classically trained musician – like Goldie, James Lavelle, or even hip-hop artists, there's a DIY attitude with them. Sometimes not knowing or understanding gives you an advantage; you approach them in a different way. You're not formulaic and you're free because you don't understand. I think Björk said to Tricky once, "Don't ever learn because what you do is interesting", and at that moment, I decided I wasn't going to learn either!"
Can you tell me about your family heritage?
Elliott Power: "My mum is half-English, half-Irish, and my dad is half-Nigerian, half-Trinidadian. A lot of people think I'm Spanish or Portuguese and don't identify my mix. I think that I look like the future. I think everyone in 2050 will look like me. Everyone is having mixed-race babies and you don't meet anyone these days which is 100% English – especially in London."
People are beginning to see what you look like, so I appreciate what you're saying.
Elliott Power: "I have people asking if I'm Philipino and tourists in the street speaking Italian or French don't understand that I'm English. If I go anywhere in the world – I'm not particularly well travelled – I can blend in. I think that's the future.
Check out Elliott Power's influences in the gallery above.
Elliott Power plays Dummy Presents: Mo'Wax and Marathon Artists on January 21st at Miranda, Ace Hotel London (free with RSVP). Elliott Power releases his debut album 'Once Smitten' on February 26th through Marathon Artists/Mo'Wax (pre-order).