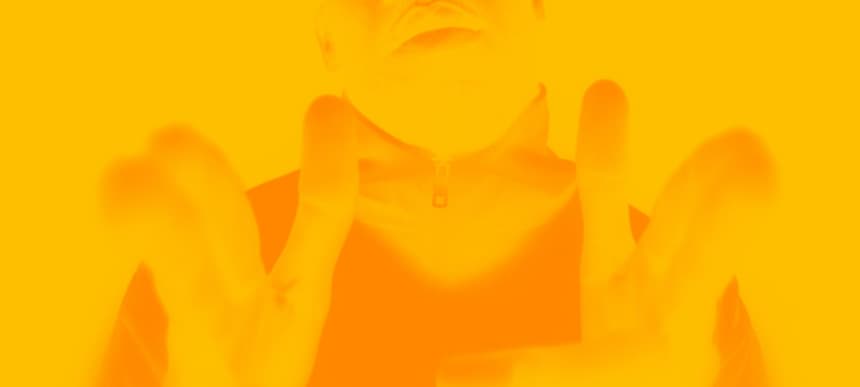 25.01.2021, Words by dummymag
30 DMY Artists To Watch in 2021
Here's who we're tipping from our artist services company for the coming year...
Throughout the ups and downs that 2020 brought, we've been steadily working on building our artist services company: DMY Artists. And we've been busy; over the past twelve months we put out 78 releases by 40 hand-selected artists, and in 2021 we'll likely work with around 100. We also recently launched a filmed Session series on YouTube (subscribe to our channel here), and have been focusing on our playlists and social channels.
With plenty more music on the horizon for the coming year, we wanted to spotlight some of the most exciting and unique artists we're currently collaborating with. You can also read our list of the 15 Most Exciting Artists for 2021 who we're not working with (yet…) And if you're an artist who wants to release with us in the future, you can find out more information on how to submit your music here.
7th Obi
From: Waterford, Ireland
Listen: 'High School', 'Confusion', 'Lie2U'
→ Follow
What's on the cards for 2021? "The plan this year is to make people pay attention and continue to create music that makes people feel something. More visuals, more behind the scenes. I really want to grow an army of followers and create a movement. I don't want to be just another artist. 'Love & Goodluck' sets up a great tone for the rest of the year so I just want to continue that and elevate."
AikJ
From: Dublin
Listen: 'Aphantasia', 'Last Flight', 'One Last Time'
→ Follow
Explain what your favourite moment of 2020 was. "Making an impact in our country when we marched for the death of George Floyd and the general issue of racism, something that started out to be our cause and making people aware of the biases we face turned out to be nationwide coverage with a huge turn out of supporters on the day of the protest sparking a new conversation across the board bringing awareness to our community. I felt this was the biggest win of 2020 despite the situations at hand."
Angeloumae
From: London via Manila
Listen: 'Control', 'Gyara', 'Say My Name'
→ Follow
What's something people might not already know about you? "That I was in foster care for some time, was homeless for a period – while studying music in college. Then, became a Care Leaver, was volunteering at Children's Rights and moved into my own flat at 19."
Animai
From: London
Listen: 'Tigers', 'Come With Me', 'Taking Over'
→ Follow
What goals do you have for the coming year? "This year I've taken on 'The Sanctuary Challenge' which is a 60-day self-care challenge available to everyone for free. There's loads of free resources available, including mental health and life coaching chats. I've a got a little crew doing it with me and so far so good! I have lots of things planned out for 2021, starting with a dreamy hypnotic single called 'Island' that'll be out in March. For this project I am collaborating with a talented collage artist from Belgium which I'm excited to share. There will be more live video arrangements of my electronic tracks, and some weighty remixes from a variety of producers across the dance music scene."
Arielle's World
From: South London
Listen: 'U & I', 'My Love', 'Lockdown'
→ Follow
What was the best moment of last year for you? "The release of my debut EP 'BIG A'. I released it independently and received positive feedback from notable artists such as Fat Joe and Masego. I was ecstatic – you never know who's listening!"
Balou
From: LA via New York
Listen: 'Muppet Babies', 'Blame', 'Best Wishes'
→ Follow
Did you learn any new skills during the lockdown? "I learned to sew and started making clothes for myself and others via KB4. The action stems from attending events while wanting to make a stapled first impression. The need for clothing outweighed my capitol so I had to get creative."
Chloe Kay
From: London
Listen: 'Fiction', 'Stay Another Day', 'Apocalypse'
→ Follow
What has the pandemic made you miss? "I've missed live shows and playing and interacting with other musicians in real life a lot. Continuing to create new music and being able to collaborate with other musicians online has really helped me through it."
Cocoelusive
From: London via Portugal
Listen: 'Indigo Talk', 'Say', 'Dago'
→ Follow
What has helped you during lockdown? "For me the pandemic has been a time of self-reflecting, asking myself where I'm heading and what is really important. Acts of self-care such as meditation and exercise have helped me stay focused – any body movement like dancing, spinning, yoga. I really feel it changes my mood instantly and inspires me to start my day right."
Damola
From: Dublin
Listen: 'Wrong Appeal', 'Critical', 'This One'
→ Follow
How did the global health crisis affect you personally? "I think the lockdown had a psychological effect on myself as a person because I found myself focusing a lot more on the things I genuinely care about without having much external influence. I believe it had an effect on how I created as I found that I became even more comfortable creating whatever I felt like creating and not thinking about what works a single bit. It was refreshing to rid myself off that pressure of wanting to be impressive."
DEELA
From: UK via Nigeria
Listen: 'Rolling Stones', 'Bitch Boi', 'Me And My Girls'
→ Follow
Tell us about your past year. "Being a rapper was never on the cards for me in 2020, but ten short months after dropping my first single 'Intro to DEELA' on Soundcloud, it's now a completely different story. When people talk about DEELA, I think they associate me with rapping hard on a beat and just spitting bars, which is essentially what I do. But this year, I want to push myself and show my audience how versatile I am, using different flows and just experimenting with my voice and the beats I hop on. I'm excited to release my mixtape later this year to show people just that! 'DONE DEEL', a ten-track mixtape, my upcoming release 'FIT', and seven new songs would really allow everyone to see and understand DEELA, how I live my life and seeing things solely in my perspective."
Esso
From: West London
Listen: 'Magically', 'Exquisite', 'Free!'
→ Follow
What was your favourite moment of 2020? "Releasing my first music video in the middle of a pandemic. Visuals aren't the be all and end all, but it definitely felt like a significant milestone for me. It had an effect on the way I viewed myself as an artist and the reach of my music. Organising it was a bit of a mad ting with Covid restrictions but I couldn't be happier with the end result."
Eugene Deluxe
From: Brisbane
Listen: 'Planetarium Chilling', 'Sun', 'Sitting Round A Lake'
→ Follow
Who have you been listening to on repeat recently? "My musical diet for the past few months has been mainly keeping steady on Lana Del Rey, A.G. Cook, Knxwledge and Dean Blunt. I feel like A.G. Cook rewired something in me after I was listening to '7G' for a few weeks and it's been amazing. He is like raw electronic euphoria. Lana Del Rey makes the world look prettier when you hear her voice and melodies in your ears. Knxwledge I can chuck on at any moment to feel wavy as heck. Oh and Dean Blunt, for when I'm feeling bittersweet."
Farrah
From: London via Leeds
Listen: 'ID', 'Back To You', 'Nothing'
→ Follow
Talk us through your plans for this year. "This year I'm releasing my debut EP called 'Night Light' which I wrote and recorded over lockdown. The overriding theme consists of tackling unfamiliarity and being outside of one's comfort zone – a barrier that's applicable to all in light of the strange times we're facing."
GOLDEN
From: Brooklyn via LA
Listen: 'Eye', 'Hate', 'Sunburn'
→ Follow
How has Covid affected you as an artist? "It's been a rough year for all of us, and if you're like me and you live alone it's been hella fucking lonely. To add insult to injury, I put out my first song just before the pandemic began so my whole career so far has really been within Covid. I've probably had a million reasons to give up, but the god honest truth is – the fans have been the only ones keeping me alive – it's the fuel that makes me know I have to keep going. They've been my best friends throughout all of this crazy shit, and they the ones that make it all worth it. Love y'all."
HEN$HAW
From: London
Listen: 'Ordinary', 'Timeline', 'Go Yard'
→ Follow
What do you hope 2021 will bring? "I hope that this year the mad situation the world is being faced with right now eases and artists in particular can get back to gigging, meeting like-minded individuals and really start to physically put themselves out there instead of having to rely on social media and other means of promotion which we have been forced to rely on. I find that in-the-flesh gigs and networking events are more valuable than I ever realised before."
Juvie
From: South East London
Listen: 'Lil More', 'Pain Is The Essence', 'Adore You'
→ Follow
Has Covid affected the way you work? "Being an artist through the pandemic has honestly only made me work harder and plan smarter, I never looked at it as a bad thing – if anything it has given me time to polish and work on anything I've needed to. I feel it's even made more people tune in due to everyone being more on social media now at this particular time."
Krankhead
From: Northampton and London
Listen: 'Hadouken', 'Space Coupe', 'No Luck'
→ Follow
What's something people might not already know about you? "Me [Mio Flux] and Patchy [Patchy, The Rockstar] met at Toys R Us. Patchy was my manager and I used to show him beats in the Barbie aisle as it was the most closed off in the store."
Le3 Black
From: South East London
Listen: 'Cold Winter', 'Shaquille's Interlude', 'Uncaring'
→ Follow
What are some of your influences? "They range from a lot of things – right now it's movies and scriptwriting and direction, so things like genre-bending movies and how they manipulate stories so that an audience will feel immersed in it. Even cinematography and the related pictures that support the film. The genres right now I'm relating to are thrillers, sci-fi, movie makers like Stanley Kubrick, Christopher Nolan to names a few."
Meron T
From: South London
Listen: 'Hunny', 'Can We', 'Ride'
→ Follow
What's the coming year looking like for you? "This year I'm looking to release, release and release. I've created so much this past year, so I plan to consistently put out as much music as I can this year, and finally stop hoarding songs on my hard drive! I'm also looking to keep putting hella work in, to grow as a musician and producer. So expect a self-produced body of work coming from me this year, alongside a few collaborations."
Miles From Kinshasa
From: London
Listen: 'Motionz ft. Murkage Dave', 'Lookin' 4 U', 'Wearing Smiles'
→ Follow
Which other artists have you been feeling recently? "I've really been enjoying UK music recently. Jaydon Clover, Bina, Infamousizak, Bellah, all different sounds but everyone brings their own vibe. Baby Keem is cold, too, outside of that."
Morena
From: Paris
Listen: 'Sad Boy Hours EP'; 'Money Paper', 'Don DeLillo'
→ Follow
How has the pandemic affected you? "As weird as it may sound, I kind of enjoyed the first lockdown in France? I was staying home and all I did was working on my music and my singing for the entire months of March and April. I know I am clearly part of the lucky ones during those times so I can't complain at all. I graduated in July so I can't relate anymore to the struggle of being a student, for example, during those hard times, and I only knew it for my last few months of university. Right now I'm listening a lot to Lala &ce, a French artist I discovered this summer. And then, for some reason I started to listen again to a lot of old Drake's songs, and also, what I listen to get through every winter of my life: Lana Del Rey and Mac Miller are on replay in my headphones."
Mya K
From: South London
Listen: 'Moves', 'Good Good', 'I'm On One'
→ Follow
How would you describe your sound? "As the sweet spot between trap and R&B."
NULA
From: New Cross, London
Listen: 'Front', 'Kryptonite', 'Mutual'
→ Follow
Where does your inspiration come from? "We draw inspiration from production duos such as The Neptunes, Massive Attack, Missy Elliot and Timbaland. Although the music is sonically electronic R&B, we like to throw away the rulebook and work towards a more futuristic sound that's rooted and inspired by contemporary and '90s pop. Due to our classically-trained backgrounds, we create and draw from our own melting pot of influences consisting of gospel, jazz, classical, indie, electronic, soul and blues. These styles stem from Nadiah singing gospel at church initially and Luke being a jazz percussionist before meeting at Goldsmiths University."
phonewifey
From: London
Listen: 'SO BAD', 'HIT 'EM WITH A POLE',
→ Follow
Tell us about your sound. "It shifts around a lot. It's like I periodically get obsessed with different styles of music, and then have to incorporate them into what I'm making. I think the core of my sound is a constantly-present foundation of 808-autotune-rap and dance-pop, but at various points I've introduced elements of trance, hardcore, nu metal, emo, Britpop, bubblegum pop, alt-rock and loads of other influences at various points. My current style is very rave and hard dance-inspired but it always changes from project to project. I have a few ideas for what's coming next. Having said all that, I think there is something in my sound that remains consistent and discernibly phonewifey throughout all of the genre-bending and stylistic collage… I just can't quite put my finger on what it is exactly, lol."
Ragz Originale
From: North London
Listen: 'OG Lullaby', 'ring out', '4am'
→ Follow
What's been keeping you busy throughout the pandemic? "I was recording the 'WOAH' mixtape and watching a lot of series… I'm a serial binge boy. Bouncing between the two was my key remedy getting through last year, I mean just imagine a world without Ozark?"
Reeko Squeeze
From: Lewisham, London
Listen: 'Creep', 'Once', 'Go Get It'
→ Follow
Reeko remained active throughout 2020, dropping versatile collaborations with drill lynchpin Carns Hill (above) and Ghosty on 'Once' that saw him push his unique style of barring to the masses.
Speedboat
From: Brighton
Listen: 'Dog Toy', 'bigboy123', 'Surf the Whip'
→ Follow
What was your favourite moment of last year? "Being hog tied horizontally to a post in aid of our new video 'Dog Toy' [above], and getting oily in the sea in November at night."
Sways
From: South London
Listen: 'Sweet One', '100 Grand (Gimme Dat)', 'Jack Jones'
→ Follow
Describe your sound. "It brings in and merges the different genres I listen to. I have the smooth hip-hop pattern compiled with the cadence of grime. I find different ways to alternate and blend the two from time to time, while still keeping my own unique identity in my music."
Tom Did It
From: London
Listen: 'Demons', 'Like Me', 'Thinking Too Much'
→ Follow
What was your favourite moment of 2020? "Getting signed to DMY and the studio session a week or so later celebrating with Henny, Tm and Remy. Other artists I'm feeling right now include Ayrtn, Ashbeck, Aries, Loyle Carner, Sainte, Shaker. Also I've been listening to loads of Biggie and '90s hip-hop recently."
Your Loss
From: West London
Listen: 'Memory Hole', 'Hov & Puffy (ft. KISH!)', 'Chaos!'
→ Follow
Talk us through your sound. "A blend of abrasive chopped samples, crunchy, hard-hitting drums and moody textures. It's basically if Alice Glass was a dude and could do grime flows."
Keep up to date with all of DMY's releases via this playlist, and follow us on Instagram, Bandcamp, Twitter and Spotify.