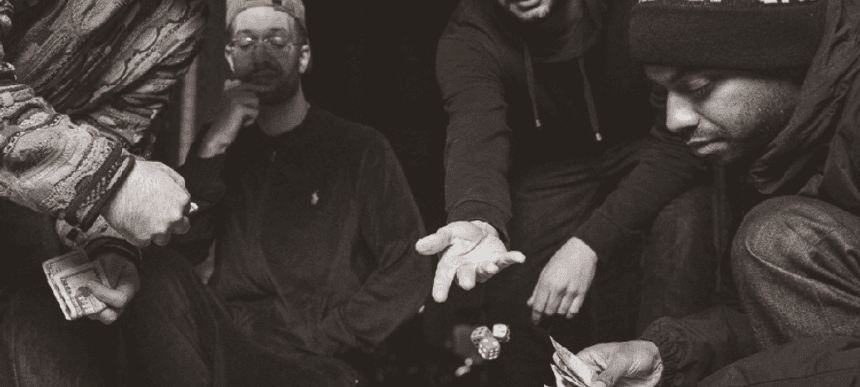 05.11.2018, Words by dummymag
Livin' Proof celebrate their 11th birthday: listen to their exclusive mix

The party-starting hip-hop heads recount their favourite Livin' Proof memories over the years
Where London clubs have come and gone over the last few years, Livin' Proof parties have remained a constant. Having begun in tiny Soho basement Marketplace years ago, the hip-hop night quickly ballooned, moving on to increasingly bigger pastures in CAMP, Concrete, XOYO and now Oval Space.
For just over a decade now, the collective (comprising Snips, Khali, Budgie and Rags) have been putting on parties that spread like wildfire via word of mouth and now sell out in a hot minute, and this Saturday are blowing out eleven candles on their cake at Oval Space.
In anticipation of the night, the foursome have compiled their favourite memories of the iconic night over the years – which you can read below – as well as piecing together an extra-special, collaborative mix for the occasion.
Tune in below.
–
Snips
"Best memory for me would be, ya know, meeting my wife at our NYC Livin' Proof? lol. Also up there was the last party we did the first time we moved from Marketplace. The whole street was locked off from about 8 o'clock. People were on the tables, banging on the roof. We have never had a party that has matched that energy and I reckon we had 180 people in there max… bear in mind that Market Place can technically only fit 120.
Khalil
"First favourite memory that comes to mind was about seven years ago at Concrete. Rags was drunk and DJing, was playing a big record, then mixed in another big record that the crowd loved, then must have forgotten what he was doing and mixed in the first big record again… Me and Budgie found it hilarious, the crowd looked confused. Rags had a great time."
Budgie
"My favourite memory is from the first few parties we did at marketplace when I was the only one who still played vinyl. Everyone else was on Serato which was still relatively new but I was definitely late getting on it so I was playing all the funk records I had, and all my hip-hop records of course. I think it might have even been my copy of Group Home – 'Livin' Proof' that was on the turntable when we were talking about what we should name the party and Raj or Snips [still hotly debated] was like, 'Why don't we just call it Livin' Proof?!'"
Rags
"My favourite memory may have been the 10th birthday… I met three different couples that weekend who came up to me and told me they had met at Livin' Proof and got married since. Plus – me and Snips met our wives at Livin' Proof. That's five Livin' Proof marriages to our knowledge. Wonder if there are more we don't know about?"
Tracklist:
Childish Gambino – This Is America
Drake – KMT (feat. Giggs)
IAMDDB – Shade
Octavian – Party Here
Travis Scott – Antidote
Chance The Rapper – No Problem (feat. Lil Wayne, 2 Chainz)
Young Thug & Travis Scott – pick up the phone
Jay-Z – Big Pimpin ft UGK
Rebound X – Rhythm 'n' Gash
Jme featuring Giggs – Man Don't Care
Pusha T – If You Know You Know
J Cole – Motiv8
Travis Scott – Sicko Mode
ASAP Rocky – Praise the Lord (Da Shine)
Manga Saint Hilare & Sir Hiss – True To Me
Jay Rock – King's Dead
O.T. Genasis – Everybody Mad
Smoke Boys – Leave the Hood
Migos – Walk It Talk It
D Double E – Live Tonight
A11EWYA – The Chase
03 Greedo – Run For Yo Life (OG & Budgie Remix)
YG – Big Bank
Nipsey Hussle – Last Time That I Checked
Mozzy – Walk Up
Desto Dubb – Wok No More
G. Perico – Get My Staccs
SOBxRBE – Uber Wit A Dub
Lil Pete – Menace 2 Society
Dom Kennedy – Rollerblades
LulBearRubberband – Playa
Ice Cube – The N**ga You Love To Hate
Public Enemy – Welcome To The Terrordome
LL Cool J – Jinglin' Baby
Eric B & Rakim – Know The Ledge
Big Daddy Kane – Its Hard Being The Kane
Pete Rock & CL Smooth – The Creator
EPMD – Rampage
De La Soul – A Rollerskating Jam
Slick Rick – Mona Lisa
Get tickets to this Saturday's Livin' Proof party at Oval Space.