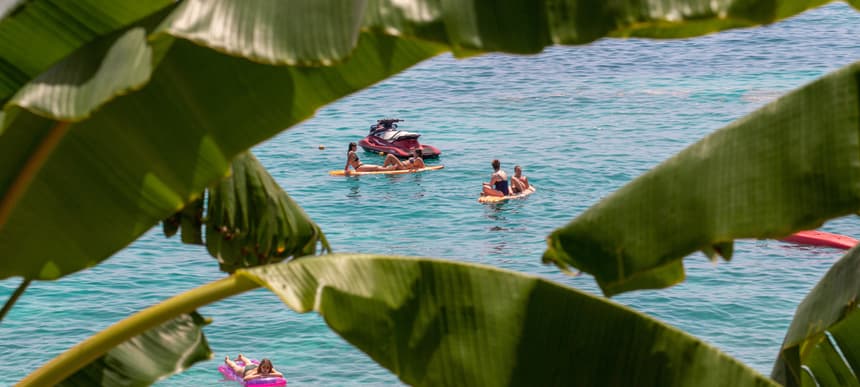 24.06.2019, Words by Ben Jolley
A retreat and rave all in one, Kala festival 2019 was a party in paradise
With an equal emphasis on rejuvenation as much as partying, the Albanian festival is going from strength to strength...
An idyllic combination of beach holiday and festival, Kala is an experience unlike any other. Spread along Albania's unspoilt Dhërmi beach – an hour by boat (if you catch the speedy one) from Corfu and then a 45-minute bus transfer from Himare port – lies a widely undiscovered slice of paradise.
This might sound unbelievable to those who haven't visited during its first two years, but the week-long Albanian party/retreat really is in a league of its own – not just because of the stunning location (crystal clear waters and a jaw-dropping mountain backdrop), but in how it's providing a financial boost to the island. Restaurants and bars were packed with Brits, Aussies and Europeans while the festival's infrastructure and stages had been mostly built by local people.
"It's important that everyone gets treated fairly," enthused Kala's Juan Lopez, emphasising the team effort aspect that's at the festival's heart. "The Albanian government have really seen the vision that we're going for and, instead of us bringing everything over from the UK, we're finding strong local businesses that we can work with and build up. It's good to see the economic benefit to the bars, restaurants and businesses – which will be essential if Albania is to become a festival destination."
During a press conference, Albanian tourism minister Blendi Klosi described the first two editions of Kala as "a dream; the way the country is gradually being opened up to the whole world is something I could never have imagined. Being able to help turn these beaches into an amazing place for a festival and show the island to a really good number of people is incredible. People who live here now have more opportunities and parties like I've seen this week never happened before in Albania…"
Despite only being two years in, the team behind Kala got everything right: from the programming, to the stage design, lighting and extra daytime excursions. While there were some problems outside of the festival's control – the one and only cash machine in Dhërmi breaking twice throughout the week and the Secret Beach parties being cancelled – it's important to remember how new a festival Kala actually is and recognise that these were just teething problem. And, as the team admitted, "it's a constant learning curve for us. We were the new kid on the block last year but I think we offer something different – a bit more complete," Juan said. "There are no restrictions on sound and the scenery is amazing…"
Nestled in between palm trees, the largest of the four stages was Empire, a 2,000-capacity pebbled beach that saw live performances from Jordan Rakei and house music icons Inner City among its programme, while funk and soul sets at Splendour – revamped with a new wooden floor and DAS Audio sound-system – provided the perfect soundtrack for partying right next to the sea. Then there was my personal favourite, The Yacht Club – an intimate open-air rave space built for harder sounds, especially when the sky turned dark.
As expected, women ruled the week: whether it was CC:DISCO!'s undiscovered gems at sunrise, Honey Dijon's jazzy selections, Jayda G's infectious and energetic funk and soul, Josey Rebelle's acid, breakbeats and electro (the hardest set of the weekend), Mafalda's vinyl masterclass or Peach and Yu Su's unexpected b2b, the range of female talent on show was incredible to see. And that's without mentioning Iona, D. Tiffany, Jane Fitz, Jenifer Mayanja, Nadia Ksaiba, Jaye Ward, Rhythm Sister and Danielle, who each effortlessly proved just how many great female DJs there are – irrespective of what style of music they play. By ensuring a gender balance throughout the week, the Kala team put other festivals to shame.
It was also a place where DJs hang around for the rest of the week; Bradley Zero and Jayda G watched on as Peach and Yu Su went b2b; Hunee – who we found ourselves rubbing shoulders with on the dancefloor – played for a dreamy seven hours rather than his scheduled five. There's just something special about Kala, and Albania itself, that seemed to lift everyone's spirits (even the bar staff danced while pouring out vodka lemonades) and ensures the energy remains high… even after 12 hours of partying.
And because the 3,000 ticket holders had travelled for the best part of a day to get to the festival, the crowd was a friendly bunch of Brits, Aussies, Americans and Europeans – many experiencing the country for the first time. There were no fights or dramas; instead everyone seemed like they were there to have a good time. Being a European festival, glitter-faced friends made the most of the chance to look the part and express themselves: top outfits included the guy in a pink-tassled hula skirt who attempted the salsa during Sassy J's set, and the group of NASA astronauts who did their most impressive moonwalk after passing security (searches were thorough but not too overbearing). Though it was the slogan printed on one man's shirt – and the €1 pints – perfectly summarised everything about Kala: 'Party In Paradise'.
But Kala is way more than just a festival. While the house and funk – including unplanned b2bs, extended sets and a handful of live performances – keeps Dhërmi grooving until the early hours, daytimes are spent sunbathing, back-flipping into the clear blue waters or reading (there's even a Kala bookshelf at The Cove), re-energising at Empire via a myriad of yoga and meditation sessions on offer throughout the week, or taking the boat over to Gjipe Beach, an eco camp hidden between coves and surrounded by a spectacular canyon. The organisers put as much emphasis on rejuvenation and relaxation as they do partying, which is often a difficult balancing act to pull off.
With plans already in place for the third edition of Kala, and a 20 per cent increase in tourism in 2018/19 compared to the previous year, Albania is quickly becoming a go-to destination for festival-goers who thrive on unforgettable experiences.
Visit www.kala.al for 2020 tickets.