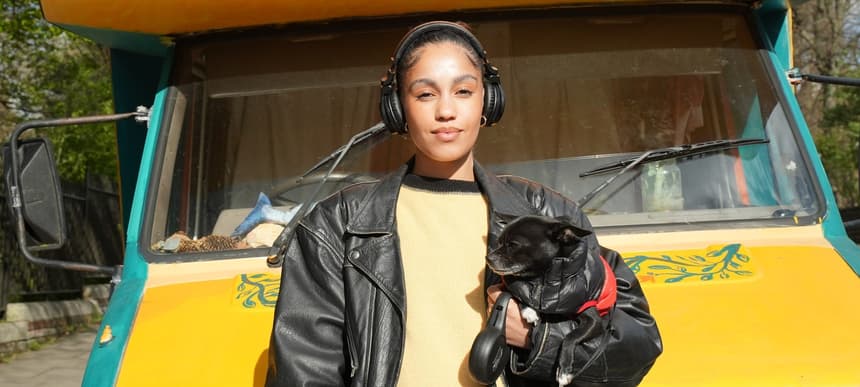 30.05.2022, Words by Billy Ward
Abisha stars in episode 2 of Pioneer DJ x Dummy 'At Home With' series
The singer-DJ gives a tour of her South London home, speaking on her hobbies, ambitions and charity work
London-based singer and DJ Abisha is the second special guest to open up their homes for Pioneer DJ and Dummy's mini-documentary series.
Launched back in January with a house tour from BBC Radio 1 DJ and presenter Jaguar, 'At Home With' invites the best emerging DJs and artists to show how they work from home, gain inspiration for their sets and curate their radio shows, while also focusing on how they wind down and re-charge away from music.
Episode 2 gets underway in South London, where the singer-songwriter, DJ and model invites a camera crew into her Brockley flat and the leafy parks that surround it. Fresh from releasing her recent UK garage-infused single 'Everything Falls Into Place', the title track from her forthcoming EP arriving in July, Abisha is quickly becoming one of the UK's most exciting voices and is using her platform to speak out about the urgency of representation in the creative industries.
While taking the audience on a whistle stop tour around her bedroom, the singer starts off talking about the therapeutic qualities of relaxing at home on her own and introduces her dog Kiko. The video also focuses on Abisha's bedroom DJ set up, complete with her Pioneer DJ DDJ-FLX6 controller, where she practices her mixes and sets. Having started out DJing in 2019, Abisha was quickly thrown into the deep end performing at festivals while working out her own style on the go – blending garage, pop and R&B with a dance floor-ready twist.
Throughout the rest of the episode, Abisha talks about her love for fashion and how she dreams about starting her own unisex clothing brand, as well as how being a model has helped her to define her own style and identity even more. Growing up in Devon as a queer mixed race woman, the singer found it difficult not having many people to look up to who were going through a similar situation. While speaking about her ambassador role at LGBTQ mental health charity MindOut, Abisha opens up about her wider goal of creating her own safe space for people in the LGBTQ+ community and for people of colour.
After taking a trip to Abisha's local park where she gets her necessary dose of greenery as former countryside girl, episode 2 draws to a close with the artist looking back through an old photo album and reminiscing about her childhood, where she first fell in love with performing.
The mini-documentary is pulled together with cinematic shots of South London and scored with a lively soundtrack, including: Abisha's 'Home To You (Champion Remix)', 'Everything Falls Into Place' and 'If You Were Mine'; Banditt and Sempra's 'care 4′; Nicolas' 'Dancing In The Moonlight' and 'High Speed'; and TSHA's 'Sister'.
Watch episode 2 of 'At Home With' below:
Read next: Jaguar kicks off new Pioneer DJ x Dummy 'At Home With' documentary series