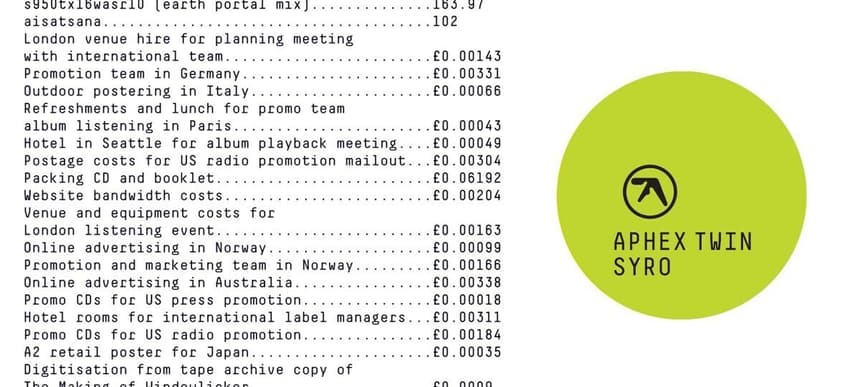 23.09.2014, Words by dummymag
Album of the Week: Aphex Twin - 'Syro'
Amidst all the kerfuffling excitement surrounding Richard James's first album as Aphex Twin in 13 years, there've been twinges of wary scepticism from many long-time fans. While they're always going to welcome new material from James, there's always a lot less at stake when that music arrives via one of James's side-aliases: a throwaway acid track released under the guise of Analord, The Tuss, or Caustic Window, for example, can be casually enjoyed on its merits, untrammelled by lofty expectations.
The Aphex Twin name, however, carries with it a certain weight; a bulletproof reputation for bar-raising innovation of the most dazzling kind. If James were to resurrect Aphex Twin and return with anything less than a total game-changer, did he risk sullying his own legend, and diluting perhaps the most enviable back-catalogue in electronica? Was radical innovation even still possible within techno? What, in 2014, was Aphex Twin for?
Well, if the best Aphex Twin can offer after 13 years away is 'Syro', that's more than enough. No, it doesn't turn electronic music on its head, nor does it find James refashioning a voguish genre in his own image, as he previously did with trip hop (on 1995's '…I Care Because You Do') or drum'n'bass (1996's 'Richard D James' LP). What 'Syro' does have to offer is the sound of James mutating his go-to touchstones – electro, acid, jungle – in more opulently psychedelic ways than ever before.
At 43 years of age, he's matured into the ferocious technical prowess that often made his turn-of-the-century work tough going: now, rather than sandblasting your brain to smithereens with a bazillion brutal micro-edits (see much of 2001's impressive-but-hard-to-love 'Drukqs') he uses his prodigious skills to keep tracks continuously morphing in understated, intuitive fashion. These constant structural shifts are barely noticeable, but every so often you'll realise that you're listening to a completely different track than you were just eight bars ago. CIRLONT6A [141.98], for example, shifts, swerves, and segues with the sublime grace of a classical symphony. Finally, James is truly worthy of that (daft at the time) "Mozart of techno" tag, as bestowed upon him by Mojo magazine some 20 years ago.
'Syro' is, however, an album aimed at the head, rather than the heart. There are unexpected moments of beauty, certainly, but these tracks feel like trains-of-thought rather than emotional rollercoasters. Drug analogies are easy to fall back on when talking about electronic music, but there's just no avoiding them here: when it comes aurally distilling the warped, trapdoor logic of an acid trip, nobody does it better than James, and he's never done it better than on 'Syro'.
James has declared 'Syro' to be a deck-clearing exercise, intended to draw a line under the last few years of production so that he can begin work on new (and more extreme) tracks. Maybe his next project will redefine electronic music in the same way 'Analogue Bubblebath', or 'Selected Ambient Works 85-92', or Windowlicker did. But if it doesn't – if it's 'merely' as beautifully crafted and endlessly entertaining as 'Syro' is – then that'll be fine, too.
9/10
Warp Records released 'Syro' on September 22nd 2014 (buy).