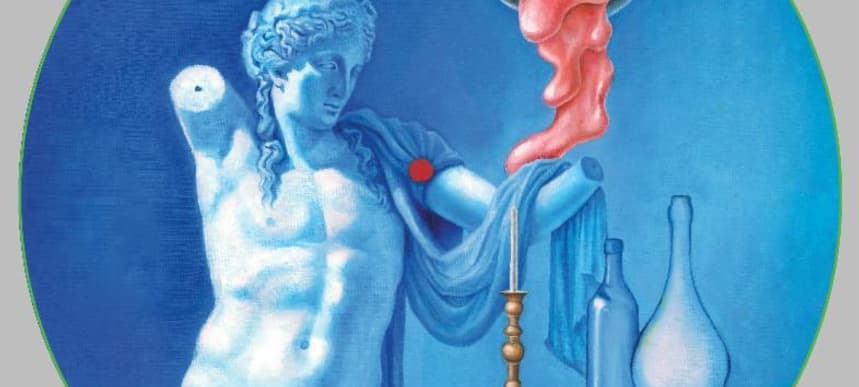 01.10.2014, Words by dummymag
Album of the Week: Giant Claw - 'Dark Web'
Giant Claw is the alias of Keith Rankin, an Ohio-based artist who co-runs an amazing little record label called Orange Milk. Orange Milk have released cassettes and vinyl records by a slew of DIY artists, ranging in style from low-resolution prog rock to 16-bit exotica; from relatively straightforward home-recorded pop music to completely bonkers sound experiments that no commercially-inclined label would touch with a 10 foot pole.
If you were to try to classify Rankin's own music, you'd probably put it in the 'bonkers sound experiments' category. He's uploaded something like 17 records to Bandcamp since 2010, and he's turned his hand to all sorts of different styles, but many of them share a common recording technique whereby Rankin mixes his own original sounds with found samples to create strange, hectic audio collages.
This anything-goes, everything-at-once approach reaches even more ridiculous heights on his latest album, 'Dark Web', which is certainly one of the strangest and most original records you'll hear this year. Composed mostly through intricate MIDI notation and sampling, 'Dark Web' consists of eight tracks that, with their regular naming conventions (Dark Web 001, Dark Web 002, etc.), end up forming part of a greater whole. It's hard to tell what's authentic and what's appropriated on 'Dark Web': it's both strikingly unique, yet made of familiar sounds.
The album's reference points seem more modern than some of Rankin's other records, travelling through styles like trap rap, R&B, and juke, using high-fidelity samples that have been chopped up to into microscopic snippets. Rankin doesn't discriminate with where his sounds come from, using an assortment of drum samples, R&B acapellas, and his own instruments as the raw materials to build his compositions. A standard 'Dark Web' track will start off with an ambient intro before launching into an 808-led trap song before bringing in a vocal harmony before a harpsichord or an oboe takes over – often within the space of about 40 seconds. In this sense, the album bears a similarity to Oneohtrix Point Never's astounding 'R Plus Seven', where any one track can have a hundred miniature movements within it, each presented in a linear fashion.
There's always something new to hear; at one point, Dark Web 006 plays a short solo out of what sounds like a sample from The Art Of Noise's Moments In Love, which is as close to a Year Zero for this sort of music as it comes. One constant across the record are the garbled R&B samples deployed across nearly every song – Rankin dissects and rearranged the vocals, leaving out any tangible lyrical phrasing but keeping their expressive qualities pure.
But is the album is actually any good, or is it just different? I'm inclined to say the former: 'Dark Web's press materials highlight the strong conceptual core of the record (which covers topics ranging from Noah Creshevsky's theory of hyperrealism to the cultural heritage of the internet), yet these seem almost irrelevant, as you can enjoy the album on more simplistic terms, whether that's in appreciating Rankin's playful enthusiasm for manipulating sounds, or in his often legitimately emotive harmonic expression. Given the rate he moves at, Rankin will have probably moved onto something completely different by now, but there'll still be plenty to come back to on 'Dark Web' over the next few months.
Orange Milk/Noumenal Loom released 'Dark Web' on September 30th 2014 (buy).