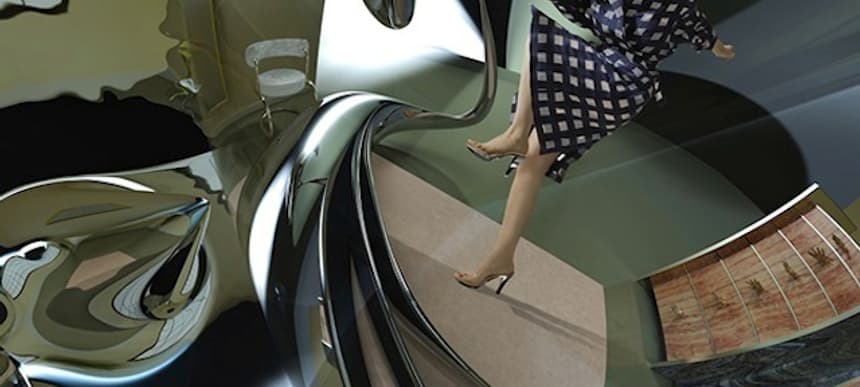 09.10.2013, Words by Aimee Cliff
Album of the Week: Glasser - 'Interiors'
Back in 2011, we asked Cameron Mesirow, aka Glasser, if she thought of herself as an ambitious artist. "I'd like to think so," she said humbly in response. "I'd like to think I go for things that are hard to get to. I mean, why not?" Even then, she figured her idea of herself and her interaction with the world and with art as a movement through space; she talked of "opening a gate" in her mind, of "getting into Glasser" being really difficult. This week, she opens her second full-length album 'Interiors' with the far-flung pop anthem Shape, which sees her stood on the brink of a sea of feeling, throwing her voice out over expansive production and stating "there's an ocean making life, beyond my reach." Glasser began with one person trying to get out of herself, curiously touching on new ideas; now, the project has transformed into one person embodying a vast, ambitious landscape, evoking huge and disparate spaces that somehow all seem like an honest and personal part of herself.
Where New York-based singer-songwriter Cameron Mesirow's 2010 debut 'Ring' meandered and teased, giving a glimpse of an artist brimming with playful ideas and drawing easy comparisons to the non-linear compositions of Bjork, 'Interiors' takes one central idea and uses polished, precise pop to exuberantly bring it to life. The aforementioned single Shape is as epic an album opener as you could hope to hear; not only does it sound massive, beginning with a lone voice traversing wide open production before surging into life with formidable percussion and a strong chorus, but it matches that sense of space to its lyrics about feeling overwhelmed by the world around you. After this rush comes the taut metallic twist of Design, a song about intimacy that calms down the vocal and constrains the ears with its zig-zagging synth melodies, before the even closer intimacy of Landscape, a song that figures boundaries and borders as things that humans can possess and move between into each other; "I'm in your landscape," Mesirow sings. "And I don't want to go back to mine."
Within the first three tracks, then, Glasser has already made her listener lean forward and reel back several times, establishing the tidal pattern that dominates the album; the production, lovingly crafted with her partner and producer, Fever Ray collaborator Van Rivers, pieces together familiar but disparate sounds in a surreal patchwork. On Keam's Theme, another bold pop anthem, clattering wooden percussion meets garish synths and layered vocals that ooze from every corner of the track. As well as the sound, the actual song structures take delight in roaming freely one moment, and standing firmly on long-established foundations the next; again in Keam's Theme, we hear a mid-song interlude submerged in the sound of lapping water and the ghostly echoes of Mesirow's voice cast adrift, before gradually closing the gaps for a triumphant final round of the chorus. Mesirow plays with form in this way across the record, using grandiose sweeping choruses as anchors where she sees fit (take the central rhyming couplet of Forge – "hole in my head/plane carash in my bad" – and the jarring juxtaposition of "shackled to a window/Anything but open" in Dissect) and then adventurously deconstructing these patterns at the next turn, as in the glorious brief compositions Window I, II and III.
Glasser's vocal isn't a passive bystander to these sweeping gestures of composition, but the ringleader; on Forge, the music drops away to leave her voice, armoured with metallic effects and storming forwards as if into battle, and on Window I and Exposure, to name just two, snippets of her sighing and cooing become part of the very fabric of the song. Her voice is as much what makes this a record about space as the lyrics and the production, if not more – on Landscape she whispers and sighs her wonderment at being on the cliff-edge of a lover's skin; on Dissect she speaks to the listener with a dead stare; on Keam's Theme and Shape her melodies and belted notes take flight.
Another thing Mesirow told Dummy back in 2011 was an anecdote that seemed like a fun aside at the time, but has a little more weight now. "I lost my temper the other night at a gentleman in a bar, who physically violated my space," she said. "He thought it would be hilarious to move me, so he literally picked me up and placed me somewhere else. And I was so shocked! That someone would literally take control of my geographic place and deposit me somewhere else for their own amusement." What 'Interiors' feels like is a person who, fascinated by the relationship between the movement of the body and the moulding of character, took control of her own inner world by making an album that illustrates the breadth and depth of strength and emotion that can exist within one person. The result is a record that's absolutely worth making some room in your life for, and equally worth getting lost inside.
10/10
True Panther released 'Interiors' on the 8th October 2013.