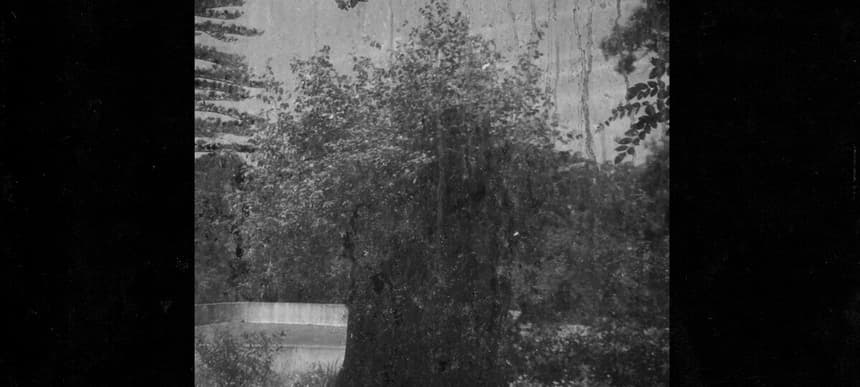 28.10.2014, Words by dummymag
Album of the Week: Grouper - 'Ruins'
If you've ever seen a diagram of how sound is transmitted through liquid, then you'll come close to understanding the pleasure of listening to music by an artist like Grouper: presented as smooth, warm ripples emanating out from a glowing centre in a circular motion, the longitudinal waves of submerged sonics are felt throughout her music. That's not just in latest album 'Ruins', where a single upright piano and Harris's barely perceptible lyrics, breathed through the echo of a hollow wooden body, and tense, beaten piano strings, shudder at the thought of memory's fade.
'Ruins' is the continual product of an artist who seems to always work close to the sea, with an intangible sense of immersion and belonging that Harris has displayed across the almost 10 albums that she's produced in as many years. Water is a persistent motif that goes a long way in describing Grouper's themes and aesthetic, whether it's the undulating emergence of perhaps her best known track to date, Heavy Water/I'd Rather Be Sleeping (from 2008's 'Dragging A Dead Deer Up A Hill'), or the personal historical reference of a childhood memory (in which a body washed up on the shore near Harris's mother's house) in last year's 'The Man Who Died In His Boat'. And that's before even mentioning the fact that a grouper is a fish.
In fact, "Grouper" is a name that supposedly comes from garoupa, the Portugese word for said type of fish – the country where most of 'Ruins' was recorded. The album was laid down during an artist's residency in the seaside town of Aljezur in 2011, its songs mostly products of beachside strolls and isolation. Harris disrupts linear time with album closer Made of Air as she did on 'The Man Who Died In His Boat', which collated career-spanning old material and off-cuts and presented them as a 'new' album. The former is an 11-minute song recorded in 2004. Dating back 10 years, before the release of her CD-R debut album, Made of Air presents an awareness of a life-cycle and its inevitable end, an achingly sad surge of layered ambience that floats in the hypnotic abyss of its pulsing motion. A single piano key persists throughout the swirl of sound before bursting into a surge of sorrow. It dissolves.
With an awareness of history comes the inevitable nostalgia that is most keenly felt on revisiting a place with a past and, perhaps, an uncertain future. An opening in Made of Metal meets Made of Air at its close, as the potential industrial destruction of the album title travels through a haunting field recording of crickets and frogs and the unyielding 'boom, boom' of a kickdrum that resonates while one considers the liberating effects of mineral at the opening, then oxidised at the end.
A deep and beautiful pathos pervades 'Ruins', as Harris contemplates the notion of a beginning as already implying its ending. That sense of absence pervades in these uncharacteristically sparse, though consonant tracks, meant to be absorbed as a single album, rather than several unrelated tracks. The poignant beep of a microwave closes the wordless piano plod of Labyrinthe, while the echo of Call Across Rooms bleeds out through the wobbly shifting pitches and signals of battered keys as it loops and spirals across harmonics, the ominous tone of sonic vibrations fading out before they die. Maybe you were right when you said I'd never been in love, Harris relieves in a breathy whisper for Clearing. And as quickly as the album emerges it disappears, like the memory of star that died long before we saw it.
7/10
Kranky release 'Ruins' on October 31st 2014 (pre-order).