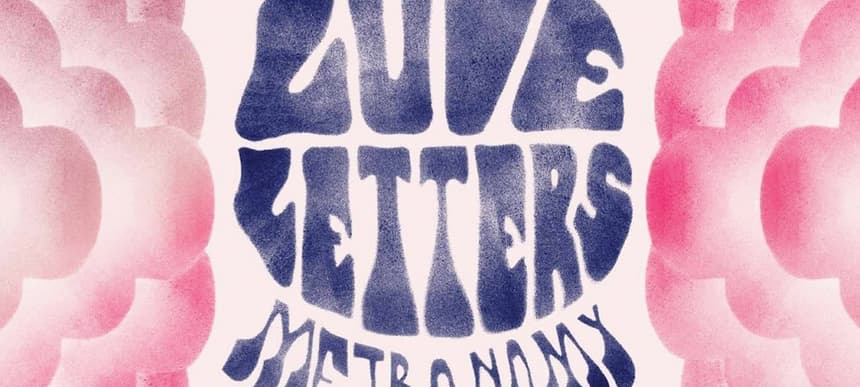 12.03.2014, Words by dummymag
Album of the Week: Metronomy - 'Love Letters'
Metronomy's fourth album opens with The Upsetter, a melancholic, low-fidelity pop song that sets the tone for the rest of the album. Recorded live, The Upsetter's introductory bars carry nothing but the quiet, thin sounds of a Roland CR-78 drum machine, opening up to introduce a campfire acoustic guitar and principal songwriter/vocalist Joseph Mount's exposed, unprocessed vocal. Metronomy's music has always been pared down and uncluttered, but on 'Love Letters', they're working with their most narrowly defined sound palette yet: recorded at Toe Rag, an eight-track analogue studio in London, the album has a consistently warm, worn quality that comes from using ropey old hardware and vintage recording techniques, resulting in music that is modest and minimalistic, and lyrics that are lovelorn and lonesome.
Considering the success of their last album, 2011's excellent, often jubilant 'The English Riviera', it's a surprise that Metronomy should take such a glum turn on 'Love Letters'. Mount devotes the first three-and-a-half tracks to the sort of restrained, introverted, and downbeat music last heard on 2009's 'Not Made For Love' EP. For the most part, these songs are unspectacular: The Upsetter is irritating, made moreso by the fact that it's the first thing you hear, while I'm Aquarius, despite its pretty synth flourishes, is a fairly forgettable single. The baroque melodies of Monstrous are where the record begins to pick up steam, and after the forlorn horns that introduce title track Love Letters, the album really reveals itself, bringing more members of the band into the fold as well as more elegant, adventurous, and energetic songwriting.
From this point on, the album begins a trajectory that travels a lot of ground that don't expect considering its fairly succinct 45-minute running length. The double whammy of Love Letters and Month Of Sundays is the album's peak – the former is Metronomy's interpretation of a Motown smash, the latter a psychedelic rock stomper that, once its backing vocals kick in, is one of the best and most adventurous songs that Metronomy have recorded. Elsewhere, Mount records the first proper album instrumental since 2008's 'Nights Out' with Boy Racers, a great arpeggiated disco odyssey, while Reservoir succeeds in bringing out an emotional resonance from the most unexpected of places that Metronomy have always been so capable of doing.
Much has been made in the album's pre-release material of the '60s and early '70s rock and pop influences worked into the album, but the music itself doesn't sound particularly retro – although it's far less manic than the electronic indie pop they've dealt with in the past, 'Love Letters' still sounds like a Metronomy record (admittedly, this also means that it has all the pitfalls of a Metronomy record – the tweeness, the politeness, and the navel-gazing, heartbroken, misunderstood guy lyrics – and your enjoyment of that really depends on where you stand with the band). More than anything, these influences are felt in the album's sequencing, with the album divided into clearly signposted sections that feel like flipping through A, B, C, and D sides of a charity shop double LP. Mount's songs have changed to reflect an era of "classic" songwriting, too. The songwriting is excellent throughout – Mount admits that advanced songwriting is really where his interests lie right now – and although it lacks the immediacy of their preceding albums, this excellence really sinks in on repeat listens.
With all of its vintage preoccupations and romanticised nostalgia, 'Love Letters' isn't exactly a step forward for Metronomy, but it's a welcome development in their formula, and when it comes to ideas, it offers proof that Joseph Mount is still a cut above many others at his level of success.
7/10
Because Music released 'Love Letters' on March 10th 2014. Metronomy will headline Field Day in London this June – buy tickets here.