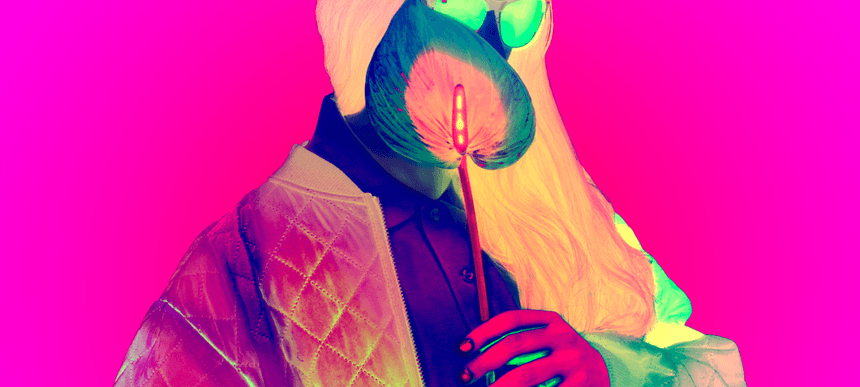 18.02.2014, Words by dummymag
Album of the Week: Planningtorock - 'All Love's Legal'
Dummy is teaming up with online music shop Bleep.com throughout February to give away our Album of the Week on vinyl to one reader each week. For a chance to win Planningtorock's 'All Love's Legal', head over to Dummy's Facebook page.
Say what you mean: that's the memo from Berlin-based artist and producer Planningtorock's third album, 'All Love's Legal'. Following the example of friends and frequent collaborators The Knife, Planningtorock has changed their name from Janine Rostron to Jam, and updated their musical style. Previously an unhinged careen across deranged low-end electronic collisions, mangled vocals and grunting, bestial moans of simulated woodwinds, on 'All Love's Legal' Planningtorock's music becomes a circuitous pop and twirl of disco reclaimed by its mutant margins. Here, it emerges uplifited and progressive, as the energy and pace of Rostron's litany of gender-positive affirmations sashay through a tunnel of razor-sharp high hat samples, hand claps, pizzicato inserts, and the faintest guttural-sounding heave, keeping the metronomic beat constant. It's an affirmative upward rhythm that defines the single Human Drama, which comes wrapped in the warmth of a rich-sounding synthesised organ melody and ambience, with Rostron telling us plainly: "the personal is so political."
In this case, it's sexual and gender politics. On 'W', Planningtorock's brilliant 2011 album, a distorted vocal bent through, around, and over the spectrum, with Rostron singing "Jammy's a diva, he's got a funny tastes" on Jam, while a submerged, buoyant motion begged, "Janine, don't go with those guys" on Janine. That inner conflict of collusion – between hiding in obscurity and insisting on transparency – has been resolved for 'All Love's Legal'.
Stripping back on vocal processing and expanding on actuality in track titles like Patriarchy Over & Out and Misogyny Drop Dead, the album leaves no doubt as to Rostron's intention. There's no hiding behind the clear glass of statements like "gender's just a lie" while imbuing a track like Human Drama with a sense that lingers somewhere between joy and resolve. Maybe that's what optimism sounds like: a clarity that knows its objective and takes pleasure in performing it. In Rostron's case, that's "perform" in the most literal sense, where disrupting convention comes in the form of a mid-range, genderless vocal, drolly announcing, "Jam's my name, jam roll's the game" over the capricious frolic bounding through the insistent rhythm of an electric guitar and the crooked, forward thrust of synthesised wind instruments in Misogyny Drop Dead.
Muted strings are plucked at the neck from a distance, nervously bounding up, back and around the listener as Rostron howls and moans over an unrealised desire in Answerland before the tracklisting drops back into the dynamic current of progress in Let's Talk About Gender Baby. Built from the brilliantly sarcastic afterthought of a lyric pulled from the tail end of The Knife's nine-minute epic Full of Fire, this track (a re-tweaked rendition of what was originally a remix by Planningtorock) plays most significantly with vocal pitching as the lyrics, "let's talk about gender", shift octaves at such a fast rate that it becomes ludicrous.
It is absurd, after all, that these are questions and ideas, put so plainly, are still considered marginal in 2014. They shouldn't need to skulk behind a prosthetic mask, in melancholy dark blues and distorted shadows as they did on the 'W' cover art. Rather, 'All Love's Legal' opts for stark fluorescent lighting and a clear vision of a face – masked only by a notably phallic-looking flower – while flatly declaring, "degenderise all intellect. Funky idea."
7/10
Human Level Recordings release 'All Love's Legal' on February 17th 2014.