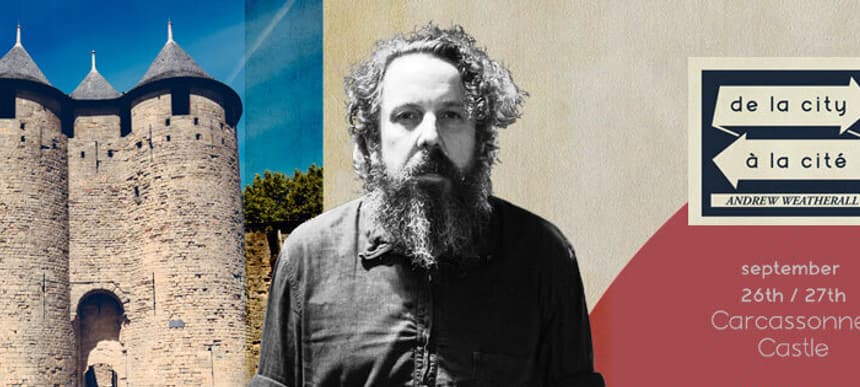 25.07.2014, Words by dummymag
Andrew Weatherall Festival is taking place at a French castle in September
When the majority of European festivals host interchangeable lineups and layouts, it's refreshing to know that there are pockets of people out there who are committed to creating one-of-a-kind experiences.
Over in France, two festival organisers called Bernie Fabre and Benjamin Esteve launched a very special festival last year: Andrew Weatherall Festival.
Dedicated to the DJ/producer/all-round rascal that the festival takes its name from, Andrew Weatherall Festival returns this year at its ridiculously beautiful surroundings, a medieval castle named Le Chateau Comtal in Carcassonne in the south of France.
The two day festival boasts a lineup including Andrew Weatherall (obviously) in multiple guises – he plays a Music's Not For Everyone set on both days (which'll cover rockabilly, post-punk, krautrock, psych, dub, and anything in between), a set with Sean Johnston under the A Love From Outer Space guise ("Never knowingly exceeding 122bpm"), and a DJ set with Timothy J. Fairplay as The Asphodells. Speaking of Mr. Fairplay, there'll also be a live set from Scott Fraser, who co-founded very good record label Crimes of the Future alongside Fairplay. The lineup is rounded out by Khidja and French garage band The Liminanas.
There's more to Andrew Weatherall Festival than music: it's also about "presenting pride and place from the region", as a press release tells us, and will as such have the "freshest produce, ingredients and fine wine selected by famous sommelier Olivier Zavattin and cooked by Michelin star chef Jerome Ryon." You're not gonna get that at Creamfields.
The full lineup is below. Tickets for the weekend are priced at an extremely reasonable £35, and flight details are up on the Andrew Weatherall Festival website.
Day 1 (Friday September 26th) lineup:
18.30: Khidja
19.45: Andrew Weatherall's Music's Not For Everyone
21.00: Scott Fraser (Crimes of The Future) (Live)
22.00: A Love From Outer Space (Andrew Weatherall & Sean Johnston)
Day 2 (Saturday September 27th) lineup:
18.30: Khidja
19.45: Andrew Weatherall's Music's Not For Everyone
21.00: The Liminanas
22.00: The Asphodells (Andrew Weatherall & Timothy J. Fairplay) (DJ)
Andrew Weatherall Festival takes place on Friday September 26th and Saturday September 27th at Le Chateau Comtal in Carcassonne, France (buy tickets).