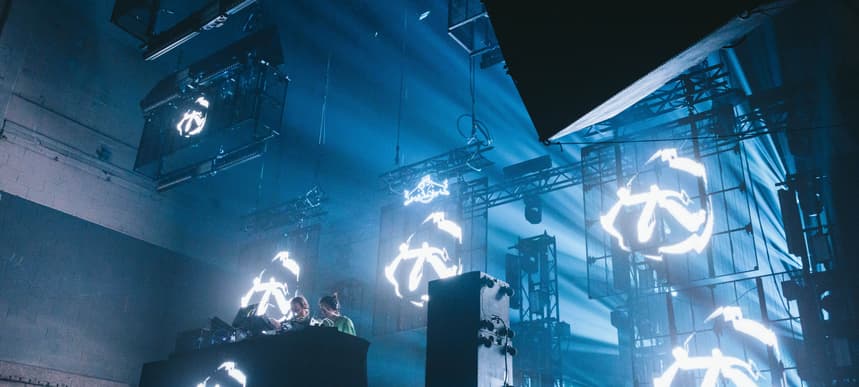 17.09.2019, Words by Felicity Martin
Aphex Twin brought rave history – and Gemma Collins – to Printworks
Watch a stream of the landmark performance, Richard D. James's first London club show in a decade...
On Saturday (14/09), Aphex Twin played a sold-out headline show at Surrey Quays venue Printworks, his first London club date since playing Matter in 2009.
Put on as part of Red Bull Music's festival, Aphex took to the main hall with his wife, Anastasia, at his side and a stack of modular gear. The pair were backed by a custom-built stage that boasted motorised LED panels that zoomed around above the crowd, and around the venue were art installations including old TV sets stacked on top of one another, as well as an immersive, 'Collapse EP'-themed visual you could control by moving your hand over a sensor.
Richard D. James's set was something of a raver's delight, with the Warp veteran mashing up dance music history via '90s jungle, breaks, monster techno, acid and ambient interludes alongside newer cuts like Zuli's 'Trigger Finger'. Unreleased Squarepusher and Aphex also punctured the selections, along with highlights like his brain-melting 'Stone In Focus', Quartz's 'Meltdown' and D-Shake's 'Techno Trance (Paradise Is Now)'. The full tracklist is available here.
Regular collaborator Weirdcore was on visuals, using facial recognition technology to warp the faces of people in the crowd, while CCTV-style footage set up around the venue meant you could watch people in the smoking area and climbing up staircases in the ex-printing press.
A selection of celebrities and public figures were also given the Weirdcore treatment, including reality TV stars Gemma Collins and Amber & Greg from Love Island, Neil Buchanan from Art Attack, Mr Blobby and Richard Blackwood flashing up on the screens alongside Boris Johnson (who elicited loud boos from the crowd).
Consistently innovative, while harking back to old-skool rave euphoria, Aphex managed to enthral electronic music fans old and new and, at a time when politics is dividing generations more than ever, it felt special.
Watch the archived livestream: