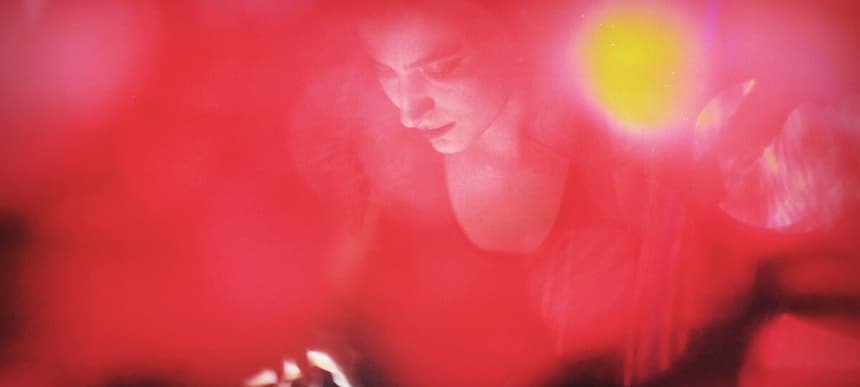 19.02.2016, Words by dummymag
Aurora Halal: "I like the contrast between machinic and visceral, vulnerable."
For a long time, New York's clubbing scene has been quietly bubbling away. While there are people who feel that at points, it had in essence "died", there are always new spaces and projects that will keep cropping up – even if they have to operate on a much more low-key level. In the past year, there has been a noticeable surge of interest from the city, with places such as Bossa Nova Civic Club and Palisades playing home to dance music's underground.
What those two clubs have in common is that they've both hosted to Mutual Dreaming nights, run by Aurora Halal. Started a few years ago, the night has been championing some of house and techno's most compelling US-based DJs, including dream-weaver Galcher Lustwerk and the infectious rhythms of Joey Anderson. Halal notes that when she first started putting these parties together, there was nowhere near the demand that events such as hers now receive.
The increased appetite for clubbing and techno in NY has crossed over in a big way recently – with producers such as Umfang, Antenes, Via App and Malory coming through strong alongside people like Aurora Halal. It's just outside of New York that Halal is also making her contribution – running Sustain Release with Zara Wladawsky upstate. Curating a mirrored reflection of the Mutual Dreaming line-ups on a larger scale, their mission statement and policy of sorts comes from a tagline at the bottom of the festival's posters, "Strictly 4 the freaks".
Mutual Dreaming isn't just a party though; it's also the first and currently only label that Halal has solo productions on. Her output evokes an escape, a portal into the unknown and surreal via dreamy, throbbing basslines. Her recorded set from last year's Sustain-Release is a trance-inducing hour of her own productions, laden with acid and electro coated techno. It shows the possibilities of how alive and squirming with energy a producer's live set can be, even when you haven't been physically in the presence of it. Nearly half an hour in, her track Death of Real subtly kicks in and the melting, half-present vocal loop repeats, "I am the death of real". It's a phrase that sums up how Halal's music can make you feel.
Ahead of her appearance at Bloc in March, we caught up with Halal over email to muse over the current state of the underground in New York, her use of a sample from Lil Wayne's deposition and her live/DJ hybrid set.
It feels like there's definitely a growing demand and appetite for techno in New York at the moment, how have you seen things change in the past couple of years?
Aurora Halal: "There's a renaissance in NYC right now for quasi-legal loft and warehouse parties, which is my favourite thing. And more noticeably there's a big wave of not so good mainstream dance events. When I began organizing parties six years ago it felt like a hidden secret, having to convince the DIY venues that dance music was a relevant art form that would attract anyone at all. That's definitely changed. I think it's incredible to see the possibilities – new producers and ideas, more women getting involved, excited faces in the audience, a general open-mindedness which is wonderful. Who knows when it will go out of fashion again, leaving it back as it was in secret. That's also great. My philosophy for parties is all about intimacy, just drawing the ones who caught whiff of your smoke signals."
There's this trippy, dreamy atmosphere to your productions – what qualities are you searching to bring out when you make tracks?
Aurora Halal: "Slipperiness, energy, alienation, redemption, bliss."
When you lay a vocal on a track, you tend to place them quite low in the mix, what function does the human voice have in your music?
Aurora Halal: "The voice is just a texture I use and hopefully listening closely you can hear some words and a story embedded. I like the contrast between machinic and visceral, vulnerable. I've sampled voices that evoke something human for me, like Lil Wayne on the stand at his deposition for Hazy G, the synthetic SNCF announcer in Overpass, Simone from the terrible movie of the same name in Death of Real, and lots more, sometimes barely audible. But lately I've used my own voice a lot more, just whispering into the built in laptop mic."
There's a distinctly acidic sound within your productions, what was your introduction to acid?
Aurora Halal: "Chicago House of course, and early Plastikman. I'm currently obsessed with Alien Rain. But I'm not going for that exactly, the story has been told already."
You have a live set up as well as DJing, do your sets comprise solely of tracks that you've recorded or is there an improvisational element to it?
Aurora Halal: "I often play combination sets, where I play live on my gear for an hour and then followed by a DJ set. For the live, its always evolving, and usually contains tracks I haven't recorded yet or maybe have written the night before. The setup is small but powerful, I use an Octatrack to sequence MIDI to two synths, and use the sample side of it for drum programming and other bits recorded in, and run everything into a mixer with effects pedals. I've composed the elements in advance but the performance of it and flow of the music is by nature improvisational."
Mutual Dreaming is both your party and your record label, so far you've released two 12"s of your own on it, is it just your outlet to release music or do you plan to get other producers involved?
Aurora Halal: "Not sure yet. For now it's the ideal way to release my music. I like to do everything DIY."
Having produced music video work for people like Max D and now-defunct Friends, are you working on any visual projects at the moment?
Aurora Halal: "I go through a lot of phases with my projects, I did video a lot in recent years and enjoyed performing live visuals with Ital, we toured all over that way using an analog video rig and live cameras. But I've taken a break from it, and not sure when I'll return. Organizing Sustain-Release and working on my performances takes most of my creative energy these days and I love to give it my full attention."
Aurora Halal plays Bloc Weekender, March 11-13th , 2016 at Butlins Minehead (buy tickets).