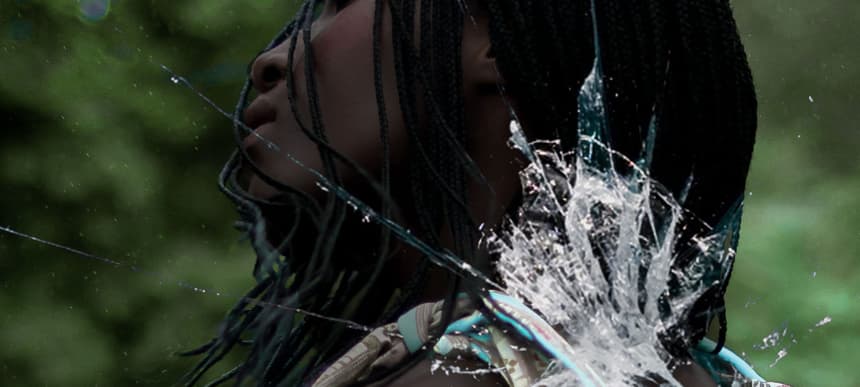 28.01.2020, Words by Felicity Martin
BRAND NEW: HAWA
We speak to the genre-blurring, b4-signed artist taking rap in new directions...
BRAND NEW is a series where Dummy meets some of the artists on our Spotify playlist of the same name: a weekly-curated selection of all the best up-and-coming acts. Today we chat to HAWA, a Berlin-born, New York-based artist making waves in the music game right now. 'IPHONE', her latest single, centres around themes of unrequited love and communication breakdown, pitting her gentle vocal over melancholic production. Classically-trained from a young age, 19-year-old HAWA used to be ensconced in the world of classical music, before finding it too stale and wanting to break out.
Already a favourite with the fashion set, she recently closed the Telfar Pitti Uomo show in Florence by performing to Solange, Kelela and Juliana Huxtable, and her debut EP arrives in March via new label b4. We fired some questions HAWA's way below, and you can listen to 'IPHONE' underneath.
Hi! How are you today?
Good! I ordered mad Uber Eats and just really slept all day, so it's been a great day actually.
Can you think back to your first musical memory?
When I first heard Beyonce's 'Baby Boy' featuring Sean Paul, that shit hit too hard. Or when I first heard TLC's 'FanMail'. Now that shit hit so hard – the beat just went too crazy and the melody was just so unique.
Describe your sound in one sentence.
Unique
Your single was inspired by unluckiness in love, does music offer a kind of therapy for you?
Yeah, it helps me express built-up emotions that I wouldn't usually be able to express sometimes. Other times music just allows me to remove myself from a physical space and environment to this like magical fairytale setting where I can do or say anything I want, so yeah I would say it's a kind of therapy.
As a pre-teen you were one of the youngest-ever composers for the New York Philharmonic Orchestra, are you still involved in that world at all?
No, at least not for right now. In the future I would like to get back into it again and write scores for plays and movies and more, but for now I'm really just focusing on the music I'm making right now.
You started rapping in your teens – what was some of your lyrical content like at that age?
It was verrrrrrrrrrrrrrryyyyyy vulgar. Not saying that my music is less vulgar now but the music I was making at 14-16 but I highly doubt you would catch my shit playing on Kidz Bop so that's saying something.
What's been your favourite day so far this year and why?
Every day this year has been my favourite day because I'm alive. I've gotten to wake and see the sun and tomorrow isn't always guaranteed, so…
If you could teleport to any show in any era, what would it be?
Damn that's a hard one to answer but I would say a TLC show. It would be amazing to see them perform, to see their energy, to feel their stage presence.
Listen to HAWA's 'IPHONE':