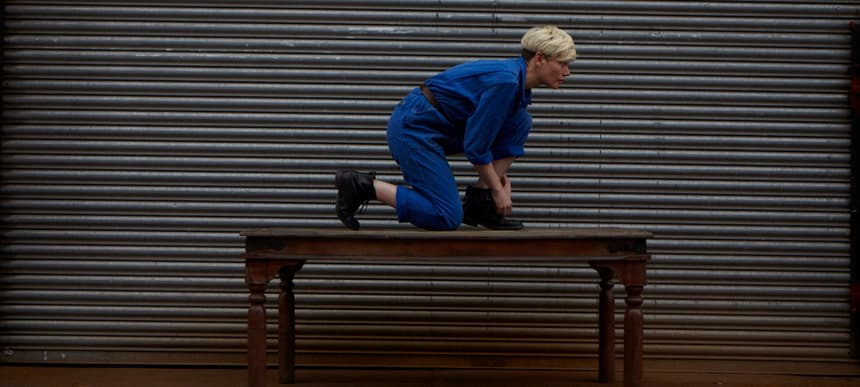 27.02.2015, Words by dummymag
C.A.R. - Silk
C.A.R. is Chloé Raunet, former singer with Battant turned solo electronic pop musician, and co-host of NTS Radio's Latete Atoto show.
She made us a really excellent Dummy Mix last year that ran the gamut of edgy synth punk, weird electronic experiments, and off-kilter pop music, and now she's back with a follow-up to her debut album 'My Friend' – a new EP, 'Glock'd'. The EP comes backed with new remixes by Andrew Weatherall and Timothy J. Fairplay's The Asphodells project, while adorning the release is a previously unheard song, Silk.
Stream Silk now and catch up with Chloé below.
What have you been working on since 'My Friend' came out last year?
C.A.R.: "Aside from playing shows & developing the live aspect, I've been doing some featuring work. There's this track with Ruede Hagelstein coming out on Berlin club Watergate's label, a song with South London Ordnance which I'm super excited about, plus some ongoing bits with both Red Axes and Manfredas. I've also been busy writing new material. We've already started introducing some of it into the show and I'm hoping to have another EP mixed and ready before the start of the summer. And I'm still doing NTS. Kristina and I (aka Latete Atoto) have started up a new night at The Souls Bar, Broadway Market, which we do on the last Thursday of every month. So yeah, super busy, super psyched!"
What can you tell us about new song Silk?
C.A.R.: "I originally wrote Silk on a Poly 800 (I think in this case, the synth definitely guided the song). Last year I was recording some vocals at Red Bull Studio in Paris and we had some extra time, so I sat down on the Rhodes and just started playing around. This recording is the result of that… raw as!"
Manfredas and The Asphodells are on the remix for this EP. What's your relationship to those guys?
C.A.R.: "Manfredas is on Les Disques De La Mort (Ivan Smagghe's label). As well as being a fan, I've been doing some vocals for him. My relationship with Andrew and Tim goes back a lot longer. We all shared a studio in the Battant (my previous band) days, and they've both been really supportive of this new project. I recorded part of my first EP 'HIJK' with Tim too, and he did an amazing remix of it."
How do you feel hearing remixes of your music in general? Have you ever not liked a remix of your own stuff?
C.A.R.: "You know I've always been really, really fortunate with remixes. I don't think I've ever not liked one, and I love hearing what other people take from it. In the case of this EP, when I first heard the Manfredas remix I was stunned. The lyrics of Angelina are all about hobo speak/railroads (shrouding all sorts of metaphors) and I didn't remember mentioning it to him, but he totally seemed to have picked up on the vibe. And the Asphodells one blew me away. At the end when that Primal Scream-esque guitar kicks in, I get this huge, warm smile over my face. It's just so Tim! I love it."
What have you been listening to recently?
C.A.R.: "I just got back from watching Dream Wife. I've only ever seen them live (they're in the process of mixing their debut EP, which will be out on Enfer Records), but I'm a fan and have high hopes! Three girls – super smart, super funny, super hot with drum machine, killer guitar, bass, and vocals. Bam! I hope they do well.
"Aside from that and my own stuff (boring yes, but when you're trying to write an album you do end up spending a lot of time hearing your own music!), there's Flavien Berger (that track Golden Glance … my god!!!) and a lot of random bits I pick up here and there for the radio. All sorts!"
Kill The DJ release the 'Glock'd' EP on March 2nd 2015 (pre-order).