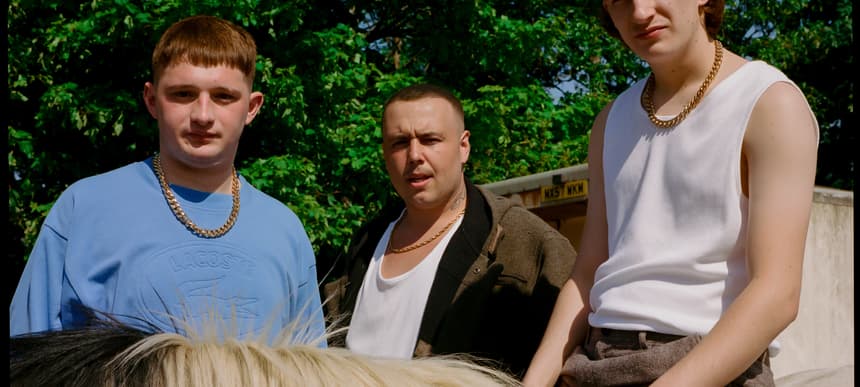 17.07.2020, Words by Felicity Martin
Cop or Drop? Bad Boy Chiller Crew review the singles
The Bradford bassline stars get their teeth into the week's singles, from indie to pop to drill...
Cop or Drop? is a series on Dummy where we invite a musician to either slate or rate the singles we present them with. In the hot seat this week are Bad Boy Chiller Crew, the Bradford bassline breakout stars tearing up the UK. Responsible for bootleg hits like 'Pablo' and 'Boys & Toys' that have racked up millions of views and spawned YouTube comments like "this is the most british thing I've ever seen and i cant be more proud', the trio have just released their first single proper, '450', via House Anxiety.
With pitched-up dance vocals reworked into the Bad Boy template, their ability to produce hi-NRG bassline bangers about living life to the full and having a mad one is unmatched. With debut mixtape 'Full Wack No Breaks' on the way, plus a feature-length VICE documentary about to drop, BBCC are gearing up for a full UK takeover. Below, the trio of GK, Kane and Sam – plus their Bradford-based manager Dr Google – bring out their inner critics for the week's singles, from pop to indie to drill.
beabadoobee – 'Care'
Kane: "Good, not our cup of tea but good voice."
Sam: "Tune not a fan of, it's too repetitive for me."
GK: "I like it, reminds me of a Cranberries-type dark feeling."
Dr Google: "Visually an old school video from early 2000s and the song could possibly be part of the American Pie soundtrack."
Joel Corry x MNEK – 'Head & Heart'
Kane: "Sick, makes me wanna party – it's feelgood and we need MNEK to feature on a BBCC hook."
Sam: "Tune is a banger, it's catchy and uplifting."
GK: "Yeah is a banger, very catchy."
Dr Google: "A perfect time for this song to release as it will resonate with how everyone has felt during lockdown and now things are starting to look brighter."
Unknown T – 'Deh Deh'
Kane: "Good tune, he's got a unique voice he's got his own sound, we like it."
Sam: "Still not the sort of music I'm interested in but sounds crisp and bangs."
GK: "I'm not a big fan of this although I did like 'Homerton B'."
Dr Google: "Not my cup of tea and the hand signs was like watching Countdown at 4am on replay and they've got the signer in the corner for the deaf."
M1llionz – 'B1llionz'
Kane: "Beat's catchy, good flow, good wordplay."
Sam: "I like the beat and his voice is good – he's bringing a different sound."
GK: "Bit too fast…"
Dr Google: "Ummm, torn on this as it has repetitive bars but they are kinda catchy."
Katy Perry – 'Smile'
Kane: "It's Katy Perry, it's gonna be a banger."
Sam: "Katy Perry never fails to bring out a banger, it's good but it's not her best."
GK: "Not really keen."
Dr Google: "Straight from the off not visually appealing – the video looks cheap and not your normal sexy KP style video, but it's KP so don't matter what the video is like will be a hit!!"
Listen to Bad Boy Chiller Crew's debut single '450'.