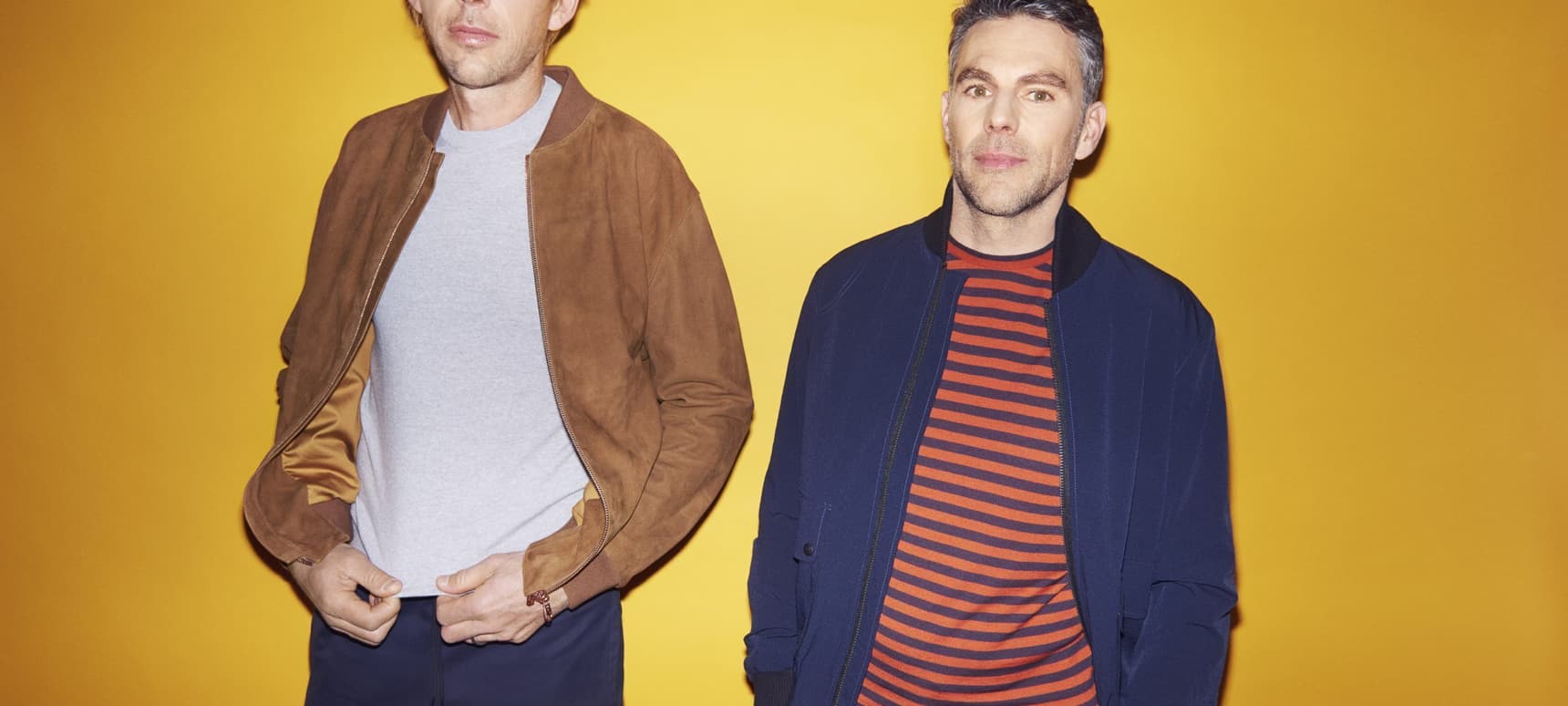 04.09.2020, Words by Felicity Martin
Cop or Drop? Groove Armada and Todd Edwards review the singles
The dance titans get their teeth into the week's singles, from K-pop to rap...
Cop or Drop? is a series on Dummy where we invite a musician to either slate or rate the singles we present them with, and in the hot seat this week we've invited two artists and electronic music icons to give their thoughts. Tom Findlay and Andy Cato, aka Groove Armada, recently announced their first album in ten years: 'Edge Of The Horizon', which arrives on October 2nd. Irresistible italo-disco single 'Lover 4 Now' was a collaborative effort with garage pioneer Todd Edwards and was made with a specific moment in mind: "Ibiza. Poolside at Pikes, that time of the evening when day becomes night and anything seems possible".
Given the release of the joint work, and its heartwarming animated love story video, it only seemed right to pair the artists up, and we sat Tom from Groove Armada and Todd Edwards down with a selection of singles doing the rounds at the moment, from chart-pop to rap to K-pop.
TSHA – 'Sister'
Todd Edwards: "This track evokes feelings of happier times. Summer before being stuck inside. It put me in a good mood."
Groove Armada: "Digging this one – nice use of space on the strings and guitar sounds, taking into pretty psychedelic tones with a nice solid 4/4 beat."
Clean Bandit and Mabel – 'Tick Tock'
Todd Edwards: "Catchy musical riffs and chorus… a prime candidate for the American pop market."
Groove Armada: "Little biased on this one as we've actually worked with Mabel's mum Nenah Chery and her Dad Cameron McVey. Very tidy pop music."
Headie One ft. AJ Tracey & Stormzy – 'Ain't It Different'
Todd Edwards: "As always, lyrically impressive. I wish I could hear more of this on US radio. It belongs there. The chorus hook delivers as well."
Groove Armada: "Think my son would be a better judge of this one than myself. Liking the use of the RHCP sample in there though and nothing but love for Stormzy, Headie and AJ."
A. G. Cook – 'Oh Yeah'
Todd Edwards: "Feelgood pop rock vibes on this one. A chill start to September… I think A.G. really likes Autotune ;)"
Groove Armada: "Less of a fan of this one, cute dog in the video though…"
BTS – 'Dynamite'
Todd Edwards: "Nice groove. Addictive hook. I think even if you aren't a pop fan you'd find yourself in your car singing 'Dynanananamite' when you think no one's looking."
Groove Armada: "This is pretty peak pop music, right. Extra shots to BTS's barber, top work."
Watch the video for Groove Armada and Todd Edwards' 'Lover 4 Now':
Pre-order Groove Armada's 'Edge Of The Horizon' here.
Read next: The 10 best sundown tracks, according to Todd Edwards