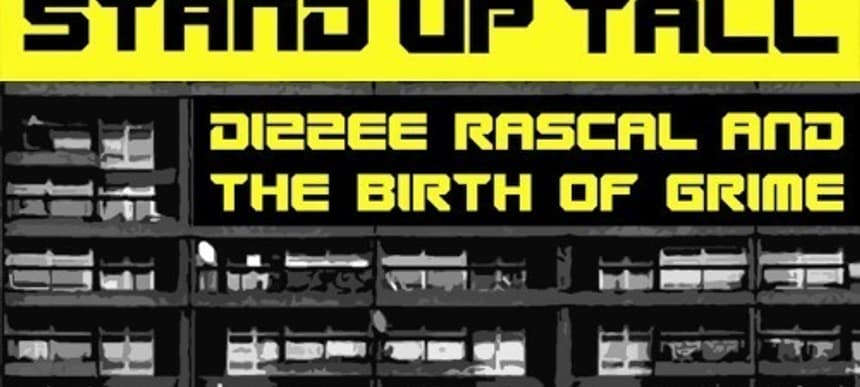 13.08.2013, Words by Anthony Walker
Dan Hancox - Stand Up Tall: Dizzee Rascal and the Birth of Grime
2013 marks 10 years since Dizzee Rascal released 'Boy in Da Corner'. The album still stands as, unarguably, the best grime LP ever released – a rare crystallisation of critical, commercial and street success in a genre largely defined by cult figures, one-off dubplates and ephemeral moments captured in pirate radio sets and live PAs. In Stand Up Tall: Dizzee Rascal and the Birth of Grime, Dan Hancox, a well-known and respected writer on grime, looks back at the album with a view to the politics of the time and how they shaped and warped around the nascent genre. To introduce his point succinctly, Hancox starts his story on the rooftop of a towerblock in Stratford that looked up to Canary Wharf and was demolished to facilitate the Olympic Park. The site was once a base for the pirate radio station Deja Vu and hosted an infamous set, also captured on video, that featured members of grime crews like Roll Deep, N.A.S.T.Y Crew and East Connection and ended messily in a confrontation between Dizzee Rascal and Crazy Titch – an MC who was considered at least on par with Dizzee at the time, but ended up imprisoned for life on a murder charge in 2005. The intense artistry, sharp divides and sky-high stakes are set from the off and Hancox's short e-book narrates Dizzee Rascal's path from these inauspicious beginnings to performing on the Pyramid Stage in front of 50,000 people at this year's Glastonbury.
Dizzee's career is often considered as symptomatic of grime as a whole – a hyper-real grassroots burst of creativity quickly subsumed by the mainstream – but this book looks below the surface of that statement and argues for him as a true heir to New Labour's socially restrictive, economically liberal policies. The Labour Party were voted into power when he started his first year of secondary school in 1997 and stayed, winning an unprecedented three elections on the bounce, until 2010. In another good analogy, the book suggests that the early sketches of 'Boy in Da Corner' may have been made on computers donated by Lehman Brothers to Langdon Park School, a charitable donation from the investment bank – one of the many lured to Canary Wharf by the promise of unbridled capitalism – to the mostly poor residential areas in its shadow.
For Dizzee Rascal, like many of his peers, the flashing aircraft warning light at the top of One Canada Square sparked his young imagination with a mixture of aspiration and the sheer awe: "it was the highest building I could see from my bedroom", he is quoted as saying in a 2010 BBC radio interview. Hancox also argues for it as a symbol of grime's unique Afro-Futurism: a focus on "elevation" or reaching a "next level" fueled by an entrepreneurial spirit that contrasts with the idea of reconnecting with a pure sense of self more prevalent in American hip hop. The argument is interesting and, certainly, part of grime's appeal is its energy and drive, but it ultimately feels like too neat a concept to pin down on music that's almost transient by nature. Similarly, the idea that the early sino-grime style – the frequent use of synthesised equivalents of Eastern string instruments – was an attempt to look beyond Canary Wharf to the rising economic powerhouses in Asia (rather than the consequence of largely untrained musicians trying to make the oddest, most compelling sounds they could on limited software) falls on wrong side of ambitious, though to be fair other views on the subject are briefly discussed in a footnote. The book works best as a view of Dizzee's psyche rather than an overview of a genre, giving a rich insight into the world the young musician documented in his early career. From Roman surveys to the Empire's rise, its subsequent fall and the recent gentrification process, Hancox gives a historical account of East London that's both intimate and sprawling – exemplified by an 1885 W.L. Wyllie painting, 'Toil, Glitter, Grime and Wealth on a Flowing Tide', a part of the Tate collection that was briefly housed in the Museum of London Docklands.
'Boy in Da Corner' was written and recorded over 18 months across East London and his manager's Bermondsey studio and, as well as coming at a golden period for the genre, stands out for the breadth of its scope. Dizzee was raw but also able to take a few steps back and reflect on situations in a way that many other MCs couldn't, or couldn't be bothered to do. Coupled with his straining, teenage voice – one that Dizzee himself admits was totally unsuited to the smooth garage style that came before him – it makes for a particularly bleak storytelling style with a narrator who often sounds like he's on the verge of breaking into tears, whether because he's angry, sad or both. Even the lead single Fix Up, Look Sharp, a joyful and bolshy hip-hop-infused song, is delivered in proud local slang, setting Dizzee up as an authentic voice of a generation-type figure against the many ham-fisted attempts of politicians to reach out to and energise "the youth" – if they even tried at all, of course. The point is argued with clarity and depth here, with close analysis of Dizzee's lyrics and flow alongside the socio-economic developments of the time. In the book's funniest moment, criticising the badly-considered gentrification of Bow, Hancox recalls the time he followed the Conservative candidate for the Poplar and Limehouse constiuency on the campaign trial in the 2010 General Election. A banker on a sabbatical who could've given the party its first seat in the area, he failed to capitalise on the demographical shift because he couldn't get into the gated apartment complexes of the new voters he aimed to canvass.
The book also takes the time to consider Dizzee's second album 'Showtime', an oddly overlooked release amongst many who cite 'Boy in Da Corner' as a classic. Out just a year after his first – with a Mercury Prize win and a serious stabbing incident in Ayia Napa in between – it's a startling picture of a transformative phase in his career. It's best known for the single Stand Up Tall which, like Fix Up, Look Sharp before it, is a brash and very British anthem but much of the album is angry – not visceral like 'Boy in Da Corner' but wounded and simmering, a diatribe directed against the people he felt abandoned him after the stabbing and others who accused him of selling out. Hancox sees 'Showtime' as Dizzee balancing his creative and economic responsibilities, a final farewell to the underground that bred him for the greener pastures of the pop world. It's an argument centred on the impressive album closer Fickle, with the hook read as a manifesto for his new approach: "If I can't find a way around, I'll find a way across, and if I can't find away across, I'll bore straight through!". This point is clear and well-argued – as is the whole book – but, as well as understanding the move as a young artist facing up to financial necessity, part of the onus should also be put on his falling out with much of the grime community after the drama in Napa. Tracks like Fickle and the other album stand-out Respect Me surely show that his departure was the result of emotional factors as well as economic ones. Whilst he was primed for a cross-over after his first successes, it may not have been as complete if he didn't feel so alienated from the scene already.
Dizzee doesn't make and rarely even talks about grime now. If Wiley – his old friend, collaborator and proclaimed Godfather of Grime – is an idealist, he is a realist. Wiley wholeheartedly believes that if they reunited today it would sell, help heal past wounds and rejuvenate the whole scene; Dizzee seems to have settled his old accounts and put the old days behind him for good. In the afterword, Hancox admits that Dizzee didn't respond to his request for a comment on the book and he says that he didn't particularly want his input anyway, because the cut-off from those first years is so severe that he wouldn't even be able to properly reflect back on them. Dizzee's career has progressed on a tangent but he will always be remembered most fondly for his earliest, grimiest work by many. Maybe that makes him a perfect figure to represent a genre capable of some truly amazing moments but built on scraps and riven by conflicts after all; either way, an incredible album was released a decade ago, and this book does a fine job of re-evaluating it in a political context and trying to understand the young man who made it.
Stand Up Tall: Dizzee Rascal and the Birth of Grime is out now and available to buy here.