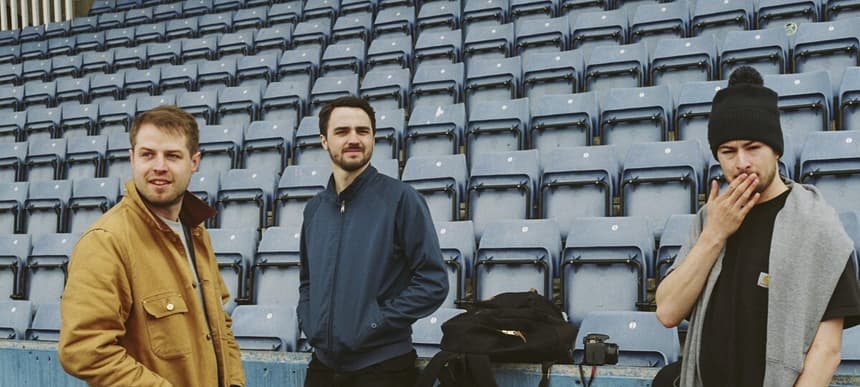 09.11.2015, Words by Natalie /
Dark Sky's guide to the essential live electronic acts
Formed during their college years, Dark Sky are a production trio who have been operating in the electronic music scene for around six years now. They've spent their time wisely, releasing EPs on Black Acre Mister Saturday Night Records, 50Weapons and Tectonic, with their debut album 'imagin' released last year on Monkeytown Records. Purveyors of a darker sound that treads an electronic landscape somewhere between post-dubstep sounds, house and techno; shining examples of their output is Reflex on their 'Frames' EP or the whole of their album 'imagin', where the trio showed us they had a softer side, charting hints of ambient with pitched down vocals and drawn out sounds that would take top spot on any after-party playlist.
With their own live show on the go and a penchant for a broad span of electronic music, Dark Sky share a personal guide to the essential live electronic music acts to catch live, featuring some of their favourite producers and peers. It has also just been announced that Dark Sky will join Andrés, Marquis Hawkes, K15, Mosca and more as the special guest at Percolate's third birthday celebrations on November 20th, Corsica Studios.
Before their appearance, view Dark Sky's top tips for live electronics acts below or watch the performances seamlessly here.
Moderat
Dark Sky: "We supported Moderat for a couple of shows during their last tour and each time we witnessed their performance we were so impressed. The clinical precision, the amazing visuals and of course their incredible music all adds up to an amazing musical experience."
Thundercat
Dark Sky: "Since we first saw Thundercat and his band perform at Gilles Petersons' Worldwide Festival in 2013 we were hooked. Now every time he plays in London we feel it's mandatory to go and witness this great show."
Caribou
Dark Sky: "Caribou's performances have always been really inspiring for us, we would often study his bands set up and watch many videos of their gigs in the early stages of putting together our live show. So it was a real pleasure to finally see them at Brixton Academy earlier this year as they ended their most current tour."
Memotone
Dark Sky: "Memotone is a seriously talented guy. His live show layers up each musical element using a looping pedal to create an evolving sound with every element in the track being played by him, he even does his own artwork and T-shirts. Definitely one to watch as he's dropping an album on Black Acre early next year."
Portico
Dark Sky: "Portico are amazing live, they use a interesting pallet of sounds and instruments to create a very considered and precise performance that comes off extremely tight and well executed."
RocketNumberNine
Dark Sky: "We were lucky enough to have Ben and Tom from RocketNumberNine play at our album launch in September last year. What drew us to their sound was their stripped down approach and extended psych'd out arrangements that were always changing and free flowing. It's refreshing to see live act just experimenting on the fly, letting the mood and atmosphere of the room dictate the direction."
Theo Parrish
Dark Sky: "We managed to catch Theo playing live at the Forum in Camden earlier this year and he didn't disappoint. The way he flipped his original tracks into extended jams but still remained true to the originals worked really well in a live environment. The extra embellishments laid down by the live drummer, Amp Fiddler and the Footwork dancers turned the whole experience into something very special."
Kassem Mosse
Dark Sky: "It was great to see Kassem perform in pitch black room during Find Me In The Dark at Corsica Studios, it definitely felt like the right place to seem him play. Sometimes it can be hard to keep things evolving when it's just one person in control but he managed to change the whole atmosphere in the club whilst still holding the dancers attention, which was great to witness first hand."
Dark Sky will join Andrés, Marquis Hawkes, K15, Mosca and more for Percolate's third birthday celebrations on November 20th at Corsica Studios (tickets).