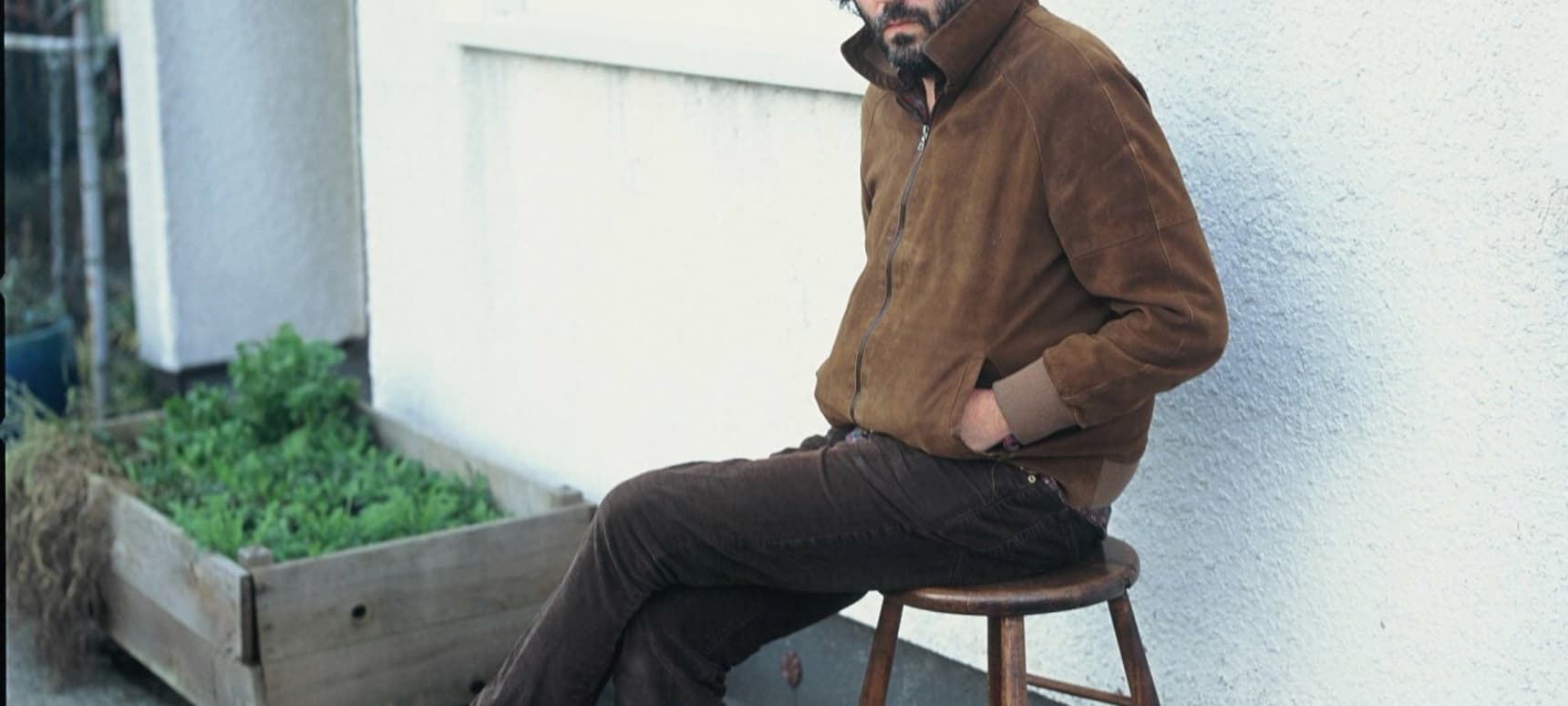 08.07.2015, Words by dummymag
Destroyer interview: "Grand, flawed gestures and colossal failures."
Destroyer's 10th album, 'Poison Season', begins as any great tragicomedy would, with the setting: Jesus is beside himself / Jacob's in a state of decimation. Dan Bejar has been employing these humorous literary allusions in his songwriting for nearly two decades. One of North America's most consistent and prolific musicians, Bejar's last saga was 2011's 'Kaputt', his most popular and critically acclaimed album under the Destroyer name. A smooth fusion of jazz and soft-rock, 'Kaputt' propelled his project into hi-fi territory with a statement that proved to be his most actualised release.
Since then, he's been filling his scrapbook with more gags to litter in his work. Earlier this year, Destroyer returned with the remarkable Dream Lover, a song that he says is "live from the floor," with the recording only needing two rehearsals before being cut to press. It sounds like a block party approaching the East Side of New York City, before continuing the march towards Times Square – the backdrop against which much of 'Poison Season' takes place. Every second of it previews an album that plays out like a victory lap for Bejar.
A long-time fan of Destroyer knows that Dan Bejar doesn't rest on his laurels, nor does he return to the ideas of his previous releases. Over the past 19 years, there has always been a singular unifying voice that you can readily identify as Destroyer. Now, in his artistic and vocal prime, Bejar turns his attention to mid-1970s blue-eyed soul and '20s jazz age. Taking in the cocaine-fuelled excess of Bowie's New York and the luxury of The Great Gatsby sounds like a cocktail for disaster. On 'Poison Season', Bejar watches over the action with omnipotence, orchestrating the grandness and decadence as an auteur would.
It's 12pm local time when I call Dan Bejar in his hometown of Vancouver. He's hanging out at home, and he's been awake for hours having been "forced to be an early riser for a couple of years," as a father. He's eager to talk, showing no hangovers of a "crazy" trip around Europe the week before where he was required to do "marathon talking" in a different country every day.
The break between 'Poison Season' and 'Kaputt' is the longest you've had between albums. When did you start thinking about recording this album?
Destroyer: "I probably started thinking about it seriously in late 2013. At some point, I started making demos, and things started taking to separate paths; one was straightforward, and that's when I got together with the band and had a couple of practices. We went to the studio for a couple of days and banged out more or less what you hear right away. There was a long gestation period of carrying the songs in my head, wondering what the hell they're supposed to be, and then an incredibly fast manifestation of them.
"The second process was longer and more arduous, and involved someone writing arrangements for the songs and putting together a string quartet in a separate studio session. Most of the record was done live off the floor, but obviously the songs were a bit different for the orchestrated numbers. Those are the two streams it went down. Otherwise, I don't know whether it would have taken four-and-a-half years between the records. It seems like an obscene amount to me. It seems too long; it feels unnatural."
'Kaputt' must have opened you up a wider audience. Did you take a break to take on some new opportunities?
Destroyer: "I don't think it was too much of a conscious reaction, in favour of or against 'Kaputt'. I spent a couple of years on the road regularly, which was a new thing for Destroyer."
On 'Poison Season', your vocals seem more of a focal point of the music. Are you more comfortable with your voice now?
Destroyer: "Yeah, I think so. It's probably from spending a lot of time on stage with a band, or, from getting sucked into a tradition of 'vocalist music'. That's more along the lines of what I've been listening to over the years: jazz and classic American vocalists like Sinatra and Nat King Cole. It's present in Destroyer, but on 'Kaputt' the vocals were diminished consciously. In that way, 'Poison Season' is maybe my first record finding my footing as a singer. It's only taken 20 years [Laughs]."
"On 'Kaputt' the vocals were diminished consciously. 'Poison Season' is my first record finding my footing as a singer. It's only taken 20 years." – Dan Bejar, Destroyer
You've mentioned Sinatra in other interviews, and there are a lot of comparisons with David Bowie too. Are they indicative of the sound on 'Poison Season'?
Destroyer: "Yes. Bowie was a comparison I got a lot in my early days because the band had a glam rock sound. It's something I didn't think about for quite a few years. There was a song [Where Are We Now?] from 'The Next Day' that was so rich and fragile in a way that I've never heard him. I started listening to him again after that, but the sound of that single still sticks in my head."
Did you ever think you would have an opportunity to make an album as grand as 'Poison Season'?
Destroyer: "No. Bryan Adams owns the studio we recorded in, and I think AC/DC recorded there a week after we finished. It's a place in Vancouver that I thought I would never step foot. The record is very much a product of 'Kaputt'; in the sense that I would never have made a record like this had 'Kaputt' not done well.
"'Poison Season' has been lingering in my mind for a while I think, and I felt like it was now or never. I'm old, and I thought this was the opportunity to try and make a grand cinematic set of songs. I may have never had that chance again, and I never predicted having that chance in the first place."
I guess you have to consider 'Kaputt' as a success then?
Destroyer: "Yeah, it's cool! I never walk away from a record until I've nailed it. There's always things that I hear that could be different, and my taste is always changing. I like grand, flawed gestures and the idea of colossal failures. It seemed like the time to go for one. The songs are quite disparate on the record, and that was my concern because 'Kaputt' was so homogenous in its sound from beginning to end.
"In the end, I just stopped caring and felt the songs were just a good document of what the band does. The strings and the horn arrangements are also a sign of what I'm into; they're the dramatic backdrop that the songs needed."
"I like grand, flawed gestures and the idea of colossal failures. It seemed like the time to go for one." – Dan Bejar, Destroyer
Do you consider it to be a concept album?
Destroyer: "I don't think so. I can't write concepts! The songs, when they come, are quite instinctive – they're short blasts of melody and language. I get quite a physical rush out of them, and I've got to hold on to them."
I asked because there are two different versions of Times Square, Poison Season bookending the album.
Destroyer: "Poison Season stuck with me because it sounded like a theatre piece. I think, sonically and musically, I was thinking in cinematic terms, which gives the record a conceptual air. The way that Times Square ended up working was that I had two very different versions of the song that were representative of the two different ways the record was made.
"I just didn't want to toss either and didn't see why we couldn't use both. The rock version came about very naturally. It was never my intention to record a mid-'70s version of the song, but it's what occurred naturally with the band. It's a document of what we do. The sequencing of the record was one the challenges, and it seems that when we used the two versions of opening and closing credits it made the album flow."
Do you think people may choose a preference? Would it bother you if they did?
Destroyer: "It doesn't bother me. People go for upbeat, immediate numbers, and that version of Times Square is one of the catchiest songs on the record. The classical version, I love it, but it's a strange arrangement that becomes disorientating. I think people are going to like different elements of the album or zero elements, but I have full confidence in this record's power to reject a lot of people [Laughs]. There're a lot of people that come to Destroyer pretty late, and they may be put off by this album."
Is 'Kaputt' the best thing to have happened to you?
Destroyer: "Yeah, it is. I feel like I've got onto a 'thing' with these guys, and I think I knew the moment we started playing shows in 2012. There's a good dynamic considering there is quite a large group. Things just seem to fall into place, but it's always interesting that it's maximalist for the sake of creating a wall. They're all mature players, but they can also play hard. It's nice that Destroyer as a group is presented a bit more."
I guess sharing the responsibility has been good for you.
Destroyer: "Yeah. We have a system, and we don't come together very often at all. A year and a half had gone before we got in the studio together. The way we pick up is very fast, and if it doesn't feel good straight away then we ditch it. I'm not into practicing very much, so the fact that they are amazing musicians is very helpful."
"'Poison Season' has a very decadent sound, but lyrically it describes a falling society. I guess you can think of it as The Waste Land and George Gershwin mashed together." – Dan Bejar, Destroyer
The album sounds like a revision of T.S. Eliot's The Waste Land to me. The album would soundtrack the roaring '20s pretty well.
Destroyer: "That's a cool take. I hadn't thought of that. I used to take a lot from poetic and dramatic sources outside of music. 'Kaputt' was a very strange, personal record, and I still don't know what the words amount to, but there seem to be some nostalgic phrases floating around. On this record, I started singing in a character's voice for the first time, like on Bangkok and Hell. That's a new thing for me: taking on phrasing and attitudes from the 20th century American songbook.
"Once the horn arrangements come into play, it started bringing that out of the songs. The songs came from a non-rock tradition I guess, which is a bit of a first for Destroyer. 'Poison Season' has a very decadent sound, but lyrically it describes a falling society. I guess you can think of it as The Waste Land and George Gershwin mashed together [Laughs]."
Merge/Dead Oceans release 'Poison Season' on August 28th 2015 (buy).