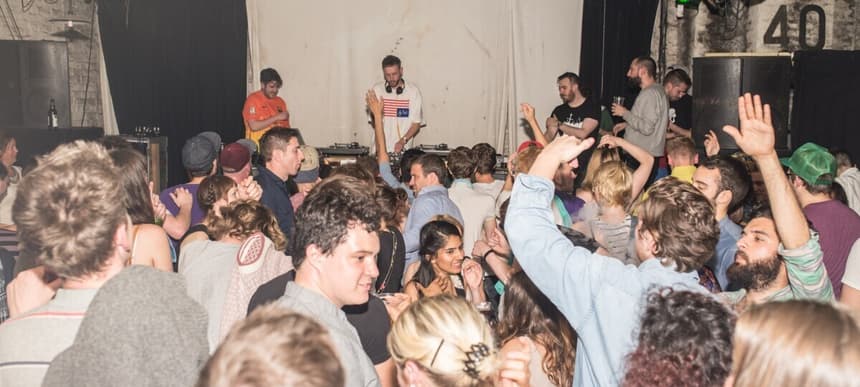 01.10.2014, Words by dummymag
Donky Pitch: the record label connecting Brighton to Chicago
Looking to redress the lack of late night entertainment that catered to tastes outside of the more fashionable arenas of dubstep and house, Donky Pitch started life as a clubnight in Brighton five years ago. Following formative nights that played host to the obscure funk, R&B, and bass meddlers of the skweee scene in Sweden, Dave Grinnell and Pete Taylor launched Donky Pitch as a label later in 2010, releasing music by artists who refashion and reshape ties to hip hop and dance music in ways which aren't always easy to categorise. A loosely formed mission statement to put out music which "sits on the periphery and operates just outside different musical subcultures" has allowed for releases that range from grime and jungle recalibrations by The Range to the more dreamy, kickdrum-led excursions from Starfoxxx.
Grinnell and Taylor see the label as fostering a real close-knit atmosphere between themselves and their artists – albeit with many of those relationships having been forged through the remote, digital channels of email inboxes and online messaging boards. Many of the label's artists are based in the US, with initial contact being made online, so while you have Lockah – producing some of the most outwardly club-ready material on the imprint – recently moving from his base in Aberdeen to live with Grinnell in Brighton, there are other artists, such as Starfoxxx (based in Chicago), who they've yet to meet face-to-face.
Despite all this, however, Taylor professes how important building genuine, personal relationships is to them. "One of the main pay-offs to running a record label is meeting interesting people that are now our friends," he explains over the phone. Indeed, having this network of individuals who share their musical outlook does really seem to be a big part of what drives them to run the label, with Grinnell adding that, "The more people I can talk about music with, the better."
A Donky Pitch clubnight, with Grinel, Ghost Mutt, Pete, and Lockah.
Although Donky Pitch is still expanding in terms of the artists on their books, there is a core of producers who release on the label: Ghost Mutt, Lockah, and The Range have all been regular fixtures since 2010, with the latter two having put out debut albums over the past year or so. Having a regular stable of artists at the heart of what they do is important to them. As Taylor says, "Once you find people that you work with comfortably, enjoy their music, and you understand where they're coming from, it's good to maintain that relationship." They accept that while there is a possibility of offers from more established outfits coming along, having that stability is important. "I think that's essential for a unique sound, I think that's how a good label survives," Grinnell explains.
The thread which runs through their releases, then, is that none of them comfortably fit it into any genres or existing scenes. With house and techno in particular having a stronger caché in the UK's record shops, Donky Pitch's back catalogue – which could be vaguely collected beneath a banner of esoteric hip hop beats and experimentalism – has generally had a stronger reception in mainland Europe and Japan. It's this diversity in what they put out, however, which they hope will shore up the relevance of what they do in the long term. They repeatedly refer to Planet Mu as an example of a label whose reputation is founded upon its discerning eclecticism. "It gives us potential for a bit more longevity, to be seen as a label like Planet Mu, where they traverse interesting deviances in electronic music." Taylor says, "The labels that we're influenced by, in the main, are the ones who have that range in their back catalogue."
With 'Nonfiction', the acclaimed debut LP by The Range last year taking the status of the label up a notch, Taylor and Grinnell hope to encourage their artists to work in the album format more as they go forward. Albums were always something they wanted to do, but it's been a case of building up to it, while not all of their artists have felt comfortable tackling the long player at first. As with everything else they do, though, it's a case of working with them in a way which is built on a close understanding. "These guys are our friends, so we can be honest with them," Grinnell says, "There's not that kind of awkwardness about giving them feedback." As they cross the five year threshold this month, it seems a safe bet that it'll be these closely formed friendships that prove instrumental in them building up the rich, eclectic back catalogue that Donky Pitch strive for.
Donky Pitch's fifth birthday party takes place at The Alibi in Dalston, London, with Slugabed, Lockah, Tokyo Hands, Mount Bank, and more (buy tickets).