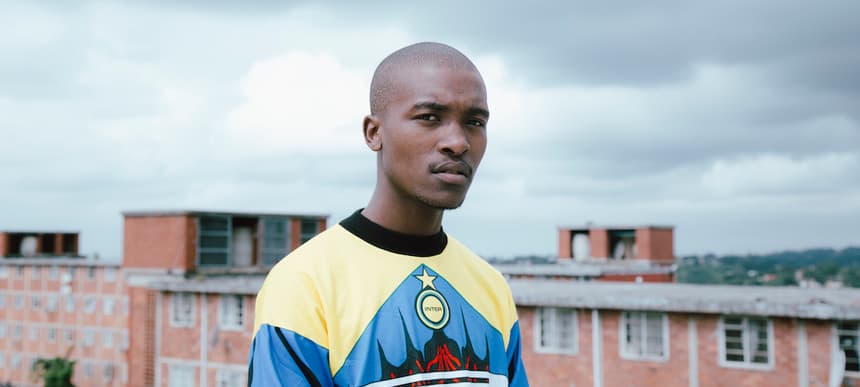 17.11.2017, Words by Daniel Laxness
Dummy Mix 492 // DJ Lag
In an era nestled in file sharing, social media and unlimited connectivity, sub-cultures and sub-genres now expand outside of their physical realm at a much quicker rate than in the past. In recent years, Facebook groups as well as a variety of file sharing sites spread accross the internet has pushed Gqom, the underground sound of Durban's townships expand beyond the confines of South Africa's coastal city.
This minimalist yet detailed percussive cocktail of hip-hop and house elements now resonates throughout a handful of European cities, and the elevator of this underground sound is the self-proclaimed 'King of Gqom', DJ Lag. Through his atypical style of DJing and energetic bass heavy tracks, he's been steadily serenading Europe's nightlife to the sounds of Durban. We're honoured to add DJ Lag to our series of Dummy Mixes and caught up with him about his Dummy exclusive, the DNA of Gqom and what it's future has to offer….
In a nutshell for those who don't know or understand, what is Gqom ?
"Gqom is a blend of different genres mixed together into one track. We use a lot of hip-hop samples in our tracks and add the Maskandi drums, which adds even more of a spark to the rhythm. It needs to be entertaining and 'vibey', so we combine all these influences to create our sound."
Tell us a bit about the mix.
"In my mix, I've used two different styles of Gqom, Dombolo and Khonkolo. These were created by Gqom artists for people who don't understand Gqom music, because it's new to them. Once you'll hear it, you'll be able to dance to it and it will make you curious to learn more about the genre."
You've been abroad and touring Europe for about two months now, how do you perceive the European nightlife in comparison to Durban or South Africa's nightlife? Do you feel like these cities and the people interact with music in a totally different way than in South Africa?
"Yes, it's different to them. Music is their life too, but the expression is different. They believe in each other and with the amount of resources accessible to them, they can share and exchange knowledge. In Durban we have created our own vibe, our own beliefs, our own music, which we believe in. If you don't like our vibe, I guess that's your own problem (laughs). We've put so much faith and love into our sound, I think it shows."
Definitely! You've explained in the past that the popular interest and demand in Durban has changed due to the music getting radio play and international spotlight abroad. Has this spotlight created a genuine market in Durban since then? If so, has it been a negative or positive change so far?
"Yes it has and to be honest, it's been a very positive change especially to us Gqom producers. Even in top venues around Durban, we weren't allowed to play our music because it was considered 'tavern music'. We didn't give up though, we continued to believe in our music and we knew that eventually they would come back around."
Seems like they have! Can we expect more exciting new releases and activity from yourself and Durban?
"No doubt about that. Currently, I'm busy gearing up for an event I'm doing at this stadium in my hood called 'Something for Clermont', it's more or less like giving back to my community. Early next year I have plans to release my next EP, which will be released in the UK!"
Out of curiosity, if you had to collaborate with another vocalist or producer outside of the Gqom scene, who would that be?
"I'd love to work with Dj Maphorisa!"
To finish off, who are the local artists on the come up or undiscovered we should be listening to ?
"Jackzin and Terrace. They're also Gqom producers and there's also my friend Charlie, he's a Gqom vocalist who I've worked with on a few tracks."
Listen to the mix below.
Check out Dummy's other exclusive mixes on Mixcloud.