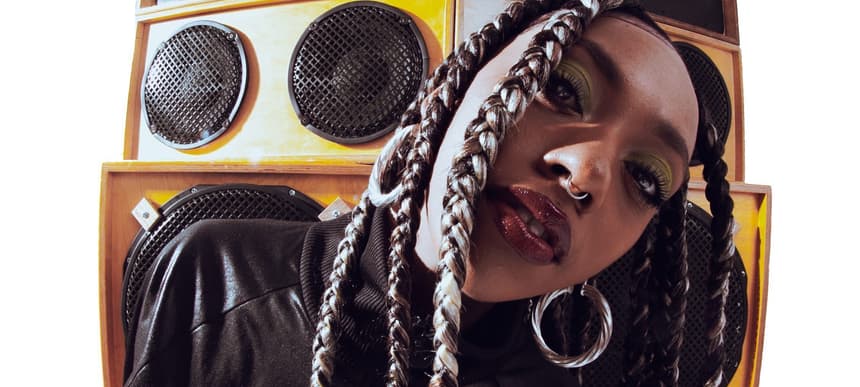 25.11.2021, Words by Ryan S Gladwin
Entering Nia Archives' matrix
"This is my 'Original Nuttah' moment."
Neo-soul singer and jungle producer Nia Archives watches The Matrix before starting a track, finding inspiration in between the layers of randomised code that pour down the screen. Her instrumentals are the product of diving deeper into the inner workings of the machine, while her lyricism matches the drizzly nature of the Matrix's storyline.
This electric combination is what caused Nia to explode out of relative obscurity in 2020 with her debut EP, 'Headz Gone West'. Ironically, this was the calm before the storm. She is sure that her upcoming EP, 'Forbidden Feelingz', will be the moment that plugs the public into her future as producer as well as a singer.
"I see it as a video game", Nia told me. "Some play FIFA, I play Logic. If I'm bored I'll go on and make some drums. You never know when you're going to use them."
Likening production to playing Tetris which, just like the Matrix's falling code, has mesmerising layers of information trickling on top of each other – in Logic, the blocks turn into the drum patterns that create the retro futuristic worlds in which her beats are set. Welcome to Nia's matrix.
Just like all technology, you need to set yourself limits and Nia has to set timers to prevent her from diving too far down the rabbit hole of a song. When a big tune has been created she'll grab hold of the song and replay it over and over again, until she's sick of it – at live shows, while she gets ready in the morning, or commuting to university. A good song will fully consume her. "I want to get that feeling of when I first listened to it. So I keep listening to it then eventually I go a bit numb to it."
This happened after the birth of the first single of her upcoming project, of the same name, 'Forbidden Feelingz'. "I just had it on loop all the time. I was really emotional and I knew it was a banger without even realising it."
In the 'Forbidden Feelingz' video, you can see Nia creating a collage of her inspirations. It becomes apparent how heavily she feels tied to her Black heritage, as well as who some of her musical influences are, plus other random people she loves, for instance Dot Cotton from Eastenders!
"Putting all those images in the video was me saying a lot, without saying anything," she tells me. "I'm not forcing anything down people's throats. But this is who I am and this is where I'm from."
She has always adored the work of Jamaican artist Cocoa Tea, so decided to sample his song, Young Lover, in the second single off the project — '18 & Over'.
"For ages, the track just sat there as an instrumental," Nia said. "In the summer, I was like, you know what? I'm going to add a little vocal on here and make the drop darker."
This is where '18 & Over' gets its distinctively dirty close – the chaotic drum patterns teleport the listener to a dingy rave, the twisting bassline resembles stumbling through the dancefloor, and the siren brings about a sense of claustrophobic paranoia. The sound of night times and nightmares, but god damn does it make for good music.
Surprisingly, not everyone had such a positive reaction to the song. Nia showed someone the track that, somehow, had a visceral reaction the other way. They claimed they loved the more digestible, catchy beginning but once the drop hit found it "too jungle-y". The artist defended herself, "this is literally jungle music!"
She continues, "I feel like this is my 'Original Nuttah' moment, it feels like a revolutionary track – not to gas myself. I'm just really proud of '18 & Over'."
The pressure to make her sound more commercial, and stray away from jungle, is one that she is aware of. But she has no plans to cave in. "I feel like I wouldn't be true to myself by doing that. You have to grow and the art has to grow," she tells me. "Right now, what I'm doing with my life is being in a club and going to parties and stuff. This is the soundtrack of that."
Where some are intimidated by the aggressive jungle drum patterns she brings on tracks like '18 & Over', Nia finds solace in this framework. She explains it reflects the mayhem and disorder in her brain.
"I'm massively inspired by old school 90s jungle, one thing that I loved about what they did was that everyone had their own style," she says. "You knew a Dillinja tune or DJ Die tune just from the drum patterns. With this project, you know it's a Nia tune just from the patterns."
This is Nia's time to define her sound. She's been in the matrix forging her sound long enough. It's time to unplug and let her reality surface. "I think this is a big moment, to be honest. I'll look back at this project like: 'I was 22 and this was my flag in the sand moment' with my production and my style."
Stream '18 & Over' here or watch below.
Her upcoming EP, 'Forbidden Feelingz', is out in February 3rd.
Read next: "You'll need rubber gloves, shin pads, and anti-bacterial wipes": in conversation with Big Narstie.