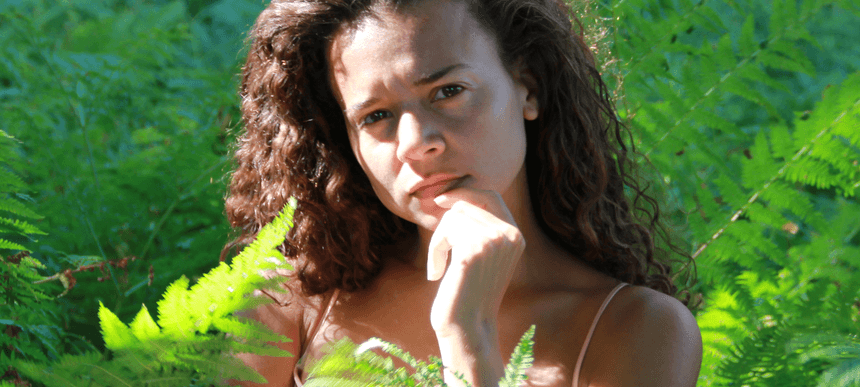 04.06.2019, Words by Felicity Martin
Erika de Casier sounds like pop's past and future at the same time
With 'Essentials', the Copenhagen artist has produced something that's as forward-thinking as it is nostalgic...
The harpsichord – an instrument originally favoured by renaissance and baroque composers – enjoyed an unexpected resurgence in early noughties hip-hop. Tracks like 'Bills Bills Bills' by Destiny's Child and Three 6 Mafia's 'Hard Hittaz' bear the mark of the plucked keyboard instrument. It's the sound that Denmark vocalist and producer Erika de Casier places front and centre of 'Do My Thing', slamming you right back into that era when you press play.
Instead of the glossy, Hype Williams-esque video that might accompany this kind of track, de Casier's video sees grainy footage of her strapping on her bicycle helmet and heading out onto the streets of Copenhagen. It's a reinvention of the classic rap video of cruising through town, only she's on her bike.
An affiliate of Danish collective Regelbau, de Casier is part of something of a community of forward-thinking artists in the city that counts her friends Smerz, Sekuoia and Clarissa Connolly. Because it's a small city, she says, they all know each other, and although the sounds they make are disparate, the uniting factor is a forward-thinking musical output. "We all have very broad tastes in music," she explains. "And we're very open also, I think we're all actually very afraid of being put in some box."
Producing her own music as well as vocaling it, de Casier has the same DIY ethic as her Scandinavian peers. But she wasn't always confident in her abilities: after sketching out the track that turned into 'Puppy Love' on her debut album, 'Essentials', she thought "nobody's gonna listen to this ever, ever, ever." She was hesitant to show it to her friend, Regelbau producer DJ Central who makes "super cool electronic music," but once she played it to him, he loved it. The pair ended up working together on the record, him under the alias El Trick. "After I showed him my work he started playing me all these R&B albums from, like, 1996," she says. "When you're honest about your taste it can really spark some nice things. And I think we're living in a time where guilty pleasures are not that guilty…"
Raised on a diet of Britney, Destiny's Child, Brandy & Monica, *NSYNC and "everything that was on MTV," de Casier has recently been re-listening to a formative album for her – Avril Lavigne's 'Let Go'. "If you listen to it in isolation one of them is like a really country track," she says, "you just didn't notice it because the package was so-" she makes devil horns with her hands "-rock".
There's an indisputable amount of '90s and early noughties influences coursing through the veins of De Casier's debut album, 'Essentials'. Musically, it's a nostalgia overload for the era of the video channel, with whispers of Ashanti's 'Foolish', Wayne Wonder's 'No Letting Go' and Brandy & Monica's 'The Boy Is Mine'. With a whistle synth winding through the instrumental, 'Intimate' is at its core a G-funk track, blending West Coast bounce with breathy vocals. "Some guy wrote to me on Instagram, like, 'Hey we should do a G-funk track'," she says. "And I was just like, 'What?! What are you talking about, man?' But then I started listening to some G-funk again, and I must have repressed it, because it's such a style, you really have to pull it off to be able to, you know, pull it off. I have a lot of references, and I think they come very naturally when I'm making music."
Where the flip-phone and Nokia 3310 that her music recalls have ceased to exist, de Casier's lyrics tackle communication in the modern age. "Don't write it in a message / Just say it to my face," she sings on 'Good Time'. "I feel like the big poets in the 1600s who were talking about nature," she says, "today what we see most is our phones. So I think it's important to put that in art, because it has to represent the time we live in. When people listen to my music they mention the '90s a lot, but connecting it to an age that was more simple makes us think about how we are living today."
"I'm afraid of sounding like a saint when I'm like, we should put our phones down," she continues, pausing to take a sip of tea. "Because I'm on my phone a lot. It's just me observing how it is – it's never nice to have a conversation with someone, and you're saying something really deep, and then they take out their phone…"
Though it's her debut album, de Casier chose the name 'Essentials' as a humorous nod to artists with decade-spanning careers like Diana Ross who release 'best of' compilations. Even putting out an album after just a handful of singles is a radical act in the single-led economy of the present. "It's a very old-school thing to do," she says, "It's very hard to catch people's attention for more than five tracks at a time, unless you're Frank Ocean, you know…" Even bolder is the fact that she's self-releasing via her own label, Independent Jeep, which she named as a cute reference to the toys of her childhood. "When I think of the word Jeep, I just think about sunshine. And Barbie dolls. I had an automated Jeep when I was little… The word is just so nice to me."
By bringing sounds from the turn of the millennium into the present, de Casier has created something that's nostalgic and ultra-current all in one and, if there's any justice in the world, 'Essentials' will stand the test of time.
Stream 'Essentials' in full: