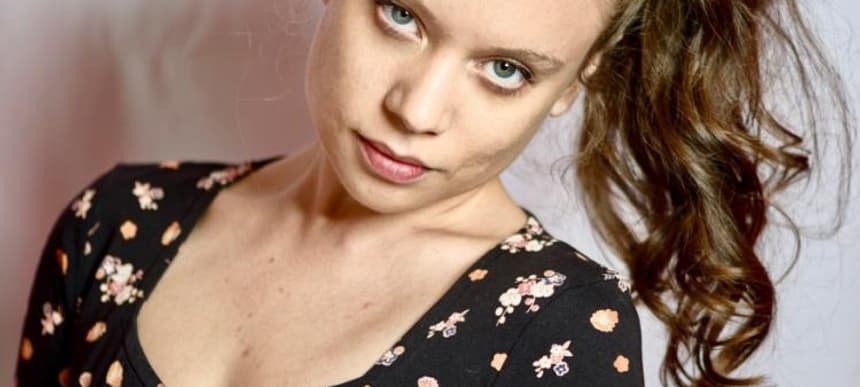 30.11.2018, Words by dummymag
"Everything I make seems to oscillate between sweetness and violence": Dummy meets Fauness
Tackling coming-of-age themes in her music, the newcomer is responsible for one of 2018's most intriguing singles...
Fauness's debut single, 'Street Song', dropped with a striking video. Filled with pastel hues, horses and signifiers of traditional femininity that gradually become more sinister, the visual concludes with a thrashing rock sound as Fauness's vocal escalates: "It's not my engine that's broken – it's the brakes."
The London newcomer is the first artist to sign to Jam City's Earthly Records, and her music is hard to categorise (aside from the 'fairy rock' tag that's been prescribed to its promotional material). Her debut 'Toxic Femininity' EP flits between scuzzy grunge rock, twinkly childlike pop and delirious, minimal soundscapes – seemingly representing various different stages of her life, from childhood to her teens to the present day. While lyrically its themes tackle ageing, beauty and the pressures facing women in the digital age.
We fired a few questions across to Fauness to find out more about the project.
–
Can you introduce yourself? Where did you grow up?
I'm from north London. There's a dub record about my area that I feel captures the spirit of the place and the energy I absorbed from my surroundings as a child: 'Finsbury Park' by Tribesman. Everything is in that song-the tempo of the area, the bleakness, the beauty. Plus it was a song I heard a lot growing up. I was born in a flat not far from the station. Music was everywhere and a natural way of communicating with others and building a sense of self.
Where does your inspiration come from?
Inspiration for lyrics comes mainly from whatever is weighing down on my emotions at a given moment. I'm a very sensitive person and writing has always been a way of digesting things and finding relief. For instance, at the beginning of this year I wrote several songs about a very close friendship that was waning. I thought a lot about the sisterly bonds we form as girls and young women that are transformed as we get older and have less time for one another, stop sharing clothes and beds and telling each other everything. I wasn't prepared for that so found it painful. Each of the songs on the EP stem from a similar process in that they convey what I was going through emotionally at the time they were written. 'Beauty is Like a Thing' reflects a feeling that has been with me since I was seven but that I wasn't able to share until now.
'Street Song' feels fierce but super sweet at the same time – what was the thinking behind the track?
Everything I make seems to oscillate between sweetness and violence. This isn't intentional but it's something that I've noticed. Sugar itself is poison. Sweet tastes are associated with children, play and celebration but they're rooted in the history of slavery and colonialism. That tension interests me a great deal. The other day I saw a picture of the Queen's Jubilee party at Yarl's Wood detention centre. Stacks of fairy cakes iced with dollops of white, electric red and blue icing were piled on top of a Union Jack cake stand. In another photo was a chocolate fountain framed by Union Jack bunting. Seeing all that sugar in the context of torture was a rare and particularly moving example of sweetness revealing its true nature.
"Sweet tastes are associated with children, play and celebration but they're rooted in the history of slavery and colonialism"
'Sixteen' sounds like being teleported back to the late '90s – how much does nostalgia figure in your work?
It's interesting to me that it sounds like that but it was definitely not intentional. The song is very naked – it's a direct expression of what was feeling when I wrote it. It came up among friends that I still feel like a teenager and that confession was seen as a positive thing. So the song just poured out of me, complete with a gritty chorus. I have insomnia on and off and when I'm in the middle of writing a new song my sleep is terrible. So I basically stayed up for 36 hours until the song was finished.
What do the words 'toxic femininity', the title of your EP, mean to you?
When people hear the phrase "toxic femininity" they might think I'm alluding to a manipulative, negative, chaotic energy that is in some way gendered female – the kind of thing that the likes of Jordan Peterson are convinced is the root of many problems in today's society.
Actually, what I have in mind is related to consumerism rather than some essentialist archetype of the feminine. Toxic femininity is created by technology – first industrial and now digital – and hence has only existed for a relatively short period of time. I'm not certain but my hypothesis is that it first flowered in the early twentieth century although its roots can be traced back to the exclusion of women from artistic, intellectual and political life in antiquity.
Basically, it's what happens to young girls and women when their spirits are hijacked by mass-produced images of ideal beauty. Instead of developing as a person, of being creative, of growing up, of being kind, of being of service to society, the goal is to look as perfect as you can. Consumer culture encourages this goal so it is hard to live beyond it, at least in my experience. I have a severe case of toxic femininity. I imagine that, to some degree, it will be with me forever I try to overcome it by making art. I feel like toxic femininity is hard to talk about because everyone is wedded to idealised images of female bodies – left wing, right wing, no matter your sexual orientation or gender we have all learned to be fascinated by idealised images of women and girls.
Fauness's 'Toxic Femininity' EP is out today on Earthly – listen to it here.