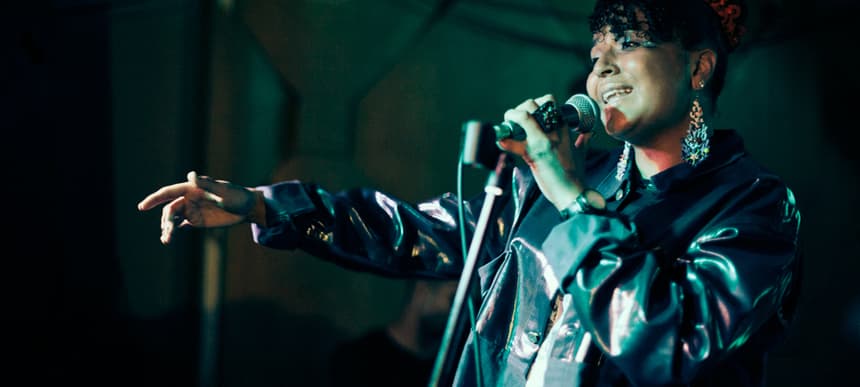 15.08.2013, Words by Aimee Cliff
Fatima at Birthdays, 13/08/13
The downstairs of Birthdays in Dalston may not be the first place in mid-August you'd look to be crammed in to see one of Eglo Records' brightest talents, but there was something about fighting back against globules of sweat that made an appropriate fit while witnessing the slung-out soul of Fatima. She was backed by a four-piece Eglo live band (featuring tidy bass work and some of the more killer cowbell playing I've been witness to), encapsulating much of what makes the label gel.The colourful, eclectic grooves kept coming with a clear direction and were always delivered with a tight professionalism – but the focus fell on Fatima throughout. There are good live voices, and then there are voices that lead to regular whoops of joy from the audience, and continuously impress in their range and dexterity.
Highlights included seriously, seriously good new single Circle, which took off live in a way it doesn't quite on the woozier recorded version, and a penultimate track with a rich disco shuffle that I've got that nagging post-gig need to get my ears around again. Calling to Alex Nut at the DJ booth after that tune ended, Fatima appealed to him to drop something to wind things up. The Eglo co-boss wasn't having any of it: insisting on an encore that was answered with the last of several sultry fLako-produced numbers performed. On the basis of Tuesday night's slick set (I counted a good fourteen tracks), Fatima could easily be on to album two or three by now. The fact that she isn't speaks mostly to the close handling and familial feel to Eglo – and can only pile on the excitement for her forthcoming debut.
Click on any of the photos to launch the gallery. Photography by Dmitry Serostanov.