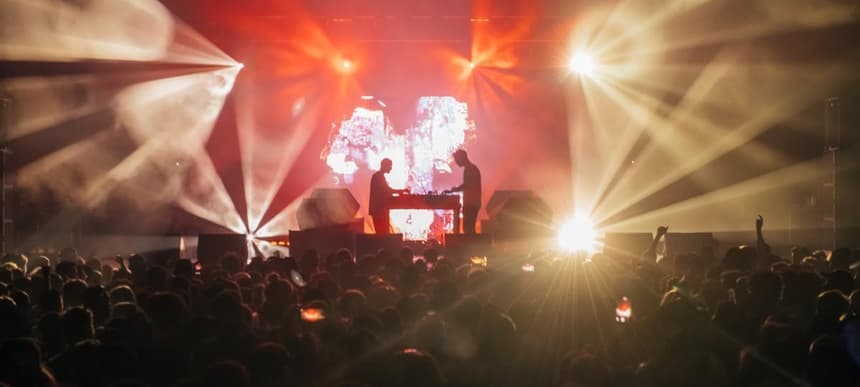 24.07.2018, Words by dummymag
Festival report: Lovebox, London, 2018
Magic from Gambino, class from Flohio and memorable sets from Skepta, Mura Masa, The Internet and more lit up a sun-kissed Gunnersbury Park
As a diehard south Londoner who rarely leaves south London, the trek to Gunnersbury Park, the site of this year's Lovebox Festival, was a galling ask. Even as I emerged from the cramped nearby Acton Town underground station, surrounded by bright and bold colours and optimistic revellers from all walks of life, walking to the park, immersed in suburbia, wasn't enough to get the blood rushing. After losing out to All Points East, Lovebox had to leave its spiritual home of Victoria Park for pastures new (and far) and the jury was out on its success in outer west London.
A vast, idyllic destination, stages and food stalls were scattered, some hard to find but ideally placed with music blaring from all four corners. I almost forgot the hour and a half journey to the park after becoming immersed in the fantastic festival that was to come. Lovebox's saving grace was its monster line-up, all of which delivered in one way or the other. Kicking off my experience was Anderson Paak and, with his band The Free Nationals, funk was fully infused into proceedings from the beginning. A fiercely energetic set, Paak brought new life to cuts from 2016 album Malibu like 'Come Down', set closer 'Am I Wrong' and new single 'Bubblin'. Friday concludes with a turbo-charged hour from the man of grime Skepta who, on top of bringing out the majority of the grime scene during his set, sounded triumphant as he unleashed favourites 'Man', 'It Ain't Safe' and 'Shutdown' to exhausted fanfare.
Saturday rolls through and it soon becomes clear that Lovebox was also an experience for the power of the DJ, and varying sets from Sir Spyro, Liana Rose, Lil C and more brought the stanch power of grime, hedonism of acid house and exoticism of afrobeats and footwork to the heated greenhouse that was the Hidden Jungle. Throughout the day, sets from Flohio, Kali Uchis, The Internet, Dvsn, Mura Masa and more proved as eclectic as they were entertaining.
But the best came last as Childish Gambino, hot off the heels of releasing the video of the year in 'This Is America' and his Summer Pack EP, brought ferocity and endless charisma to revellers. Though cuts deep in 2016 album Awaken, My Love don't connect with the audience, set opener 'Me & Your Mama' was so good, I would have understood if Gambino pulled the breaks and left the stage there and then. As he slowly unbuttoned his shirt, fans fed on his every word as he danced his way further into our hearts, and the explosion of euphoria as fans chanted 'This Is America' will live long in the memory.
A triumphant debut in west for Lovebox then and one which celebrated music's multi-cultural, multi-disciplined generation of artists ready to take over the world. An experience that justified the hour and a half journey via Acton Town.