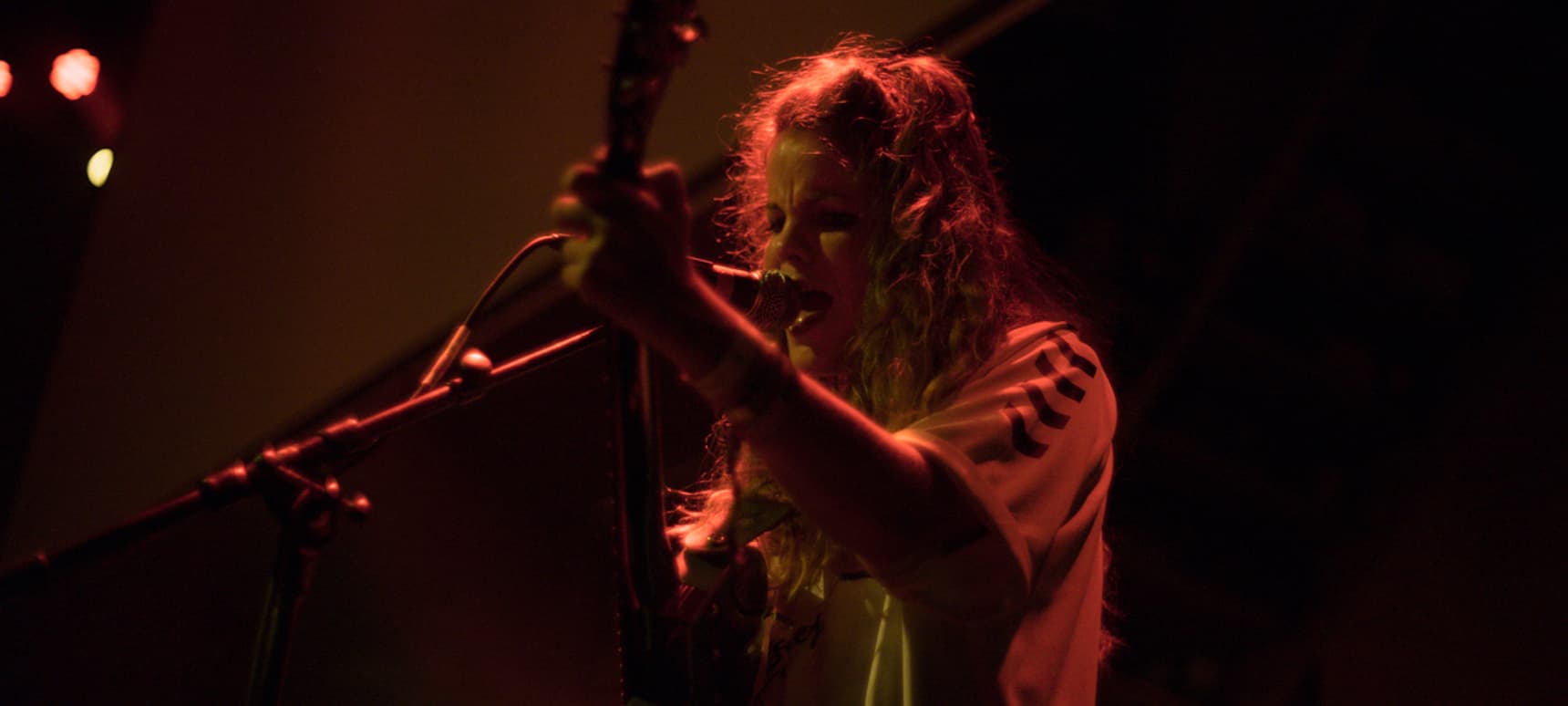 04.09.2015, Words by Natalie /
Festival report: Pop-Kultur
Click on the photos above to expand the gallery.
The days leading up my trip to the Berghain were bubbling with weird pre-conception. All these years having visions of this place as a biblical sanctuary, a techno Tower of Babylon, just to find myself sat on the P4 to Brixton at 5:30am on a Wednesday thinking, "Holy shit, I'm actually going to Berghain." I was on my way to the airport for a three-night a celebration of culture in Berlin, Pop-Kultur. A meeting of minds, the festival set to act as not only a stage for talent, but a laboratory; a place for the music industry's newcomers to stand up tall next to the professionals, mixing together all nationalities and backgrounds to take time to perform, discuss and enjoy themselves. For its debut year, the eclectic festival Pop-Kultur called the hallowed walls of the ex-power plant spurned Berlin club Berghain its home for three nights.
The first thing I learnt is that the site of Berghain actually holds six venues. As well as its two star pupils Bergain and Panorama Bar, the building also houses Halle am Berghain, Schlackehalle, Garderobe and the intimate Kantine. Halle am Berghain is the most spectacular of the six and makes the 'main' Berghain look like a garden gnome. Stack eight to ten average height rooms on top of each other and throw a wrecking ball through the middle to purge the storeys, that's the scale of this room. Lusciously lit with green lights, the room bathed in its own splendour (a little like me when I'm in the bath). We kicked off Pop-Kultur proceedings in the Halle with Pantha du Prince, filling the brutally bare concrete space with twinkling techno, complete with reflective head-plates. I'd never seen Pantha du Prince play before, but I'll be sure to see 'em again.
I spent a lot of time bumbling around over the three nights and randomly stumbling into Panorama Bar for Inga Copeland's set my initial reaction was a bit stilted, mainly due to the fact she was reciting the names of London Underground stations over a pretty non-existent beat. Track ID? It was the kind of thing you might zone out to just after sparking a tightly packed blunt but maybe not what you want to hear in a sweat-box right after a shot of tequila. Lo and behold, Inga quickly corrected my initial thoughts, blasting into some fragmented breakbeat, jungle-esque, spine tingling racket that was right up my straße.
To my knowledge (and I may be wrong), regardless of whatever cool motherfucking shoes the bassist wore or whichever en vogue way the frontman combed his hair, no 'traditional' live band had played in the Berghain before. Its just not very…well…techno. However, opportunity always pretty loudly, and it was nice to see groups like Fenster and Hinds (formerly known as Deers) take such a privilege on the opening night of Pop-Kultur. Fenster injected a dose of LSD into Berghain by performing in the dark; playing the soundtrack to their dimension hopping, mind control evoking feature film thingy, Emocean. The film was like Tim & Eric's Awesome Show, Great Job only with a little more narrative but a little less cohesion (if that's even possible). It was like the fugdy soul wandering of Tim & Eric's Brownie Mountain sketch, but with dark undertones of brainwashed people drinking green goo and looking pretty peaky. All the ingredients of something great to be honest.
Hinds reminded me of all the things I slyly dreamt of doing as a teenager. They made me think "Shit, I should have learnt to play drums and kicked a lot more stuff when I was angry." They might look like doe-eyed darlings but they rule the fuckin' roost. Four Spanish girls who give off an air of panache, and if you gave 'em any shit they'd dribble melted ice cream out of their mouth and onto your favourite suede creepers, looking straight in your eyes the whole time.
It's hard to chart how good The Juan MacLean were on the second night, effortlessly bridging the gaps between 'live' acts and full-blown dancetopia. Nancy Whang looked like an enigmatic character from a gothic cartoon; her hair big'n'wild and vocals more euphoric than ever. Juan (or John) was orchestrating a theremin and at times looked like he was plotting some sort of frisky world domination. It was that good I saw some guy enthusiastically greet his mate by grabbing his dick in the crowd (whilst owner of said dick hugged his girlfriend).
The final night was like fight night, things got rowdier. Welcoming rap and hip-hop inspired crew Levelz from Manchester to play in Panorama Bar, I think that was a Pop-Kultur first too. A select few of the 14-man deep clique Levelz were in attendance including Chimpo, Skittles, T-Man and DJ Rich Reason. The crowd were going nuts by this point and my main memory is sweat…sweat glistening everywhere.
Trilogy Tapes figurehead Will Bankhead followed Levelz, opening his set in the infamous Panorama Bar with DJ DMD and Lil Keke's 25 Lighters. It is around this point that I royally lost my shit. I've got a grip and sip tattoo on my leg, so make of that what you will. I think hearing this sent me into a frenzy and I legitimately cannot remember the rest of his set, only dancing and hoping I looked as insane as I felt.
The cherry on the cake was my old mate Dave Haslam who closed the festival with a classic house set. Author and social commenter by day, Dave's not bookish when the lights go down, learning his trade as a selector from years grafting away as a resident DJ at the equally legendary Haçienda club in Manchester. By this time I had evolved into some manic dancing state, arms flailing as Strings Of Life dropped. I felt like I was in some '90s rave video, throwing shapes (mainly trapezoids) in an amusement park or under a water slide, ready to blast off like some rocket from out of space. What made it even better was the 3€ doner kebab I ate on my way home…every night. Calories don't exist in clubland.
A heartfelt thanks Pop-Kultur for the best three days of insanity I've had in a while. I'll be back next year if you'll have me.
Pop-Kultur took place on 26-28th August at the Beghain site.