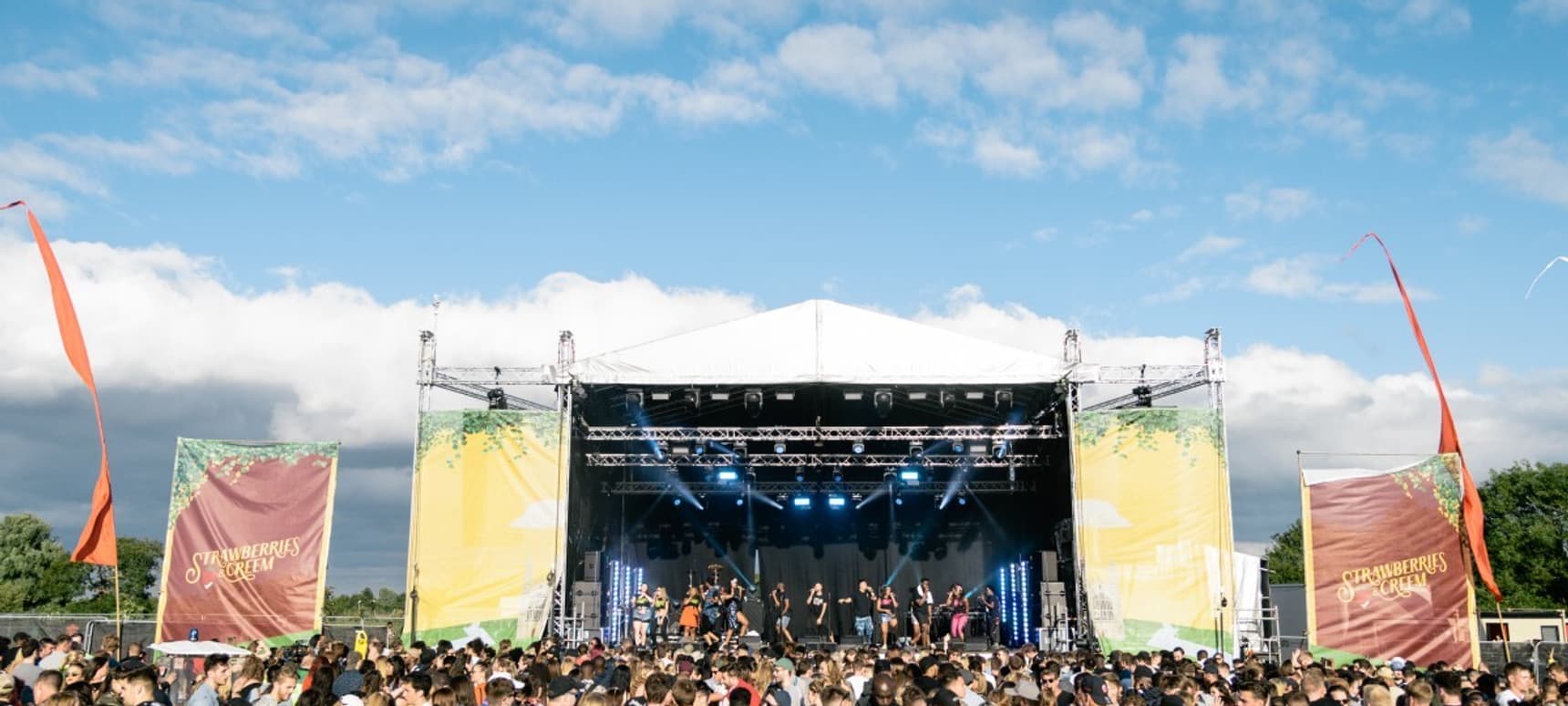 25.06.2018, Words by dummymag
Festival Report: Strawberries & Creem, Cambridge, 2018
What began as a party for friends whilst at university has grown to become one of the UK's most interesting and ambitious festivals. With its mission statement of 'Celebrate Heritage, Champion Future', the team behind Strawberries & Creem set out wanting to "provide Cambridge with something it was missing" says co-founder Frazer Robinson (who also DJs as Cardinal Sound). From humble beginnings organising club events and putting on small shows in whichever venues they could, the young team – two full-time, five part-time working alongside university and with an average age of just 24 – were looking for the "next steps to develop what we'd started". The first edition, back in 2013, was a party in the grounds of a Cambridge stately home garden for 800 people; it wasn't just any event though – they booked Jus Now, Shy FX and the legendary David Rodigan amounting to an impressive debut. Comparatively, this year's festival saw the team welcome thousands of music lovers to the grassy sun-baked fields of a family-run polo club.
"From our first festival five years ago we've expanded quickly, pushed ourselves pretty hard and this year managed to hit 10,000 people, which for a team of seven is a proud achievement for us all," Frazer continues. That's not to say the festival's growth has been a complete walk in the park, though. "With large scale events there are always going to be challenges; it's been a case of learning quickly, primarily from the mistakes," Frazer laughs. "Every year new lessons are learned, from logistics and facilities on-site to handling of the artists." Running the festival alongside day jobs and having to split their focus between the two can be tough, too. "That being said, the whole team loves what we do, with the 9-5ers in the group heading to our office after work until the very late hours."
Sitting in its own space in the UK festival circuit, Strawberries & Creem stands out from the crowd – a major part of that is booking artists who aren't already playing every other weekend across the country: this year's headliner, T-Pain, delivered a naughties throwback full of hits. Additionally, curating a savvy, diverse line-up is just as vital; from the punchy tech-house of Latmun, Alisha and Heidi to a moshpit-inducing show from Afro-beats performer Not3s and an unannounced appearance from rising stars AJ & Deno and 'German' hitmaker EO.
"Keeping our ear to the ground about what is happening in the UK music industry," Frazer adds, "through my work at Reprezent Radio & Preye's (one of the other founders) work at Columbia has been fundamental in spotting new acts that will excite a crowd six months after booking them, which is every festival promoter's dream." Skepta performed in 2015, J Hus in 2017 and one of the biggest draws this year was a rowdy performance in a packed circus-like tent by Drake-endorsed French rapper Octavian.
Admittedly, Cambridge isn't exactly known for its house, rap and grime offerings, but Strawberries & Creem is rapidly changing how younger people see the city. "Initially we were never out to change the perception of Cambridge's music scene, more simply putting on an event with the music we loved for our friends. From there we began to bring it to the two universities in the city and a wider audience across the area." It's important to Frazer and the team that they don't lose the Cambridge connection, though. "It has such a unique and distinct history; we feel incredibly lucky to be putting a festival on there. So in a way, Cambridge has helped us as much as we've helped Cambridge. And we'll continue to bring bigger and more diverse offerings as Strawberries & Creem grows."