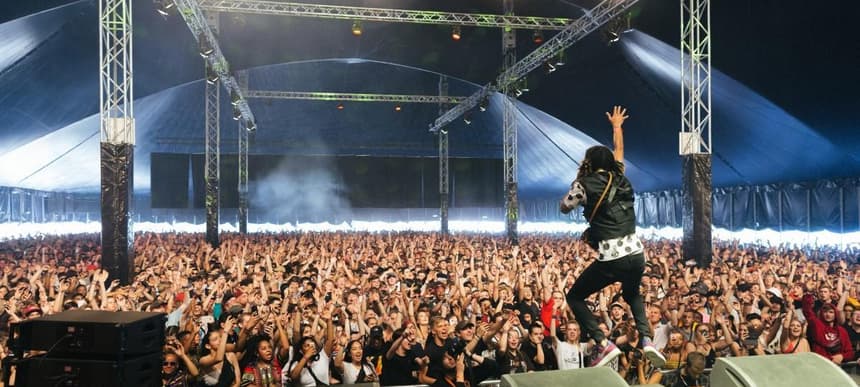 01.08.2018, Words by dummymag
WOO HAH! 2018: The Dutch festival serving as the ultimate hip-hop getaway
With talents from all corners of the world and away from the city, we headed to one of Holland's best hip-hop festivals...
WOO HAH! is something of an underrated gem in the endless and ever-growing array of global festivals. From its vast and idyllic site to its monstrous line-up, the Dutch festival is quickly becoming one of Europe's go-to hip hop events.
The now five-year old festival began as a small-scale affair set in the city of Tilburg, 50 miles from Amsterdam. Still showcasing a number of international acts such as A$AP Ferg, Young Thug and Travis Scott, it's now metamorphosed into a behemoth-sized event located in Beekse Bergen safari park situated right outside the city. For three days, the outdoor venue transforms into the ultimate hip-hop getaway with over 32,500 visitors a day and over 60 live acts, this year alone including A$AP Rocky, Giggs, Junglepussy, Yxng Bane, AJ Tracey, Denzel Curry, Rejjie Snow and many more.
Aside from its dreamy location and concentrated line-up, gathering the majority of hip-hop's leading acts, it's important to note that the festival really spotlighted Holland's flourishing hip-hop scene from DJs, producers and vocalists such as Sevn Alias, Rey Tranquilo and Bokoesam, which in our opinion were the real stars of the festival.
With the sun striking down on you for the majority of the day and having attended a handful of moshpit-driven sets, the day naturally begins to feel a bit long and tiring, however what seemed to reboot me every time was when I stumbled across Dutch acts performing in the vicinity. From their unparalleled energy, catchy melodies and insane crowd response, I was blown away by the quality of the performances and how much this homegrown-style created from a language I don't understand in the slightest, moved me. These acts alone are worth the trip to Tilburg.
With only a minority of non-male acts such as Rachel Green, Junglepussy and Latifah, it must be noted that the festival's lineup was fairly male-dominated, but here's hoping next year's line-up will feature more female acts.
Moving on, it was great to see such consistency throughout everyone's performances. Nobody was truly disappointing and, to my surprise, many of my expectations turned into pleasant surprises. From Juice Wrld's pristine delivery to A$AP Rocky's mind-boggling staging, the energy throughout was unique and despite a number of last minute cancellations, the festival managed to maintain an impeccable organisation and deliver a quality event showcasing the large palette of talent and sounds that constitute today's hip-hop.
Watch the madness via WOO HAH!'s aftermovie:
Listen to Dummy's curated playlists on Spotify.