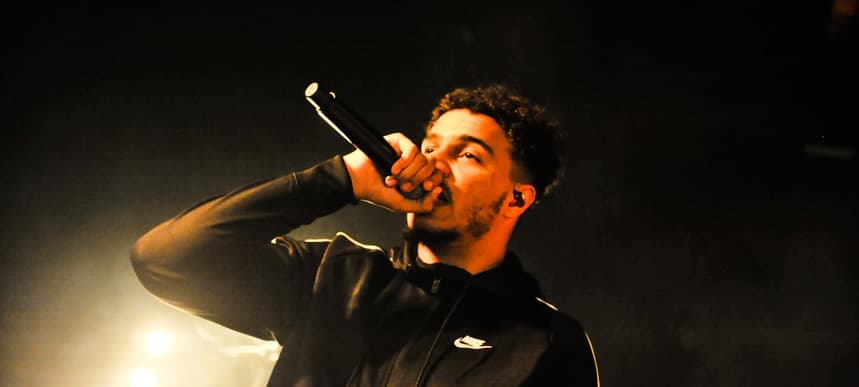 21.03.2019, Words by Ben Jolley, Photos by Harry Rutter
Five things we learned at AJ Tracey's genre-blending, moshpit-inducing Cambridge show
The artist tipping genres into a blender caused a storm at his Junction show...
AJ Tracey is having one hell of a year so far. Since releasing his self-titled debut album – which peaked in the top three of the UK charts – the Ladbroke Grove rapper has claimed the throne as one of the country's most versatile and talented artists. Here's what we learned from the sold-out Cambridge leg of his UK tour on Tuesday.
Support act Yung Fume might be the UK's answer to Travis Scott
Bouncing on stage in a hoodie and denim jacket, Croydon up-and-comer Yung Fume commands the packed room from the off with instantly infectious cuts from last year's 'Noughts & Crosses 4'. Aided by bass-heavy, wall-rattling production, Fume's auto-tuned vocal casts him as Britain's answer to Travis Scott.
AJ's fans are impressively dedicated
Screams and chants of "AJ T" fill the room before he's even arrived on stage. Sporting a Nike tracksuit and hoodie with black with white stripes, the MC is met by a crowd of camera phone lights and deafeningly loud screams. As he moves into the afrobeat pop of 'Wifey Riddim 3', a group of girls who have camped out at the front barrier since the start of the night sway from side to side together while reciting every word. His self-titled album may have only been out for just over a month, but you'd hardly tell: the dedicated crowd nail each and every line to perfection.
He's unafraid of switching things up
"This is the AJ Tracey show, I'm not just gonna give you one type of banger," he teases early on. Something that makes him such an exciting and interesting artist is his versatility as a genre-blending MC, rapper and singer. Switching from hard-hitting grime ('Jackpot' and 'Doing It' start rowdy moshpits) to garage (UKG throwback 'Ladbroke Grove'), afrobeats-infused pop (chart-reaching Not3s collaboration 'Butterflies') and even his own version of 'country' – pulling up a seat for the reflective 'Country Star', which allows his fast-paced lyricism to shine – AJ takes the term 'genre' and turns it inside out.
It's a gimmick-free performance
Rattling through older fan favourites like 'Pasta' and the majority of his debut album, every bar is spot-on; he makes it look easy. There are no gimmicks around the set either: just AJ stalking across the front of the stage commanding his audience without breaking a sweat.
The Cambridge crowd love a mosphit
Apparently all of Cambridge's teenagers are at the Junction tonight – and it doesn't take long to see why. It only takes a few minutes for a moshpit to form in the centre; made up of teens in Thrasher hoodies, Places + Faces bumbags and Trapstar t-shirts, beers start flying overhead straight away. Nobody cares that we're barely into the week; it might only be Tuesday but the atmosphere inside the 900-capacity venue makes it feel like the weekend is just beginning.
Related: 'The 10 Best Tracks to Play FIFA To, according to AJ Tracey'