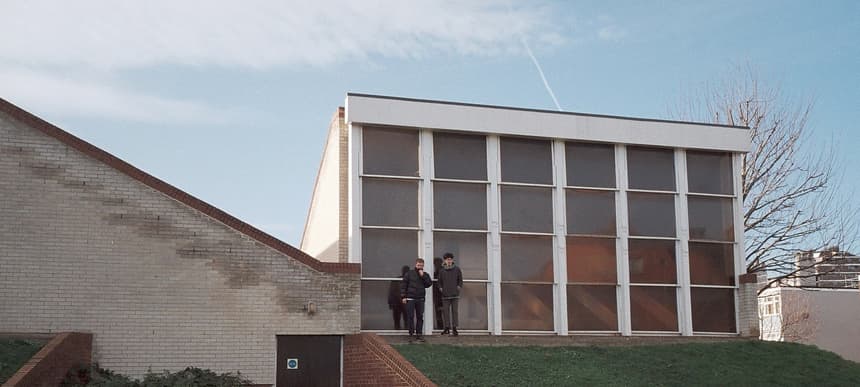 05.05.2015, Words by dummymag
Found Sound: Lung Dart
Lung Dart are two guys called Tim and James who write warm, soft, headphones-y pop songs. Their debut EP, 'Ebbs', makes heavy use of field recordings captured on their iPhones. These recordings come from all sorts of sources and geographical locations – a broken washing machine here, some wind from a hill in Leicestershire there – giving it the sense that it was made in far-flung locations, rather than in their living room in South London.
Naturally, this made them obvious candidates for our Found Sound feature series, where artists send us in their field recordings and tell us how they made them and how they use them.
Below, hear the sounds of a ping pong table, a broken tape player, and a washing machine (amongst other things), and learn how these sounds filtered into Lung Dart's production before they play a free show at Peckham's Rye Wax tonight.
Can you talk us through the Found Sound that you've sent us?
James: "It's all the found sounds we used in our EP, in the order that they appear. Mostly recorded on our phones or through our laptop mics."
Tim: "The sounds are: playing table tennis next to a pond, dropping a recording phone into a box of cutlery, a bell outside James' family home, broken tape player in Ollie's car, broken washing machine in the flat in Peckham, ambience in Tim's bedroom in the old Bow flat, homeward train from Victoria, broken TV channel, birds outside the flat in Peckham, playground outside the old Bow flat, layered clinking glasses, traffic lights in Prague, Jools the cat, Prague fish pedicure spa, toy found sound, running water with a plane flying overhead, ambience in Tim's bedroom in the old Bow flat."
How have you used the sounds?
Tim: "We kind of just put them one after the other, so it looks like a set of stairs on Logic. Oviously we edited them so they flow into each other and stuff."
James: "As they were all used on 'Ebbs', they were already chiseled in their own ways. Most we manipulated in some form, cutting, pasting, looping, changing the pitch, adding reverbs and delays. Some are a lot more raw and untouched. I suppose it's just getting the sound and forming it until it matches the sound in your head."
When did you start taking field recordings originally?
James: "I think I've been recording the sounds I've come across since I realised that it was an available application on my phone, but I never tried using them for anything until I started making music with Tim."
Tim: "Same here really – I think in a way we validated each other's enthusiasm for 'mundane' sounds."
Why do you find yourself drawn to found sounds?
James: "I guess we use them to help create a separate space in which people can immerse themselves and escape, but at the same time it's locked firmly into reality due to the fact that we're often using fairly mundane sounds from our everyday lives. It's just about making a focal point of things people will usually try to ignore, like a rattling chair on the bus to work, or something."
Tim: "I'm writing this on my lunch break at work, and just a second ago my manager squeezed a can of Diet Coke as she took a sip; when she then put it down it made this amazing sound. Aluminium going back to its original shape and the glug of the liquid inside. It's things like that that draw me in. I might record it and use it as a snare in something, or just loop it and make something around it. Without sounding like a massive dick, I'd say I'm drawn to found sounds because it's a form of accidental beauty. It's unrehearsed, and it's pretty much impossible to exactly replicate."
Do you have a 'special ear' where you're looking for sounds to record, or do you record the environment first and zone in on sounds after the fact?
James: "We've never gone out on a field trip to record a specific sound or anything, but we always have our ears open, waiting for something to present itself to us. I don't think it's even a conscious thing that I do anymore, someone could be talking to me and I'll just completely ignore them, listening to some sound in the distance."
What is your favourite sound in the world?
James: "I've always had real trouble sleeping, so at one point I tried hypnotherapy. The guy putting me under asked me to imagine my most peaceful place; my first thought was of a room with cushioned walls but then I started to feel like I was in a psychiatric ward or something so I reassessed and remembered how it felt, as a child, to sit in the back of your parent's car on the motorway and hear the tyres against the road. I still sometimes use recordings of car sounds to help me sleep."
Tim: "It definitely depends on the context for me, but something that comes to mind would be the sound of your knuckles knocking on a metal pillar. In my school's canteen, which was a major thoroughfare. There was a pillar. A squared edged, glossed white, metal column. My favourite thing about this pillar was that it was hollow and every time I ever walked past the pillar I'd knock on it with my knuckles. The noise it made was like something you'd hear in the engine room of a submarine, industrial and kind of submerged. When I think of it now it's the exact same sound as that sound at the start of Packt Like Sardines In A Crushd Tin Box."
Happy Valley Records released the 'Ebbs' EP on April 27th 2015 (buy).
Lung Dart play a free show at Rye Wax in Peckham, London May 5th 2015 (info).