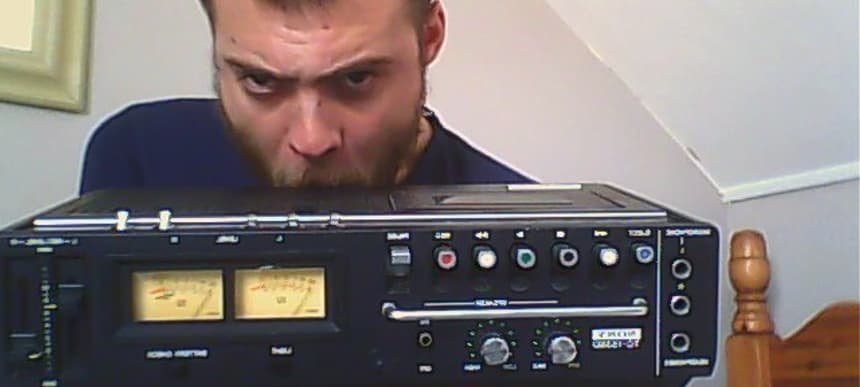 30.08.2013, Words by Aimee Cliff
Found Sound: WANDA GROUP
There's no one quite like WANDA GROUP. The experimental producer – real name Louis Johnstone – is based in Brighton and makes sample-heavy ambient drone (though he used to make something closer to hip hop beats, back when he was Dem Hunger) which he's released via the likes of NNA Tapes, Opal Tapes and Leaving Records, among others. Most recently, his 'Masculinity is a Wonderful Thing' 12" came out on Where To Now; partly made up of a patchwork of conversations, the release was brimming with found sound, making him an obvious choice to contribute to our regular Found Sound series.
Recently he told the Quietus: "INFLUENCES ARE ALL OVER. LITTLE BOOKS THAT I FIND OR CERTAIN FILMS AND CERTAIN STORIES THAT HAPPEN IN MY DAY AT WORK, OR JUST ME LIVING ON EARTH. I GUESS IT ALL MELTS TOGETHER TO DO SOMETHING WITH THE MUSIC I MAKE." It's with this sentiment ringing, capitalised, in our minds that we asked WANDA GROUP to send us a snippet of his field recordings and to have a chat with us about his approach to found sound, and we couldn't be happier to share the result, a piece he calls WE ARE ABOVE AND WE ARE OVERLOOKING A SHITHOLE AREA, which you can stream in the player top left.
Hey WANDA GROUP, how are you?
I AM GOOD THANK YOU. HAD A HEAVY DAY AT WORK YESTERDAY BUT FOLLOWED BY A WONDERFUL CLEAR EVENING THAT SORT OF MADE ME FEEL A BIT BETTER, HEALTHIER AND FEEL LIKE I HAVE A TOUCH OF CONTROL (OR THE IDEA OF CONTROL)
Please could you tell us a bit about the found sound you have sent us?
THIS IS A CUT UP PIECE I RECORDED ON AN OLD SONY TC 153SD FIELD RECORDER. THE THING WEIGHS A TON AND I HAVE THE SHOULDER CUTS AND BRUISES TO PROVE IT. A REAL HULK OF BLACK GEAR. THE MOTOR CUTS OUT AT POINTS BUT IT GIVES ME A WEIRD VIBRATED QUALITY. IT'S RECORDINGS MADE UP ON DEVILS DYKE IN BRIGHTON. CONTACT MIC NEAR GRASS AND FRIENDS TALKING SHIT TO EACH OTHER ON A SONY STEREO MIC. ALSO HAS RECORDINGS OF ME BACK HOME IN RAINHAM WHEN MY NAN DIED. DAD AND MUM WASHING THE DOG IN THE GARDEN. WASHING PLANTS. MY SISTER WATCHING TV AND EATING. ME SITTING ON THE GRASS TRYING TO THINK ABOUT WHERE I AM FROM AND WHAT IT HAS TURNED ME INTO.
What drew you to using field recordings in your music?
HAVE ALWAYS SINCE MAKING PRETEND RADIO SHOWS AS A LITTLE BOY ON A TAPE DECK IN A TENT HAVE I NEEDED TO RECORD STUFF. WELL NOT NEEDED BUT JUST FELT THAT MY BLOOD NEEDED IT. I GUESS NEEDED. I LIKE HOW YOU COULD BE RECORDING A SPECIFIC THING BUT THEN MAYBE BEHIND THE SOUND YOU WAS RECORDING YOU MIGHT HEAR A BIRD FUCK UP AND FLY INTO A WALL OR TREE. RECORDING SOUNDS YOU MIGHT NOT REALLY THINK ABOUT. IT JUST CREATES THIS TINY IDEA OF MEMORY. ONE OF THE FIRST PIECES OF MUSIC I DID HAD A RECORDING OF ME HIDING IN MY HOUSE AND SCARING MY MUM.
Can you remember the first sound you recorded and used in a piece of music?
IT WOULD HAVE PROBABLY BEEN ME AROUND 13 ON A TINY TAPE RECORDER JUST SINGING WITH MY LITTLE SISTER AND HER FRIENDS. I MADE THIS SONG CALLED 'BODY EROTIC' AND GOT THESE TWO LITTLE GIRLS TO SING 'YOUR BODY IS SO EROTIC'. OBVIOUSLY THAT COULD BE HORRIBLE BUT IT WAS FUN AND I THOUGHT I WAS LIKE A WHITE TINY TINY WEIRD LITTLE PRINCE WHO SANG LIKE SHIT.
Your recent record 'Masculinity Is A Wonderful Thing' is a thoroughly absorbing listen. What are you working on at the moment?
I BELIEVE 'OUTER ALSATIAN' IS POSSIBLY OUT IN A MONTH OR SO. THIS WILL BE ON NOTOWN AND IT'S THE RECORD ABOUT MY TWO DEAD DOGS EXISTING IN A NEW PLACE. TWO DOGS ON A PLANET SOMEWHERE JUST TOGETHER. HAVE ALSO JUST FINISHED MY NEXT LP WHICH HAS NO TITLE YET BUT IT MIGHT BE CALLED 'MEN ARE GENERALLY CUNTS' OR 'INSIDE THE CARRIER BAG AND GONE'. THIS NEXT RECORD FEATURES MOSTLY FIELD RECORDINGS AND WEIRD TINY TINY SONICS THAT SPIN BACK AND FORTH. PROBABLY REALLY BORING TO OTHERS BUT I HAD FUN AND MAYBE OTHERS MIGHT. ALSO DOING MORE AND MORE SHOWS AND REALLY TRYING TO WORK OUT HOW TO CUT MY SET-UP DOWN. MAYBE LIKE I USED TO WHERE IT'S JUST A SNARE DRUM AND SOME WIRE GOING ON AND ON. COUNCIL ESTATE MOTORIK.
What is your favourite sound in the world?
NOT SURE BUT RIGHT NOW I LOVE THE SOUND OF A GNAT BUZZING AROUND AND MAYBE HITTING SOMETHING AND THEN THE FLAP OF THE WINGS THEN THIS TINY WEIRD ELECTRIC SOUND. I ALSO HATE IT BECAUSE IT MEANS A GNAT IS HERE AND ABOUT TO FUCK WITH ME.
ALSO OBVIOUSLY MY NAN'S LAUGH DID ME IN. WISH I HAD IT ON TAPE. FUCKED THAT UP WHEN SHE DIED, THOUGH.
I KEEP TRYING TO THINK OF WHAT IT SOUNDS LIKE AND IT FADES MORE AND MORE WHEN I THINK ABOUT IT. IT SOUNDED LIKE SOMEONE WAS JUST LAUGHING FROM THE WHOLE OF THEIR BODY. IT WAS SHORT AND LOUD AND IT FUCKIN' RUINED ME.
Where To Now released 'Masculinity is a Wonderful Thing' in July 2013; get more information here.