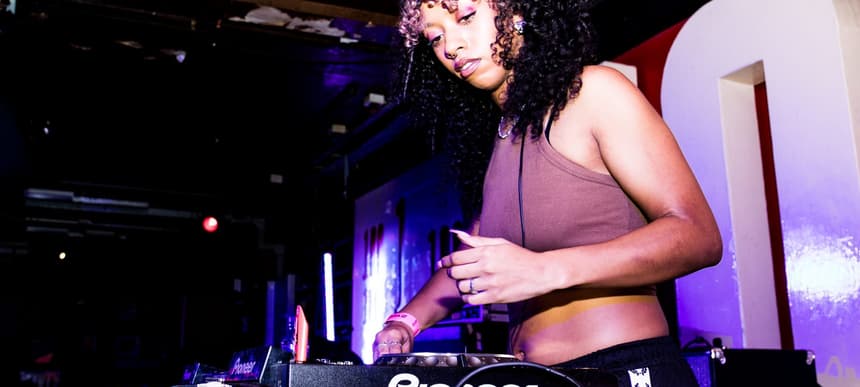 23.09.2021, Words by Maisie Goulsbra
Fred Perry's 'All Our Tomorrows' continues to capture British subculture spirit at their 100 Club takeover
2021 broadened the scope for what it means to be a part of the festival
The third year of Fred Perry's All Our Tomorrows landed this weekend at London's iconic venue, The 100 Club, for three nights of podcasts, panel talks and live performance. As well as having been stage to some of the UK's most prolific punk and rock bands like The Who, The Kinks, Sex Pistols and The Clash – The 100 Club, which is the oldest independent venue world wide has also been home to previous years of All Our Tomorrows takeovers, which have included Black Country New Road, Black Midi, Squid and Taylor Skye – all artists who were selected as people who push the boundaries of music and creativity.
Kicking off the festival, Wednesday hosted a line-up of five bands, starting with Honeyglaze, who released their debut single 'Burglar' moments before they stepped foot on stage and proceeded to style out a dreamy and hypnotic performance. Regressive Left, a band who channel an eclectic mix of sounds and influences like DFA Records, eighties vocals and even flecks of jazz, gathered each strand to form an all round sense of determined momentum on stage.
Next up were Automotion – on rhythm guitar was Liam Gallagher's son Lennon – who boasted noise-rock crescendos and strident guitar riffs. Grandma's House rumbled onto the stage with alluring hostility and abrasiveness, before headliners Enola Gay brought their no-messing attitude, binding straight-up punk with attractive guitar riffs and vocal phrasing inspired just as much by hip hop as the band's rock predecessors.
Thursday's evening was opened by neo-soul singer-meets-Jungle-producer Nia Archives (pictured in header) before emblematic masked vocalist and artist TaliaBle brought the storm before the calm with her mosh pit, which was closely followed by a mellow lo-fi performance from RADA. Rapper BXKS brought her effortlessly tight bars for tracks like 'Packed In', where her crowd lived up to the title and joined in dancing. A member of the Nine8 collective alongside Lava La Rue and Biig Piig, the evening's headliner NAYANA IZ performed for the first time with a live jazz band for a swelteringly encapsulating set.
Four-piece indie-electro band, The Umlauts opened up Friday's festival joined by additional members and delivering part of their act in German. With her exciting mix of dub, trip-hop and UK rap, POiSON ANNA (who has collaborations with Dean Blunt and ASAP Rocky) heralded her vision of the world by laying her hushed up vocals atop a series of break beats.
Paddywak blasted the room with pop-punk freshness and Mount Palomar, one of Ireland's most exciting techno producers (who has remixed Enola Gay's track 'The Birth of a Nation') headed up the decks for a thirty minute set and got booked for a slot at Berghain shortly after playing. Also on Friday, Brixton Windmill regulars PVA assembled and took on their duty as Friday night headliners to bring their plethora of sonics, ranging from industrial techno to synth-pop and fused with live instrumentation. It slapped.
Each night took on it's own fiery atmosphere, broadening the scope for what it means to be a part of All Our Tomorrows, but if one thing's for sure – the festival continued to capture British spirit by elevating the commanders of our cultural, musical and creative sphere. Let's see where it takes them.