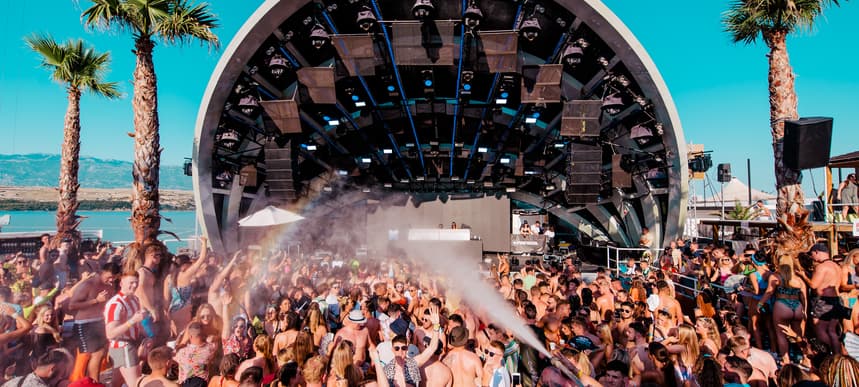 23.07.2019, Words by Andre McLeod
Hideout festival 2019 was a Croatian paradise of house and techno's biggest names
From a herd of dolphins watching Ben Sterling to a sunrise Bicep set, Zrće beach was where it was at...
Celebrating its ninth year, the Croatian all-star event that is Hideout returned to the island of Pag with a line-up boasting some of the biggest artists in the realm of house, techno and disco. From all corners of the UK, thousands of (slightly inebriated) Brits made their way to one of the top party destinations of the summer. A three-and-a-half hour drive from Split or one-and-a-half from Zadar, Novalja becomes the home of electronic music every July over six days and nights of sun, sea and scantily-clad frolics.
Set across five incredible venues on Zrće beach, Hideout played host to daytime pool parties, evening events and boat parties in open air venues. All the spots have been built on the beach, which in turn feels like a party strip. Walking down the beach you'll see partygoers striding with purpose as they head to their chosen act, planned out with military precision.
In one of the most popular venues, Papaya, surrounded by palm trees and thousands of devoted fans, Jamie Jones played a masterful set of house and deep house that would have felt at home at DC10. Later that evening Mistajam spun an evening set at Aquarius, showcasing his typical wide-ranging and diverse taste in music from house and hip-hop to disco.
For those wanting a break from the frantic pace of a dance festival, a new VIP venue, Nomad, provided the perfect retreat. With the feel of a chill-out bar that wouldn't have looked out of place in Mexico or Ibiza, it was a relaxing rest stop for those looking for a little luxury. The music in the day normally ended at around 8pm and started back up at 10pm, allowing for a quick disco nap and outfit change.
Hideout provides some unique vistas through venues like Kalypso, a giant tree house in the middle of the forest, where Liverpudlian duo Camelphat played an electric set. The next day the pair hosted a boat party with Ben Sterling which attracted a herd of dolphins most likely drawn in by the sumptuous bass. Looking to make an entrance after Ben's set, Dave Whelan and Mike Di Scala boarded the boat while we were at sea via speedboat and took over.
The Hannah Wants pool party was a particular highlight as she put on a masterclass in old-skool house and garage that had the Hideout faithful singing along to every word. Even DJ Emerald couldn't be kept dancing off the stage. As the heat beat down upon the crowds, water cannons were sprayed over them, which only increased the feel-good mood.
Two crowd favourites Horse Meat Disco and Artwork played a phenomenal house and disco set at Noa. This venue, built over the water, is smaller than a few of the others but offered special features like netted seat hammocks over the water, a diving area, and enviable views of the festival. It was also a great spot to watch people bungee jumping. As the Horse Meat Disco guys danced away to some delightful '70s disco, Artwork concluded his set with a giant confetti explosion. Watching him DJ, you could see that every button and dial was used to the maximum with speed and precision.
Closing out the night, Bicep performed a special set at Noa that saw Zrće beach coated in the glow of the sunrise – the concept of sleep a distant memory. Hideout celebrates its tenth anniversary next year, so we can expect more of the same – but even bigger and wilder (if that's possible…)
To find out more about Hideout, including information about its 2020 edition, head here.