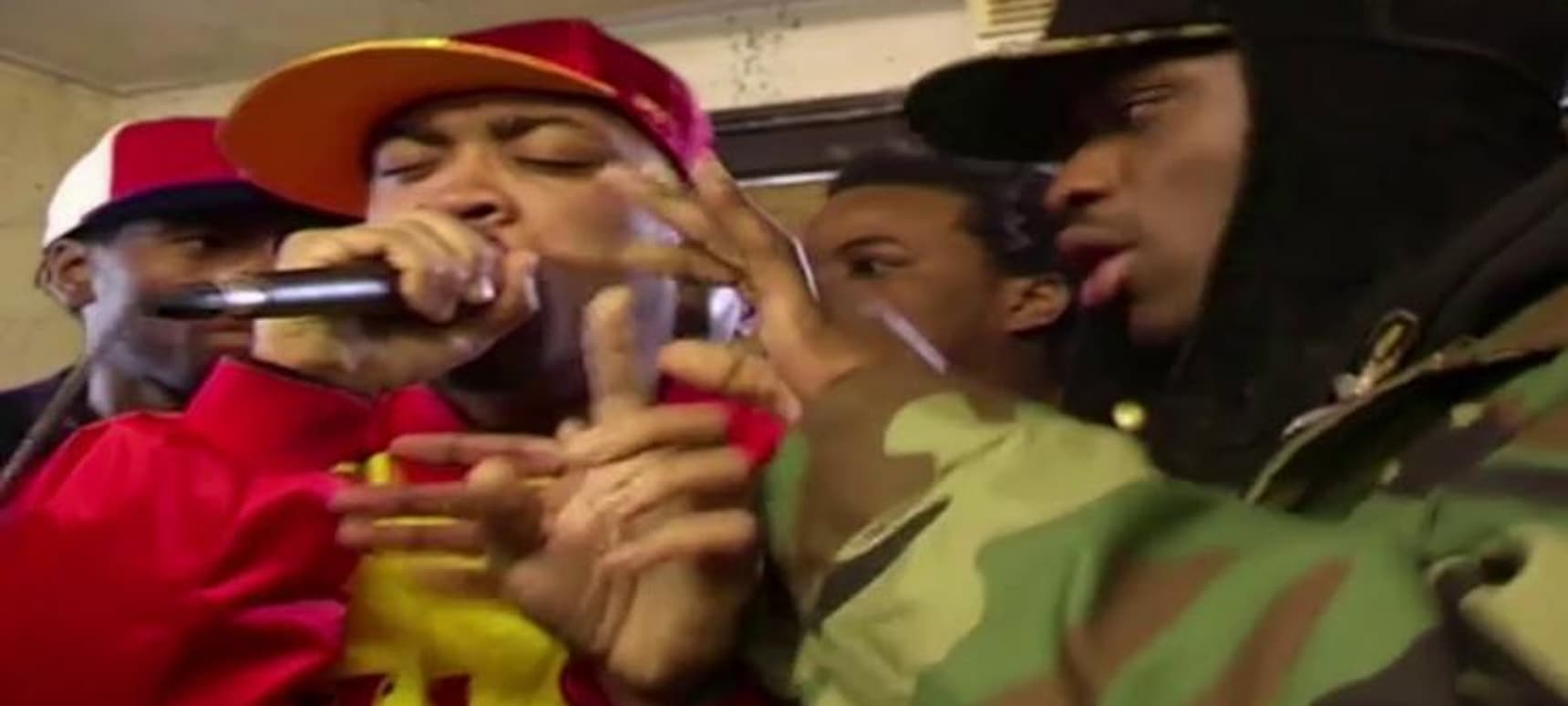 22.10.2018, Words by dummymag
"The Forum's Best MC Don't Make No P": How Grimeforum kept grime alive during its darker days
The online community remains an important and underappreciated part of grime's history
He might have released the most successful album of his career, he might have been awarded an MBE, but nothing will ever stop Wiley from being Wiley. As shown once again this week with a furious series of Instagram stories taking aim at Dizzee Rascal, before turning on Skepta and the rest of his Boy Better Know crewmates. Wiley accused Skepta of stealing the name Boy Better Know from fellow North London MC Big H, as well as reminding him that when they met he was "just Big H's DJ".
Grime Twitter and Instagram lit up as they always do when Wiley reverts to V-Neck Jumper mode, and we got nothing else done for the rest of our afternoons.
In grime's earlier days, Wiley was known for taking out his temper on Rinse FM, booking out hours at a time in the studio – just him and a DJ – to address whoever it was who had annoyed him that particular week. He even famously went on air on Christmas Day, threatening to spend the entirety of 2005 slewing Lethal Bizzle's mum before taking shots at Stormin, Bashy, Jammer and even the Rinse FM management.
Throughout its lifespan, grime has occupied and been forced out of many spaces. Pirate radio stations and record shops across London were hit by OFCOM and DTI closures, 'Pow' and other grime anthems were banned from nightclubs and mainstream radio airtime was hard to come across except for Logan Sama's nightshift on Kiss FM. There were wilderness years before grime really harnessed the power of social media. Myspace would come and go, and Facebook wasn't quite set up for musicians at this point. In these pre-Twitter years, grime's leaner times, the scene found its home on web forums including RWD Forum, Uptown Forum and perhaps most importantly, Grimeforum.
Wiley's forum rants are the stuff of grime legend, but he was far from the only member of the scene who used forums regularly. All of this helped give grime fans a proximity to their favourite artists that was just about unprecedented, and would only be matched when Twitter eventually took over.
"Hij" founded Grimeforum in 2008 in response to technical issues ruining his experience with RWD Forum. "RWD had loads of issues and was going down for days at a time," he tells Dummy. "It made it hard to find out what was going on if you were from outside London". Previously, Hij had run the website Grimepedia, which included detailed bios of just about every single grime artist you could imagine, and was a regular on RWD, so sign-up was quick and within a few months Grimeforum was popping off. "It was thriving because we were offering the service people were using before but it actually worked," says Hij, "and as grime grew we always did fairly well on Google because of us having 'grime' in the domain name".
In those days the forum's biggest topic of conversation was Logan Sama's Monday night show on Kiss FM, which would inspire weekly threads of running commentary, mostly consisting of reaction gifs from various grime videos. "Sometimes there was no discussion at all!" laughs Hij, "then [admin] Lemon would catalogue the show for people to download from Grimepedia so you could download it all. We were definitely the scene's two homes at the time".
As well as providing the forum, Hij also curated a front page for the website with the latest news and releases or downloads and occasional artist interviews. It was on this front page that grime fans were first exposed to videos from Grime [now GRM] Daily and SBTV, which would go on to become the two biggest YouTube channels in grime. "We gave Grime Daily a space on the front page where they were uploading a new grime video every day," says Hij, "I just wanted to help out the genre I loved as a hobby. They've gone on to do very well by charging for space – maybe I should have done that!"
One of Grimeforum's first admins was Elijah, of Elijah and Skilliam and Butterz fame, and Hij claims that Butterz was something of a sister site to Grimeforum in the early days.
As the forum grew it became a hub for grime rumours of varying veracity. Occasionally it would break stories about clashes at live events the previous night or clear up the meanings of sends and indirects. However, far more often the forum was less reliable, and if the Grime Discussion board was problematic, then Random Room was like the Wild West, a feral ancestor of WhatsApp groupchats. "There was a lot of slander and rumours," laughs Hij, "I don't know why it was like that, maybe because of where grime came from and grime having so many random characters that fans really did want to get to know about". Among the free downloads, track IDs and discussion threads, there were times when the forum resembled a grime scene Heat Magazine. "That's a par, but it's true," laughs Hij, "some people who had a clear link to certain artists actually knew what they were talking about, but in general grime artists weren't publicly accessible. Social media really changed the game".
For artists and DJs, Grimeforum was a double-edged sword. Grimeforum's posters had a real knack of zeroing in on the insecurities of its resident artists, which prompted grumpy parting shots from both Maxsta and Griminal, as well as a series of wardubs between Grimeforum users and MC Badness, following his incredibly rattled "In Yuh Mum" bars on Spyro's Rinse FM show. Most of the dubs have sadly disappeared, but the thread remains. Dot Rotten referenced the forum negatively in lyrics, and even Skepta once proclaimed that he didn't want to be the forum's best MC, "because the forum's best MC don't make no P".
On the other hand, at a time where there wasn't much grime on legal airwaves, lots of grime DJs would use the forum to advertise shows and upload SoundClouds of their recent sets, particularly A.G (who also did admin for the site), Spooky, and Spyro. Hij would also organise skins and banners to advertise mixtapes and other releases. Producer Z-Dot entered and won a production contest organised on the forum and went on to become one of the scene's most respected producers, even producing the beat for Stormzy's breakthrough release 'Know Me From'.
Another artist who used Grimeforum to great effect was Toronto MC and producer Tre Mission, who began posting on the forum after grime DVDs piqued his interest in the genre. "For us in Toronto record stores like Rhythm Division weren't a thing," he tells me, "we went to HMV or bought underground mixtapes and DVDS from convenience stores". "I could only get grime from the Internet and the Internet wasn't like it is now," he recalls "When I first went on Grimeforum it was to learn about the culture and the artists that I was listening to, then later on it became somewhere where I could post my own music".
Once he started posting his own music, Tre's popularity began to rise, and he found himself invited onto Wiley's Elusive Tour. He used YouTube, which at the time was nowhere near the all-encompassing music platform it is now, and watched as his views skyrocketed as Grimeforum's users began to lock in. "I was getting a couple hundred views a week, then I posted some grime songs on Grimeforum and I woke up the next morning with thousands of views. We were all going crazy like "yo fam we're not going to school today, we're buying liquor and celebrating!"
Like many users, Tre was taken aback by the passion of some of the forum's posters, although he argues that any negativity and criticism was all part of the fun. "Grime tripped me out because it's such a small genre and people cared about it so much," he tells me, "sometimes the fans on there were super shitty so that's why you had to come with the hardest shit". In a recent interview on Big Zuu's Radio 1Xtra show, Jme claimed that perhaps grime comes under such harsh criticism from its own fans because it belongs so exclusively to the UK, and Tre Mission agrees. "London is a place that creates a new scene every two years or so," he tells me, "grime, funky, dubstep, whatever. If you took modern trap and put it next to boom-bap stuff then in London they'd have to be two different genres, and that's part of why Grimeforum was like it was".
For Tre, Grimeforum was not only a good thing for grime, but "one of the best things, and definitely the best thing in that era". "It was a centralised place for everything," he recalls, "there were downloads, news, interviews and mad conspiracy theories". It's true, the forum would often flip wildly between sincere and earnest grime discussion, to sincere and earnest arguments about whether Wiley was in the illuminati, or what you'd do if Flowdan married your mum. His favourite moment was the discussion about who won the dub-for-dub war between P Money and Ghetts, with hundreds of grime fans contributing to thread after thread on the subject. "Everyone was so convinced they were right," he laughs, and sure enough it wasn't long before our phone call descended into an argument about the Lord of the Mics 6 clash between Big H and P Money.
Ultimately, Tre just appreciates that the forum existed at all. "Hij and Lemon were actually just big fans and loved the music," he says, "they put a lot of work into that site for no reward, I would probably have shut it down. These days you hear a lot of A&Rs who have grime in their story somewhere, but they weren't there then".
Grimeforum, like most forums, is far quieter these days as most of its users moved onto Twitter and other forms of social media, and while it's not referenced in lyrics as much anymore, it remains an important and underappreciated part of grime's history. Perhaps the forum was unlucky that its peak came at a time when grime hadn't permeated mainstream culture in the way that it has since gone on to. An important bridging gap between a genre which moved from pirate radio and vinyl and came to rely on the Internet. But then, like grime itself, the forum was representative of a very specific time and culture, in an age when the Internet was still anonymous if you wanted it to be. "It got a bit no-holds-barred," laughs Hij, "but there was a big community who would meet up and go to grime events together and it was a big social thing for a lot of users". "My personal highlight was going to a studio set with The Movement," Hij recalls "just witnessing them all going back to back in front of me, that was probably the best time of my life".
And on a personal note, if Grimeforum didn't exist then I might never have had the chance to have a diss track written about me…