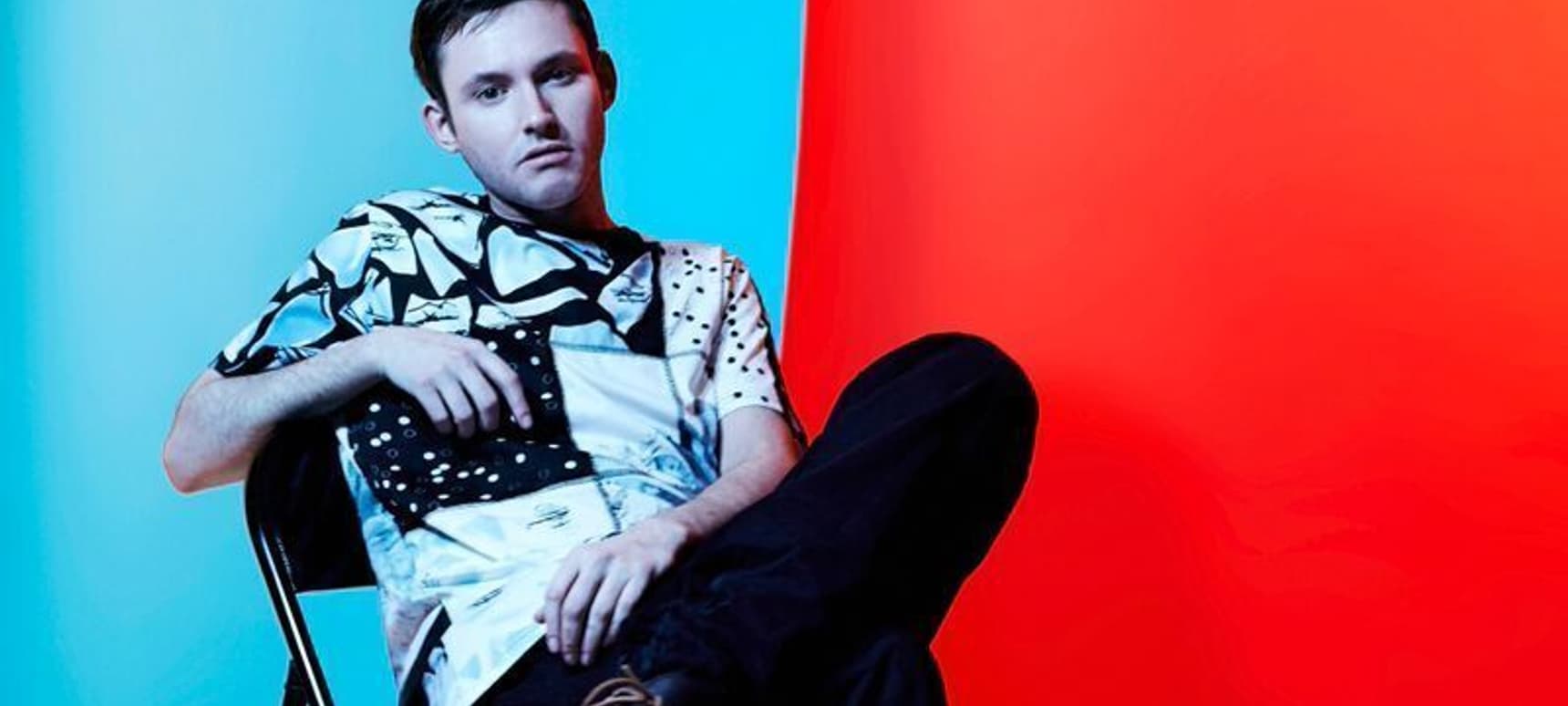 10.06.2015, Words by dummymag
Hudson Mohawke interview: "Learning how to say no."
"Once you start saying 'I've made it', you've fucked up. You always have to have your next goals." These words might seem surprising coming from the mouth of Ross Birchard, because to the outside observer, it would seem very much like he has made 'it'. As Hudson Mohawke, Birchard's career trajectory has seemed like a constant series of ups, each new move propelling him to even bigger heights than anyone keeping tabs on his music would ever have imagined: self-released beat tapes led to album deals with Warp Records, collaborations with Lunice as TNGHT catalysed the 'EDM trap' subgenre, and along the way Birchard became one of Kanye West's go-to producers, produced a string of tracks for major league rappers, and dominated festivals all over the world.
But Birchard hadn't made it, and he hadn't achieved the next goal – one thing that was missing in that time was his second album. It's been six years since the release of debut album 'Butter', a record with more ideas and imagination packed into any one of its tracks than many musicians are able to achieve in a lifetime. Its long-awaited follow-up has been touted for years, but Birchard has finally achieved it with 'Lantern'. 'Lantern' is an album that's far more ambitious than 'Butter' in its scope, where sweeping, orchestral sounds (Kettles) sit next to old school soul-chopped rap beats (Ryderz), considered, intimate songwriting (Indian Steps), oddball percussion tracks (Lil Djembe), and wide-eyed club monsters (Scud Books).
Some of the songs are brought to life by vocalists like Miguel, Jhené Aiko, and Antony Hegarty (Birchard, with Oneohtrix Point Never, has been busy producing Antony's next album). Working alongside others in the studio became an important part of Birchard's process – "producing with my ears, not with my eyes", as he puts it when we meet in an East London bar one summer afternoon – adapting to a role more akin to a traditional producer than that of a rap beatmaker. "It's as much about your relationships with people as it is with your technique or music skills," he says.
One of the reasons the album took so long to come out was that a long of tracks were getting optioned, right?
Hudson Mohawke: "Yeah, the rap world is sometimes an extremely frustrating place. A lot of people don't have defined roles in what they do. So some person who's vaguely involved with some artist might say 'Oh, can you hold this for us?' – and they might be from the label, or they might just be their mate. It's a little bit disorganised in that sense, even at the very top level. I've found that it's almost not worth holding stuff back, to be honest. On the first record, FUSE was held back as a Rihanna song, and at some point I was like 'Fuck that, I'm gonna put this on the record' – and it ended up being probably one of my most recognisable songs.
"The other reason it took so long to finish was that the TNGHT stuff was sort of inescapable. We never set out to make a big record, but it took off and we thought 'Let's pursue this for a little bit.'"
You had a lot of material with TNGHT, didn't you?
Hudson Mohawke: "There's a fair amount of material for TNGHT, most of it unreleased."
That's what's I always found so surprising – it took off despite there only being a handful of tracks out there.
Hudson Mohawke: "When that record came out, 'trap' – well, not really trap at all, 'EDM trap' maybe – but because that genre hadn't really been established properly, you had all these different types of DJs playing these songs. They were crossing over because people didn't really know where to position them: you'd have Thom Yorke and Richie Hawtin and Calvin Harris playing them. But when it got to the point where you'd have a trap EDM stage at a festival – where it's just all that sort of music, all day – that was the point where we thought we'd take a little break from it, because that was never what we set out to do.
"It was a difficult decision to take, because there were major labels in the US making us offers to do an album. It would've been a very easy decision to make, and probably business-wise a very good decision to make [laughs], but creativity-wise it would've pigeonholed us even further."
"[Putting TNGHT on hold] was a difficult decision. There were major labels making us offers to do an album. It would've been a very easy decision to make, and probably business-wise a very good decision to make, but creativity-wise it would've pigeonholed us even further." – Hudson Mohawke
In between all the huge tours and the industry meetings, how did you find yourself able to knuckle down and get back into making music? It always seems like being heavily involved in the music industry side of things is not very conducive for creativity.
Hudson Mohawke: "It was just a case of learning how to say no. It's not something I've ever been good at. There was a long period where it'd be a case of 'Do you want to work on this record?', 'Do you want to do this?', 'Do you want to work with this person?', and it'd be 'Yep, yep, yep' because I thought those opportunities were never gonna come up again. But it comes at the expense of being able to focus on your own work. You have to draw a line somewhere."
Have you regretted turning down anything?
Hudson Mohawke: "No. I have turned down things that I wouldn't necessarily have minded being involved in, but nothing I've massively regretted."
Kettles feels like one of the most ambitious things you've produced. How did you make that track?
Hudson Mohawke: "I've talked about doing soundtrack stuff for a while, and I was just sort of experimenting with it. It wasn't something I was considering putting on the record, it was just something that I worked on as a piece for… I can't even remember what it was for. I feel like it was some sort of exhibit. Not the rapper Xzibit – some sort of exhibition. It was just me experimenting: 'I wonder if I can actually do this? I wonder if I'm capable of writing a piece of music like this?' It has that sort of triumphant, euphoric feel that I usually try and incorporate into my music."
Let's talk about that euphoria. Your music has that sense of wonder, like seeing the world through the eyes of a child, where everything is so captivating and amazing. How do you get into that space when you're making music?
Hudson Mohawke: "I was talking about another journalist about this earlier – he said there's a lot of stuff around that sounds like that at the moment, but it's done in a kind of ironic sense, whereas I'm always interested in how songs like Kettles can sound innocently joyful. I think it comes from me having an actual, genuine love of happy hardcore, in a completely non-ironic sense, having grown up with that sort of music and with trance. Not everything I do is like that, but I always find that when I'm making music like that is when I'm feeling most like 'This is really me, this is what I get my pleasure from.'"
"I'm always interested in how songs can sound innocently joyful. I think it comes from me having an actual, genuine love of happy hardcore, in a completely non-ironic sense." – Hudson Mohawke
Indian Steps, the song with Antony, is not your typical 'I'll send you a beat' type of thing – it's a really considered piece of songwriting. How did it come together?
Hudson Mohawke: "I've been a fan of his forever. He came to London and we were working on a number of songs. We worked on that one song, and then ended up making five, six, seven songs. Those are now forming his record. I thought it would be an interesting concept for someone like myself, who's maybe known as being traditionally involved with the rap and hip hop world, to experiment with a vocalist like that. And it turned out that at the same time he was saying he was kind of bored of what he was doing – he wanted a new, fresh take on the production of his own music. The thing I like about working with him is it's not just like he does vocals – he has input on the production, I have input on his vocals."
At what point did you really learn to work with people face-to-face in these busy studios?
Hudson Mohawke: "It definitely took a while. It also definitely takes a while to earn your stripes in that situation. You can spend five years trying to send your demos to A&Rs and labels, but most of the time it's never gonna get listened to. So unless the people come to you, it's pretty difficult to break into that world. But even when you do get a foot in the door, you're still at the very bottom of the ladder. It takes a while for your creative input to be taken seriously. Particularly within Kanye's camp – the amount of people I've seen come and go, just in the period of time that I've been working with him, which has only been two or three years – people have come in, done something, and never been invited back. It definitely takes a while to become a part of a team."
I spoke to Evian Christ last year and he said that going from producing in the garage of his mum's house to going to a recording studio in Paris with 15 people watching your every move was the biggest challenge. I don't know how you can get over something like that.
Hudson Mohawke: "It's difficult, and it's very surreal if you get thrown in at the deep end like that. There's a sort of unspoken etiquette as well, which you have to figure out for yourself. And I've fucked it up a lot of times for myself by saying things in interviews that I shouldn't have done."
"Even when you do get a foot in the door, you're still at the very bottom of the ladder. It takes a while for your creative input to be taken seriously." – Hudson Mohawke
Do you ever pinch yourself with the sort of situations you get into, or are you just used to it all by now?
Hudson Mohawke: "There are always situations where you're like, 'What the fuck is going on?' But again, lots of them are things that I shouldn't say in interviews [laughs].
"But a lot of them are with people who you maybe wouldn't expect. Not super famous people, but some of the old producers I grew up idolising as a kid. That's as big a deal to me as meeting an A-list celebrity. To be able to meet them and keep in regular contact with them and do some collaborations with them, it's still so exciting for me."
Warp Records release 'Lantern' on June 15th 2015 (buy).