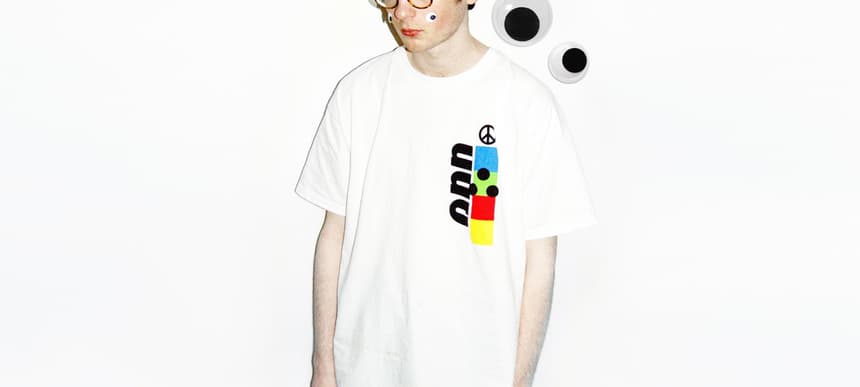 04.11.2015, Words by Natalie /
Iglooghost: "Flying Lotus doesn't tweet about his breakfast - he keeps it low key."
Iglooghost is more than just a producer. Venturing beyond the edges of music with his surreal pastel dipped designs and unique personality, the 18 year old's output is pretty phenomenal, making his recent passageway into Brainfeeder's release schedule pretty easy to believe. However, after lobbing cassette tape missiles at Flying Lotus during several of his sets, it was a shock to Iglooghost when the LA beats producer unexpectedly slid into his DMs one evening whilst he sat on the sofa in his family home. Considering his work on labels like Fly High Society and the 'Milk Empire' EP with rapper Mr. Yote on Slugabed's distinct aesthetic drippin' imprint Activia Benz – the release which originally tickled Fly Lo's fancy – it's a well deserved feat from the self-proclaimed 'Eyeball Prince ⚆⚆'.
'Chinese Nü Yr' is Iglooghost's debut on Brainfeeder, which he discusses in more detail with us below. An EP named after by a warm feeling on the plane home from a gig in Rome, it captures the sound of gelatine worms moving through infinite pastel coloured portals. With such mastery in mind, it was obvious I wasn't dealing with some cock-sure producer of big-room tech-bangers. The sort that forget their name often and call their tracks names like Taaaaps Affff. From the skewed vocalised pop feels of Gold Coast to the stuttering cyber-rap of Xiangjiao – his productions are like an Oreo McFlurry with extra lashings of supersonic syrup, with tracks that melt into each other until they form some abnormal yet silky smooth substance.
Depressingly still a fresher, which means he's probably whipping most of our asses on the productivity front, Iglooghost is studying design at university and has an eye for the weird. Think time travelling, blueberry flavoured gummy worms, giant eyeball emojis and pink erasers. With this in mind, I caught up with Seamus (civilian name) for a chat about his weekly shop at Lidl, the low-key nature of Brainfeeder boss Flying Lotus and and how student nights always end up like the club scene in The Office.
Hi Iglooghost. I understand you moved to university recently, but where you from originally?
Iglooghost: "All my life I've lived in the same house. It's this town in the middle of nowhere, on the top of a hill. It's not that good."
Where have you moved to study?
Iglooghost: "Bath…which is also not that good."
How far is that away from London? I've never been to Bath…
Iglooghost: "I dunno, about two hours maybe. It's not that good, and it's kind of similar to back home in the way it is also on a hill and there's nothing to do."
Are you any closer to London than used to be?
Iglooghost: "Somehow I'm like as far away, but I'm in a different place. I'm not sure how that works."
How has uprooting and moving been for you?
Iglooghost: "I realised that maybe I've got a bit of a superiority complex because I've become a little bit of a hermit. There's a few cool people here but I haven't really been going out to all the classic fresher things."
I was exactly the same at university. What sort of stuff is going on in the clubs around Bath right now?
Iglooghost: "Have you ever seen the English version of The Office with Ricky Gervais? When they go to Chasers, that shit fucking club in the middle of Slough or something? It sort of reminds me of that."
Like proper small-town club experiences? Not even EDM – just straight into the Flo Rida?
Iglooghost: "Somehow not cool enough for EDM, not that that's even cool. It's just pissed up locals and I'm just trying my best to escape them."
And at midnight they bring a free shot out for the birthday girl. Give her a shot of Corky's or something.
Iglooghost: "It's all pretty desolate."
Has anything weird happened you in those situations or is it not even weird?
Iglooghost: "I think the weird thing is that nothing weird has happened. I guess I look forward to that on nights out. You kind of want to meet an interesting or weird character as that's the sort of thing you talk about with your mates for months to come. I guess it's sad that you don't get because it's all really synthetic. Everything is kind of like an impression of a club and people are doing an impression of being pissed."
"Everything is kind of like an impression of a club and people are doing an impression of being pissed."
Is there not any fun, random nights in Bath that are run by people who are more into the London scene?
Iglooghost: "We've been trying to have a look. There's a tiny club somewhere that's free to get in that plays funk, but I'm not trying to go out of my way to do that. I'm about 50 minutes away from Bristol so I guess people don't really bother to put stuff on here, because you may as well just go there."
How does it feel to be signing to Brainfeeder at your age and probably being the only fresher at your university into decent music?
Iglooghost: [Laughs] "Yeah it's weird, I was talking to my lecturer today and I'm doing graphic design but somehow the topic of Flying Lotus came up. I had to be like, "Erm, I got signed by him the other day". He was so shocked. It's a funny thing to just drop into conversations, I quite like it."
What are the other people on your course into musically? Can you tell?
Iglooghost: "This sounds a bit superficial but I realised you can figure somebody out just from looking at their Facebook profile. Obviously, I got added to all these groups for my course and halls, and everybody has got a vibe online but you can  immediately tell who is concerned with just looking 'cool' or listening to the 'cool' stuff. I could figure that out before I even met these people."
Are you in halls? How have you dealt with that lifestyle? I think I just ate solely Weight Watchers noodles and Subway in that period of my life.
Iglooghost: "Literally all I have been buying is vegetables. My weekly shop is £9 because I just buy kale and tomatoes from Lidl. It works out really well."
I was just scared of my kitchen but generally I think university is a place where people leave mum and ultimately disappoint mum.
Iglooghost: [Laughs] "I'm a healthy boy."
I saw an interview when you're talking about cooking eggs, onion and chilli on crumpet so I thought you were a bit more 'gourmet'.
Iglooghost: "Yeah, yeah, just living off broccoli."
What has the progression been over the past year then? I've seen your stuff on Fly High Society and with Activia Benz as well. We did a piece with them recently on the aesthetic.
Iglooghost: "Oh with Steve Smith? That guy is the king. I'm so in awe of his stuff, it's insane."
Agreed. How has it all been then? Combining the life changing events of starting university and signing to a label run by an artist you have always admired? It must be mental. Did you send a track to Brainfeeder or did you always have them in mind for a release?
Iglooghost: "I think it was Kutmah who sent my Activa Benz 'Milk Empire' EP to Flying Lotus. There's been this whole weird thing leading up to it. When I was about 15 I used to make really, really crappy beats on my big laptop. I would burn a lot of cassettes before I went to see Flying Lotus play and used to literally lob cassettes at his face. I dunno why I was so hungry for his approval but there was a few times I saw him and did that. He's actually pretty cool about it. I guess he found my email on time and wrote back says "Oh, cool." Some minimal shit but seemed liked the biggest fucking thing at the time for me. For him to actually reach out to me a few years later, that is just crazy to me. It's gone full circle. Yeah got hold of the Activia Benz project and he just DM'd me out of blue. It felt a bit like the hand of god coming through the clouds. He was straight up like, "What's up? I like your music. Do you wanna do something for Brainfeeder?" Time sort of froze. I still can't get over it."
Did you just literally open your inbox and find it?
Iglooghost: "It was around 7pm in the evening and he just started following me on Twitter. I was shitting my pants about that and my little brother came in the room and said 'Shit, what the fuck does this mean?" The DMs slowly came in one by one then the Snapchat ensued – it was crazy."
He's a bit of an enigma to me. He just seems mysterious.
Iglooghost: "He's still mysterious to me now. I talk to him a bit but he's definitely a mysterious dude. I think that's his whole kind of vibe, which is cool. He doesn't tweet about his breakfast – he keeps it low key."
"I talk to Flying Lotus but he's definitely a mysterious dude. He doesn't tweet about his breakfast – he keeps it low key."
How come you called the EP 'Chinese Nü Yr'?
Iglooghost: "I wish I had a really cool story for the title but it's weird. It's hard to explain. My second gig ever was in Rome and I was on the plane back home. The sky looked really weird and for some reason the word Chinese New Year came into my head. I was really happy, because everything seemed super cool, life just seemed really warm and nice. I think the word Chinese New Year sounds warm and cool. I imagine fireworks, red colours and Chinese lanterns."
The worms on the cover seem pretty cool too. What are they all about?
Iglooghost: "The whole EP is this daft story that I made up in my head about this worm made of gelatine. He/she is flying through all of these portals infinitely. He/she is really sad and confused but also scared because it's moving really fast. I imagine each song is sort of a world inside a portal and I imagined this whole little narrative for each part. It's hard to explain but I used this one synth in all of the songs and imagine that is the worm's movement."
"If you licked it, I would imagine it would taste sweet."
Is the portal traversing worm edible?
Iglooghost: "If you licked it, I would imagine it would taste sweet."
 'Chinese Nü Yr' is available now on Brainfeeder (buy). Iglooghost plays Dummy Presents: Fly High Society at Ace Hotel on November 6th alongside Kutmah, Tehbis, SertOne, Tre'bore, Not Your Girlfriend and They Call Me Raptor (RSVP essential).